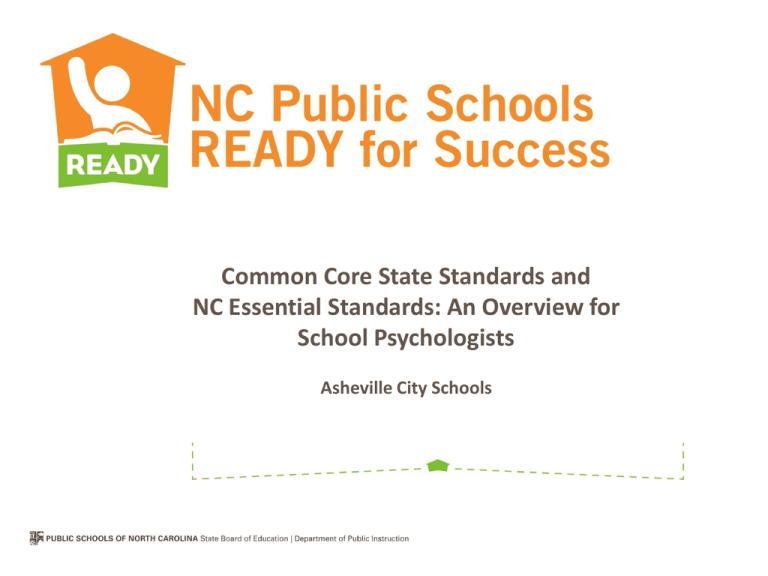 Common Core State Standards and
NC Essential Standards: An Overview for
School Psychologists
Asheville City Schools
RESOURCES
Region 8 Wiki
http://region8wnc.ncdpi.wikispaces.
net/
WikiCentral
The NEW NC Standard Course of
Study
Table Talk:
What do you know about the NEW NC
Standard Course of Study?
What do you hope to accomplish today?
Let's Water Ski!
1. Go to Wiki Central at
https://wikicentral.ncdpi.wikispaces.net.
2. Find the ELA button in the bottom left hand
corner.
3. Choose 1 grade level and read through the
Literacy Standards for Reading, Speaking,
and Listening for that grade span so that you
can gain an understanding of what students
should know and be able to do to be College
and Career Ready.
4. Consider these 3 Questions:
 What BIG ideas did you find in the
Standards?
 What do you see that that teachers are
already doing well?
 What do you see that could be a focus area
for growth in the schools where you work?
The New Standard Course of Study and
the Role of School Psychologists
School Psychologist Evaluation
Guide
Standards 2 and 3
Curricular Focus
Table Talk:
What are your concerns?
What are your next steps?