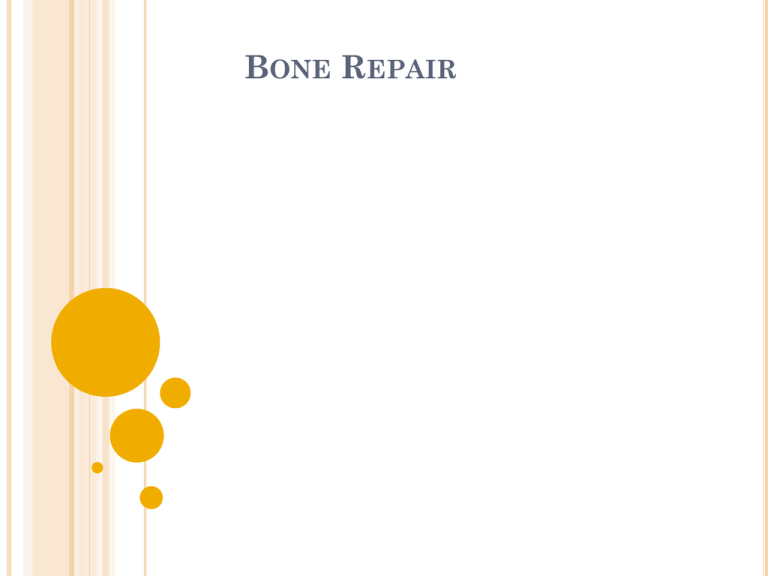 BONE REPAIR
HEMATOMA
A hematoma is a
 There are different
localized collection of
degrees too
blood outside the blood
 Petechiae
vessels but confined
 Purpura
within an organ or
 Ecchvmosis
space.
 There are several types
of hematomas

Subungual hematoma
 Perichondral hematoma
 Subarachnoid
hematoma
 Subdural hematoma

WHAT REALLY IS A BONE HEMATOMA?
CALLUS FORMATION

Callus- is a mass of tissue that forms at a
fracture site and connects the broken ends of the
bone

Internal Callus- forms between the ends of the
broken bone, and in the marrow cavity if the
fracture occures in the diaphysis of a long bone

External Callus- forms a collar around the
opposing ends of the bone fragments
WHAT IS AN EXTERNAL CALLUS
WHAT IS AN INTERNAL CALLUS?
CALLUS OSSIFICATION
1 of 2 essential processes during fetal development of the
skeletal system
 Creates bone tissue
 Vital during rudimentary formation of long bones, growth
and length of long bones, and natural healing of bone
fractures
 Results in stronger external callus
 Internal callus forms and replaces hematoma, osteoblasts
from periosteum enter internal callus and begin to produce
bone
 Woven, cancellous bone replaces cartilage of internal and
external callus which further stabalizes the broken bone

CALLUS OSSIFICATION
BONE REMODELING
mature bone tissue is removed from the
skeleton
 new bone tissue is formed
 reshape or replacement of bone following
injuries like fractures but also microdamage, which occurs during normal
activity
 first year of life, almost 100% of the skeleton
is replaced. In adults, remodeling proceeds
at about 10% per year

BONE REMODELING
LET'S REVIEW!!