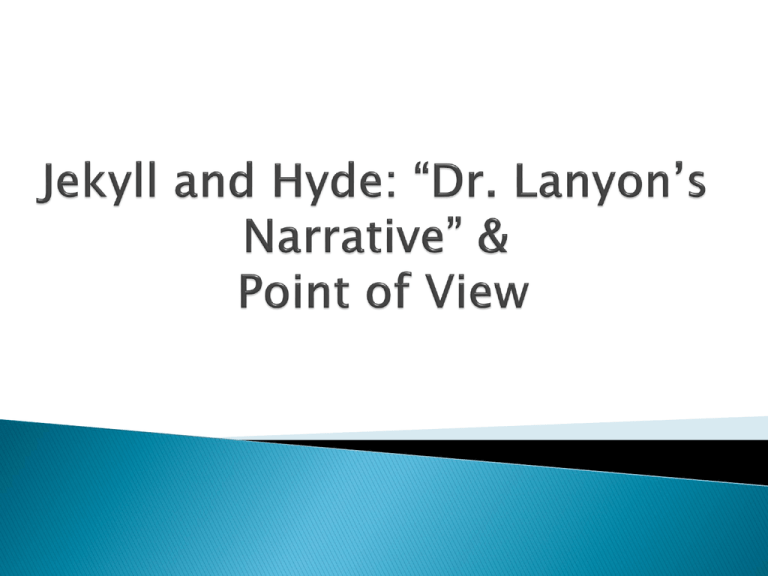 Read like a writer. Write like a reader.
In your journal, respond to the above quotation.
What do you think makes a "good" reader? What
makes someone a "good" writer? How do these
skills overlap?
News Right Now (NRN):
http://www.bbc.co.uk/nature/19846365



Plagiarism
Key take-aways?
What are some of the
consequences?
Define: "paraphrasing,"
"common knowledge"
Remember: When in
doubt, CITE!

Vocab Review
Affection
◦ A gentle feeling of
fondness or liking

Exorbitant
◦ Unreasonably high;
excessive
Word of the Day:
 Incredulous (54):
◦ Unwilling or unable to
believe something
Final review of missing work before midterms.
CHECK YOUR BINDER!

Discuss "Dr Lanyon's Narrative" (48-54)

Introduce and apply understanding of point
of view

Begin "Henry Jekyll's Full Statement of the
Case" (55 – the top of 61). Complete Double
Entry Log for characterization of Jekyll.




Discussion Questions
What caused Lanyon to become mortally ill?
Has Stevenson sufficiently prepared us for the
disastrous effect of Jekyll's revelations?
Why did Stevenson need to kill Lanyon?
Why did Jekyll want to reveal his
transformation to Dr Lanyon?
Point of view: The perspective from which a
narrative is told.
Participant Point of View (First-person point of
view): First-person pronouns (I, me, my, we,
us, our) are used to tell the story
Nonparticipant Point of View (Third-person
point of view): Third-person pronouns (he,
him, she, her, they, them) are used to tell the
story
Non-participant points
of view
Participant Points of View




The first-person narrator
can approach other
characters as closely as one
human being can approach
another
The narrator can be an
eyewitness
The first person narrator
can summarize events and
retreat from a scene
THE READER MUST
DETERMINE WHETHER THE
NARRATOR IS
TRUSTWORTHY

Omniscient: Author can
enter the minds of all the
characters
◦ Describes what characters are
thinking and feeling
◦ Describes what characters do
◦ The narrator may offer
multiple perspectives on the
same event

Limited: Author limits
his/her presence to the
minds of a few characters
◦ Story is portrayed through the
eyes of one character; sense
of distance from other
characters
Spend 10-15 minutes writing creatively about
a typical day in this classroom…from Mr.
Bertozzi's perspective (use a participant point
of view).