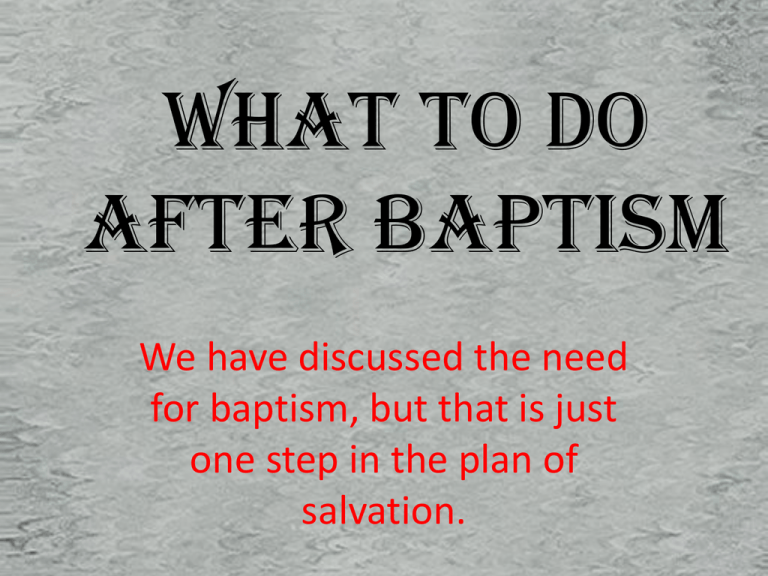 What To Do
After Baptism
We have discussed the need
for baptism, but that is just
one step in the plan of
salvation.
Introduction
• Before one may be properly baptized he
should have first learned the gospel, believed
in Christ, confessed Christ, and repented of
sin.
• Now, what is required of a person who has
been baptized?
• We will notice several things that are just as
necessary as baptism itself.
One Should Rejoice
• Acts 8:35-39; 16:32-34 The Ethiopian eunuch and
the Philippian jailor are examples of those who
rejoiced following baptism.
• Baptism must have some serious significance in
salvation to result in such joy.
Luke 15:4-10 When lost souls are found, heaven
rejoices!
Philippians 4:4 Constant joy is to be found "in the
Lord", and baptism is how one gets
there (Galatians 3:27).
ONE SHOULD KEEP COMPANY WITH
OTHER DISCIPLES
• Acts 9:18-19; 10:48; 16:15; 16:33-34; 18:8, 11
In case after case of conversion, those saved made a
point to enjoy the company of other Christians, usually
those who converted them.
• Acts 2:46 Frequently sharing meals with fellow
Christians is a worthwhile use of time.
• Romans 12:5 Disciples are dependent on one another.
• 1 Corinthians 5:11 If the company of other Christians is
not made use of, then its loss during
discipline is meaningless.
ONE SHOULD KEEP LEARNING
• Matthew 28:19-20 Jesus said that those taught
and baptized should still be taught.
• Acts 2:41-42 Baptized people "continued
steadfastly in the apostles' doctrine".
• 2 Peter 3:18 Growth in grace and knowledge is
commanded.
• 2 Timothy 2:15 Study to show yourself approved
to God--handling the word of God properly.
ONE SHOULD EAT THE LORD'S SUPPER
REGULARLY
• Acts 2:41-42 Among the post-baptism actions
specified is the breaking of bread.
• Acts 20:7 Bread should be broken on the first day
of the week.
• 1 Corinthians 11:23-26, 17-20, 33 This breaking of
bread is a commemoration of Christ's sacrifice on
the cross. It is called "the Lord's Supper" and
should be done with the church.
ONE SHOULD PRAY OFTEN
• Acts 2:41-42 Another post-baptism action
specified is prayer.
• 1 Thessalonians 5:17; Luke 18:1 Prayer should
be a constant in the life of a Christian.
• Proverbs 28:9; Isaiah 59:1-2 Since the prayers
of sinners are unheard, speaking to God is a
unique privilege of the saved.
ONE SHOULD LEAD OTHERS TO CHRIST
• Acts 9:18, 20 Saul wasted no time between his
baptism and his efforts to persuade others.
• Matthew 5:14-16 The Lord's people are meant
to influence others.
• Proverbs 11:30 It is wise to win souls!
• 1 Thessalonians 1:3,8 The Thessalonians were
commended for doing this.
ONE SHOULD REMAIN MORALLY
UPRIGHT
• Romans 6:3-23; Colossians 2:12; 3:1-10 Baptism
is presented as death to sin and resurrection to
righteousness. Once baptized, the disciple should
live accordingly.
• 1 Corinthians 6:9-11 Washing, sanctification, and
justification demands that sin be quit.
• 1 John 2:1; Acts 8:22; James 5:16 The Christian
should not sin, but if he does, the remedy is
through prayer, repentance, and confession.
• This is what will separate us from the world.
Conclusion
• 1 Corinthians 15:58 The saved person is called
to steadfastness and work.
• Revelation 2:10 Faithfulness is required until
death.
• This is a life-long journey of growth.
• You need to help others get to heaven,
otherwise you may not go.
• You now know your duty to God, will you do
it?