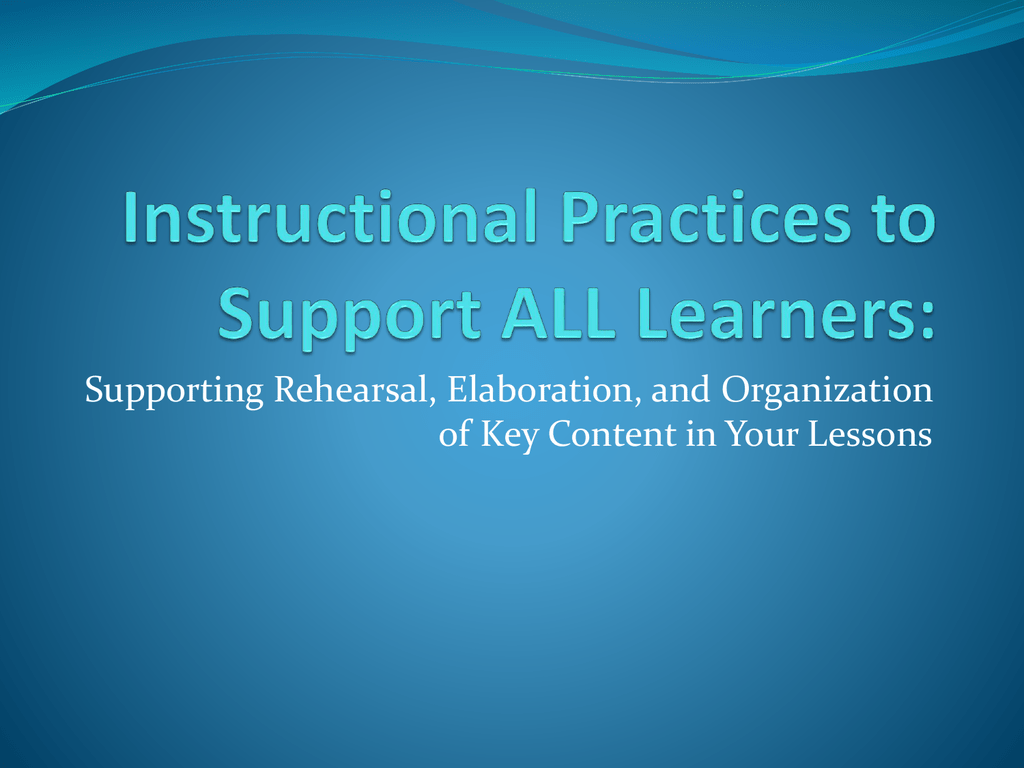 Supporting Rehearsal, Elaboration, and Organization
of Key Content in Your Lessons
Objectives: You will be able to:
 Describe instructional techniques for supporting
rehearsal, elaboration, and organization of key content
 Cornell Notes: Rehearse and Elaborate
 Graphic Representations: Organize and see
relationships
 Use signal words and expository text structures to
inform note-taking organizers (you or your students
create)
 Seminar: Share example(s) of how these techniques
might be useful in your discipline
Instructional Practices to
Support Learners
M&MDAAVISS
1.


2.



3.

Rehearsal: Determining important ideas (vs. Driveby Reading) and summarizing
Judgment and Decision Making
Text-marking & note-taking
Elaboration: Making connections; generating
questions; visualizing; interpreting; transforming
Clarify understanding and personal your message
Retell > paraphrase > summarize > synthesize
Quick writes, text coding, double entry journals
Organization: Noting relationships between ideas
Pyramid notes, text frames, graphic representations
Supporting Rehearsal and
Elaboration of Key Content
Cornell Notes
1. Document with Notes
2. Jot down Key Points
3. Summarize
4. Study
Supporting Organization of Key
Content with Graphic Organizers
 Problem-Solution for Science Report (science news:
problem solution; your thoughts; key words)
 Problem-Solution for History Text (who; problems;
what changes affected these people; what did they do
to solve their problem)
 Quick Sketch of Chemical Reactions (draw a picture of
each step of the process as a cycle or cause/effect)
Organizing Ideas in Math
Using Graphic Organizers to Represent
Relationship Between Key Ideas
 Five common informational text structures?
Corresponding "signal words"?
Enumeration
Time Sequence
Compare/
Contrast
Cause/
Effect
Problem/
Solution
Signal Words (Mortar)
How can we teach students to recognize these signal words and use them to
organize their notes in ways that connect key ideas?
Signal Words
(the mortar that links the bricks together)
How can you teach students to recognize these signal words and use them to
organize their notes in ways that connect key ideas?
Can You Identify (And Help Your
Students Identify) Examples of
Common Expository Text
Structures? See your handout
 Enumeration
 Time Order
 Comparison-Contrast
 Cause-Effect
 Problem Solution
Time Order
JFK
Signal words:
• Specific dates
• After
• It wasn't until
Freedom of Religion
Enumeration
Signal words:
• several points
• one point
• finally
Castles
Compare & Contrast
Signal words:
• for X, not Y
• in spite of
• except for
• Not only
Fire
Cause-Effect
Signal words:
• was started by
• left by
• before it was…
• as a result
• were all that
remained
Problem-Solution
Price of Oil
Signal words:
• created a serious problem
• responded to.. by
• this resulted in
• they began… and discovered…
Seminar: Applying Instructional
Techniques to Your Content
 Share a technique that can help support
students' rehearsal, elaboration, and
organization of content you plan to cover
in your lesson plan assignment.
 Identify a feature of this technique that
would be especially useful for supporting
struggling readers and/or English language
learners.
Homework
 CHANGE IN SEQUENCE ON SYLLABUS!
 Next: Using Assessments To Guide Learning
 Read:
 Tovani, Ch. 8 All These Sticky Notes
 #16 Guskey: The rest of the story.