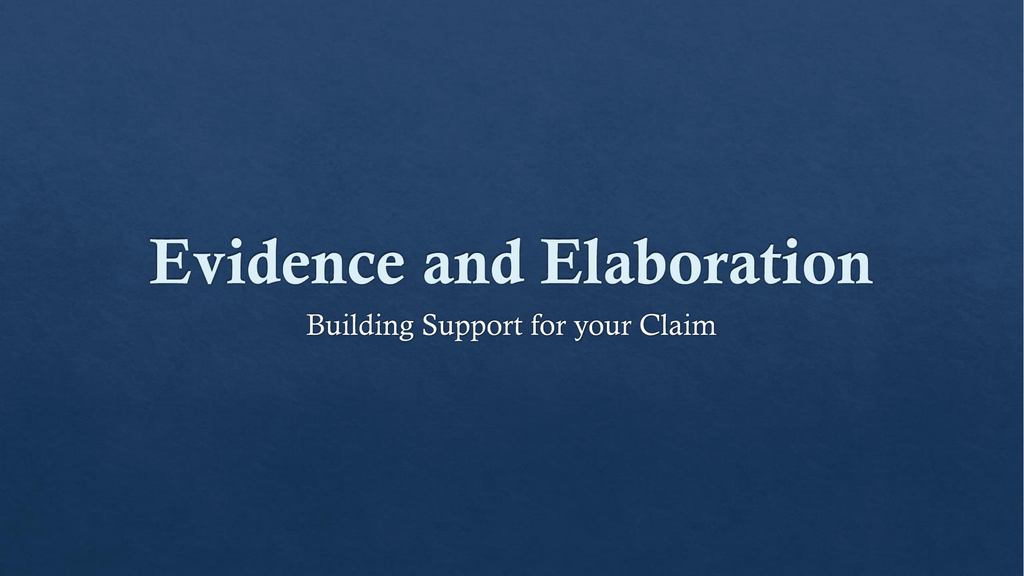 The real test is in a few short weeks! You have come a
LONG WAY and I am very proud of each of you!
BUT! There is still a lot of work to do to make sure you
will do your best on the test! Based on the results from
the 3rd FPMA, we need to practice:
1.
2.
3.
4.
Not using personal pronouns
Creating clear and precise claims/controlling ideas
Using a variety of different kinds of evidence
ELABORATING on cited evidence and
CONNECTING it to your claim/controlling idea
5. Creating clear conclusions
Say the same idea, but take
out the pronoun!
TYPE
DESCRIPTION
EXAMPLE
Explanation
Explain the evidence
provided. (Often
used when a direct
quote is given.)
Evidence: According to authors, Africa lost more than 60% of
its elephants to poachers over the last ten years.
Elaboration: That is more than half of all the elephants in the
country, meaning that at this speed, the elephants could soon
die out.
Evaluation
Evaluate the
evidence based on
other facts in the
passages.
Evidence: Surveys indicate that many citizens do not even
realize that the elephants die when poachers get the ivory.
Elaboration: However, this is not a good enough reason to let
this practice continue, since groups like CITE educate their
citizens with such facts.
Definition
Defining concept or
idea to help your
reader better
understand the
evidence.
Evidence: Colony collapse disorder (CCD) is one possible
reason why honeybees are disappearing.
Elaboration: Colony collapse disorder is when bees leave their
nest but never return. Scientists are searching for the cause.
TYPE
DESCRIPTION
EXAMPLE
Analyze
(Compare)
Provide a
comparison to the
evidence.
Evidence: As the polar ice melts, polar bears become less afraid
of humans as they look for food.
Elaboration: The graphic provided shows a polar bear trying to
get into a truck. Thus, as their habitat disappears, they search
elsewhere, finding food wherever possible.
Analyze
(Prediction)
Analyze the
evidence and
make a prediction
based on evidence
in the text.
Evidence: Colony collapse disorder (CCD) is one possible reason
why honeybees are disappearing.
Elaboration: If this continues to happen and bees keep leaving
their hives, crops will fail, costing farmers millions of dollars.
Analyze
Analyze the
(Cause/Effect evidence to show a
Relationships) likely cause and
effect relationship.
Evidence: Experts say that the coral reefs are disappearing at a
rapid rate.
Elaboration: Therefore, many aquatic creatures like the clown
fish will become greatly in danger of losing their natural habitat.
POINT
(claim/controlling idea)
EVIDENCE
(including source)
ELABORATION
POINT
(claim/controlling idea)
EVIDENCE
(including source)
The American Dream is not
achievable because the average
income of most Americans does
not support the needed costs of
what makes the American
Dream possible.
1. "Up to 15 million young
Americans today are at
risk."
(source 1, paragraph 5)
2. "Total income needed to live
the American Dream: $130,
357." (source 2)
ELABORATION
1.
2.
3.
4.
Children are the most at risk in
America because many parents are
unable to provide the basics to ensure
kids are successful in life.
Therefore, children are the most
vulnerable victims of the loss of the
American Dream.
For just the basic costs of living, the
amount of money you need to make a
year already exceeds the average
income of most Americans.
The total cost of the American
Dream can change depending on
where you live.
This is an argumentative prompt: Take a position on whether or not you believe that the American
Dream is achievable by all Americans based on the evidence provided by the texts we read in class.