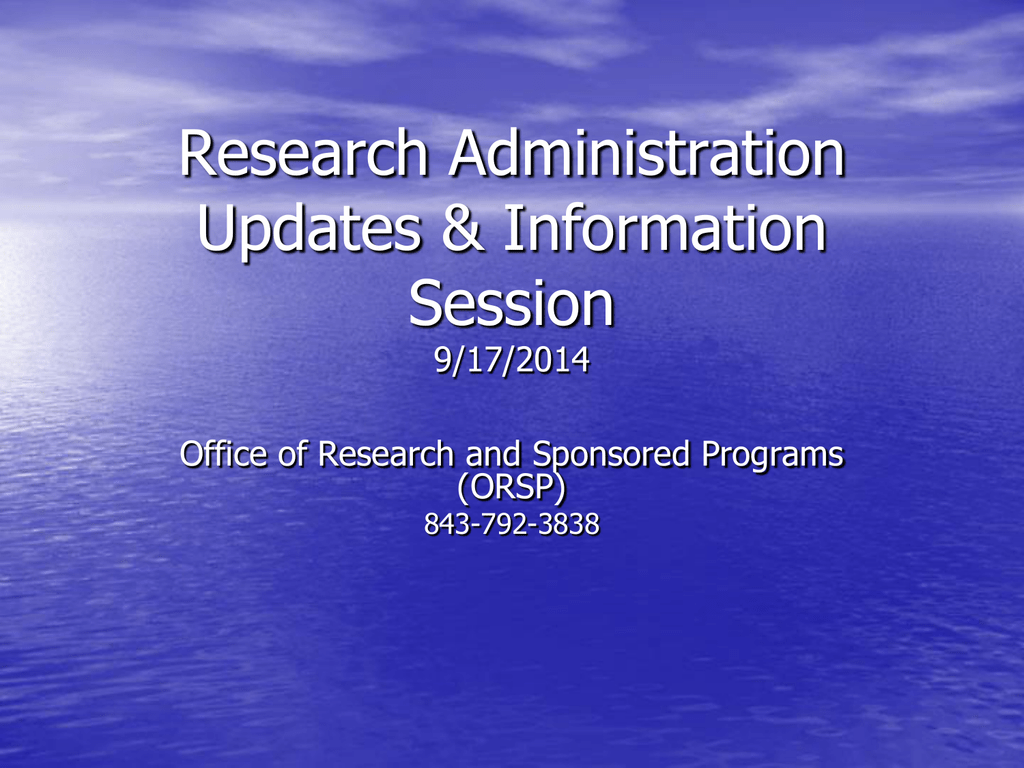 Research Administration
Updates & Information
Session
9/17/2014
Office of Research and Sponsored Programs
(ORSP)
843-792-3838
Topics Covered
• Introduction & Introductions
• NIH Notices/Updates
• SciENcv
• Uniform Guidance Updates
• Reminders/Miscellaneous
• Questions/Feedback
NIH Notices & Updates
NOT-OD-13-097
– eRA Commons User IDs required for graduate
and undergraduate student roles
– 1 or more person-months effort on project
– NIH requests the students complete profile
– Has been a 'warning' since October 2013
– Will be an 'error' beginning October 2014
NIH Notices & Updates
NOT-OD-14-084
– NIH Updating Closeout Policies & Procedures
– Effective for project end dates after 9/30/2014
– "Bilateral closeout" – ALL final reports submitted (90 days)
and accepted within 180 days
– "Unilateral closeout" – without receipt of acceptable final
reports (out of compliance)
• Risk of disallowed costs and/or debt
• GCA closeout processes
– May change to align with Uniform Guidance
– Frequently Asked Questions on grant closeout
NIH Notices & Updates
NOT-OD-14-113
– Description of how Individual Development Plans (IDPs)
are used by the Institution
– NOT specific IDPs for individuals
– Required when Participant list includes Graduate
Students and PostDocs
– ALL progress reports submitted on/after 10/1/2014
– RPPR Section B "Accomplishments" Question B4
– Also required for training and professional development
awards/components (e.g. T, F, K, R25, R13, D43)
– Dr. Ed Krug and Dr. Joann Sullivan drafted a template
for MUSC
NIH Notices & Updates
NOT-OD-14-129
– eRA Commons User IDs required for the primary
Sponsor in Individual Fellowship applications
– NIH and AHRQ requirement
– Instructions:
• List the Sponsor as Senior/Key Person 1
• Use the 'Other' or 'Other Professional Role' in the Project
Role field and provide the text 'Sponsor' in the other Project
Role Category field
• Provide a valid Commons Username with the 'Sponsor' role in
the Credential field
NIH Notices & Updates
Update:
Additional Education Information attachment
– Individual Fellowship (F30, F31, F32)
– Cayuse is adding a new validation
• Consulted with NIH
• NIH to update guide
• Similar confusion nationwide
Science Experts Network Curriculum Vitae SciENcv
− Biosketch preparation for federal applications
− Currently for NIH biosketch preparation
 NSF functionality coming with system update
 Interagency Working group includes:
DOD, DOE, EPA, NEW, NIH, NSF, Smithsonian and USDA
− Will add SciENcv information to ORSP page
− SciENcv FAQs
− Instructions (pdf)
Uniform Guidance
• Uniform Guidance QUICK REVIEW
– Uniform Administrative Requirements, Cost
Principles and Audit Requirements for Federal
Awards
– Supersedes and streamlines requirements
from OMB Circulars A-21, A-87, A-110 and A122
– Effective December 26th, 2014
Uniform Guidance
• Uniform Guidance Updates
– CONFIRMED: nothing more from agencies
– Procurement Standards: 1 Year Grace Period
– Requirement for timing of Close-outs within
90 days extended to 120 days for NSF & NIH
– "Must" and "Should" Importance in UG
• Must is a requirement.
• Should is a recommended best practice.
Uniform Guidance
• Uniform Guidance Updates (cont.)
– "Subrecipient" & "Contractor" determinations
• Subrecipient characteristics
– Determines who is eligible to receive what federal
assistance
– Performance measured in relation to whether objectives
of federal program were met
– Has responsibility for programmatic decision making
– Responsible for adherence to applicable federal program
requirements specified in federal award
– Per the agreement, uses the federal funds to carry out a
program for public purpose specified in authorizing
statute vs. providing goods & services just benefiting the
pass-through entity
Uniform Guidance
• Uniform Guidance Updates (cont.)
– "Subrecipient" & "Contractor" determinations
• Contractor characteristics
– Provides goods and services within normal business
operations
– Provides similar goods and services to many different
purchasers
– Normally operates in a competitive environment
– Provides goods or services that are ancillary to the
operation of the federal program
– NOT subject to the compliance requirements of the
federal program as a result of the agreement, though
similar requirements could apply for other reasons
Reminders/Miscellaneous
• NIH will be rolling out new requirements
related to ClinicalTrials.gov
• NSF clarifies inclement weather policy
– IF NSF shuts down due to weather/natural
causes on the day of the grant deadline, then
the deadline will be the very next day.
– Same for the submitting institution IF there is
an Official Shutdown of the entity, deadline is
next day
Reminders/Miscellaneous
• PLEASE check and recheck FISCAL UNIT
on the ePDS
• Mistakes lead to delays in correct unit number
for udak
• Delays spending/work on the project
• Creates administrative delays: PEARS, etc.
• Wastes everyone's time (YOURS, GCA and
ORSP)
Reminders/Miscellaneous
• ORSP MUST review and approve ALL
proposals PRIOR to submission
– Even if sponsoring entity doesn't require a
signature
– Some submissions don't allow for ORSP or
Authorized Official sign-off or approval
– PLEASE get ORSP in-the-loop REGARDLESS of
application process/procedures, THANKS!
Reminders/Miscellaneous
• ORSP & Departmental/Unit Coordination
– Proposals should be reviewed by initiating unit
BEFORE going to ORSP
– SAME for JIT REQUESTS
• Effort changes may have occurred
• ORSP may or may not have a way to know
• JIT should be pre-reviewed by unit – best practice
Reminders/Miscellaneous
• NEXT ORSP sponsored Training
– October 28, 2014
– 10:30 AM in 803 Harborview Tower
– http://academicdepartments.musc.edu/resear
ch/orsp/
Questions?
Please complete feedback survey.
Thank you for your time!