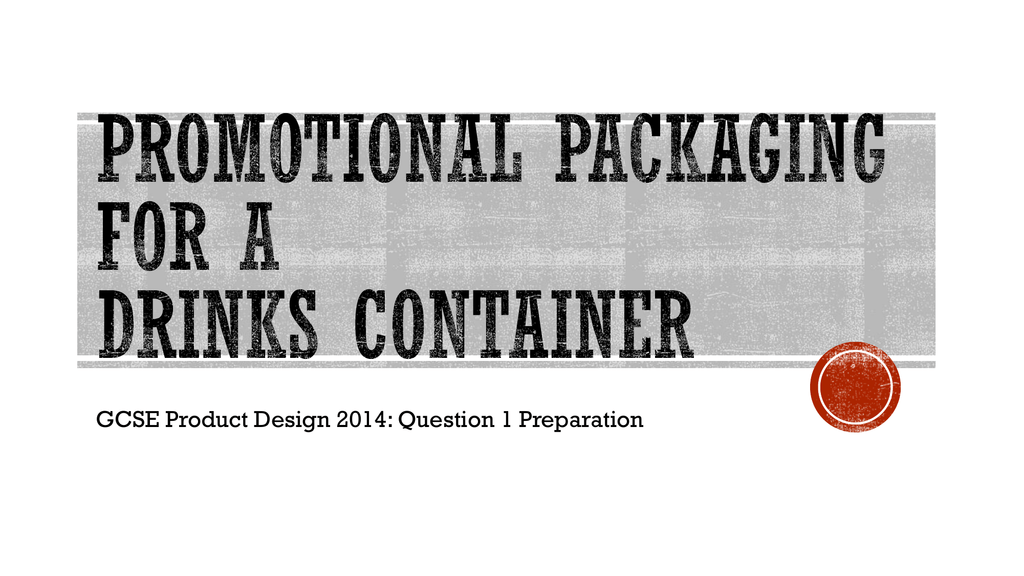 GCSE Product Design 2014: Question 1 Preparation
• Question 1 in the exam is ALWAYS a design task.
• It is worth 25% of the marks for the written paper.
• Whilst you won't know the exact task beforehand, you will be able to do
some research and come up with some possible ideas in advance. On the
day you will then be able to adapt these designs to suit the actual question.
• Approach this question in a similar way to how you started your
coursework, e.g. task analysis, brainstorms, research, design
specifications and designs. Most of this you will have do BEFORE the
exam so you must make time to prepare.
• You cannot take any of your preparation into the exam so you will need to be really familiar
with your research and ideas so you can drawn on them from memory.
Because this is a Football World Cup year, there is a strong possibility that
the promotional packaging could be World Cup/Brazil themed.
Equally, it might have nothing to do with the World Cup!
Other possibilities:
• Healthy fruit based drinks (like Innocent Smoothies) promoting healthy
eating.
• Packaging to promote recycling/environmental issues.
• Packaging for a theme park or family attraction e.g. Alton Towers.
• Packaging for a new fast food chain.
• New range of drinks aimed at a given target market, e.g. toddlers, teens,
people on their way to work, etc.
• Packaging to promote a film or music festival.
• New sports/energy drinks range promoting fitness and health.
These are only guesses – we don't know what the actual
question will be either!
That's why it is best to research as many possible themes as you can. It
won't be wasted – a shape from one theme could be adapted to suit
another
POSSIBLE
THEMES…
These are all can or bottle
'wraps', with the
promotional graphics
replacing the usual
product labels.
These can be very striking
and even collectible.
The manufacturers only
need to change their
labels – changing the
shape of the container or
even the secondary
packaging to fit new
shaped containers would
be very costly.
Some
manufacturer
s might 'add'
something to
their standard
containers,
e.g. these
bottle t-shirts.
Some might
actually change
the shape of the
containers but
this would only
be major
manufacturers that could guarantee
selling vast numbers of units
to justify the cost.
(NOT ALL DRINKS BUT IDEAS COULD BE ADAPTED)
Maybe the packaging has some kind of
gimmick that would make it attractive
and appealing to its target market likes
these built-in crazy-straws (above)
Use of bold colours
and appealing
characters make
these types of
products attractive to
children.
Lots of these are fruit based but
these bottles were designed to
encourage young children to drink
more water.
Bright bold,
colours and
dynamic
graphics are
the norm for
this type of
packaging.
Not all drinks come
in cans or bottles…
Lots of sports drinks are
designed to be used
whilst exercising. Some
are even shaped to make
them easier to hold whilst
on the move.
These ones (left) are even
designed to be a part an
exercise routine!
The wording of the theme makes it unclear whether you will be asked to design a
container for a single drink or outer packaging for a pack of drinks.
The container could be a
bottle, can, carton or even a
cup so consider different
solutions just in case.
Not actually
drinks but easily
adaptable
Packaging with multiple
compartments – milk and
cookies…tea and biscuits???
Clear bottle shaped
window in this cup
gives the appearance
of a classic coke bottle
that empties as the
drink is drunk – very
simple but effective.
Multiple layers of card cut
to fit the container exactly
make a very safe and
protective secondary
package for fragile bottles.
An easier
way to carry
multiple
coffee cups –
no more
balancing
acts in
crowded
coffee
Very simple alternative
shops!
to insulating cup sleeves
– no more burnt fingers.
If your design can not only promote
whatever it is you are asked to
promote but also meet the needs of
the user in an original way, the
chances of success are much higher.
This milk carton design uses smart materials to show
when the milk has reached its expiry date.
Wooden outer package protects the
glass honey jar inside but is also
aesthetically pleasing and helps to
promote
the natural
qualities of the
product.
Minimising fast food waste and
also easier to carry.
Re-useable fast food packaging for
food eaten in their restaurants
These packages are designed to
concertina when used so they take up far
less space in the bin.
This simple design
reduces the amount of
extra packaging
required to help one
person carry multiple
cups.
Recycled paper bottles!
Packaging that asks people to
re-think about packaging
• Know the functions of packaging
• Know the key pieces of labelling that must appear on food products, e.g. barcodes, best before dates, etc.
• Be familiar with designs that are suitable for packaging single containers like bottles and multiple
containers like drinks cartons or cans.
• Consider how you would promote to different target audiences – how would a package change if it was
being marketed to children or athletes, etc.
• Practice drawing in 3D (Isometric) and also nets – remember to include dimensions and annotations on
your design in the exam.
• Come up with a range of ideas for different target users and different types of containers.
• Attempt the practice question – this is not the actual question, just someone's guess at what the question
MIGHT be.
• Make sure you have pencil crayons, ruler, rubber, set square or isosketch to take into the exam to help with
your 3D drawings.
REMEMBER: You cannot take your prep work into the exam so you must be thoroughly prepared and know
your research off by heart so you can draw on any aspect of it.