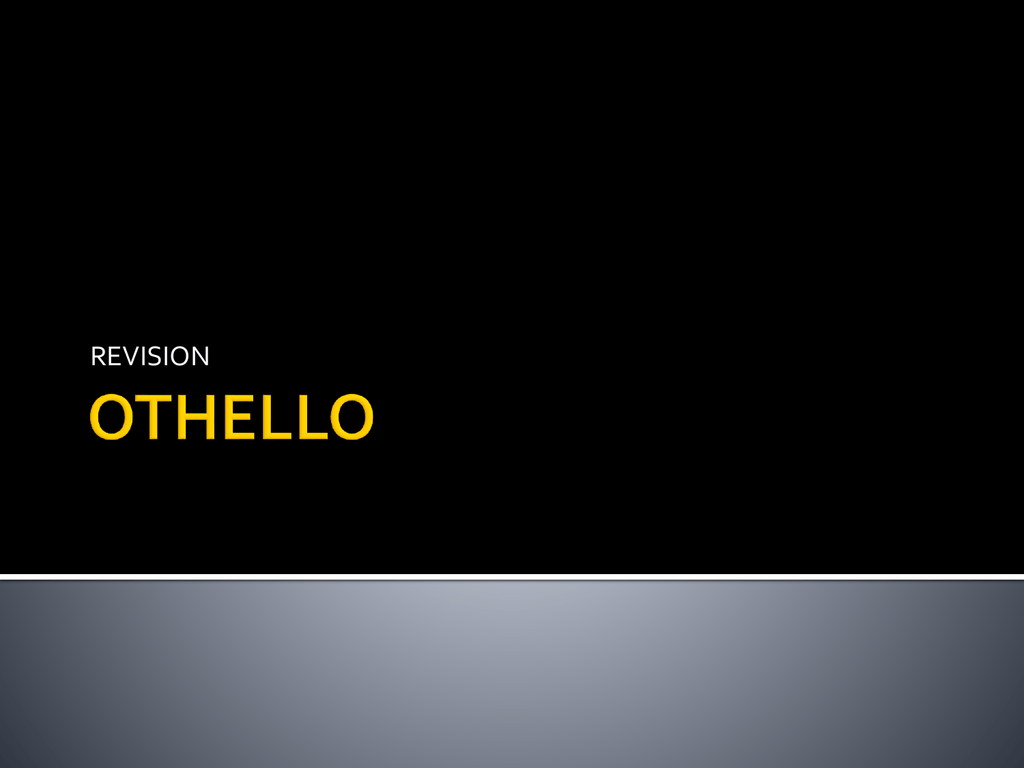 REVISION







You have to write ONE essay. You have a choice of three questions, one of which
is based on a passage (or two) from the play. Spend about 45 minutes on this
standard, 5 minutes writing a plan.
Do not summarise the plot and do not explain obvious details.
IF you understand the language of the extracts well, then do that question.
Quote from the extracts given but do also refer to other details in other scenes.
If you choose the "ordinary essay" option, then take a look at the passages for
the other question. You might find a useful quotation or idea in them.
Re read the play (give handout).
Keep your quotations frequent and brief, make sure they attack the question.
Aim to go a level deeper by considering the audience. The Tudor/Stuart audience
as well as modern 21st century audiences. (maybe use an audience point as an
extra y in your paragraphs.)
Imagery and its significance to character and theme








An old black ram is tupping your white ewe."
"Your son-in-law is far more fair than black."
"Haply, for I am black."
"When devils will their blackest sins put on…"
"Her name, that was as fresh // As Dian's visage, is now
begrimed and black // as mine own face."
"Arise black vengeance from thy hollow cell."
"Oh the more angel she // and you the blacker devil."
"…nor scar that whiter skin of hers than snow // And
smooth as monumental alabaster."






"Hell and night … world's light."
"Put out the light."
"I can again thy former light restore."
Enter Iago with a light. [stage direction]
Light I say! A light! Cassio/Brabantio
"Witness you ever burning lights above…"

"…the grace of heaven // Before, behind thee
and on every hand // Enwheel thee round." II,
I

"By heaven you do me wrong. // No, as I am a
Christian." II, i

His wits are working "with all the tribes of
hell." I, i

"Divinity of hell." II, iii

"When devils will the blackest sins do put on
// They do suggest at first with heavenly
shows, as I do now." II, iii

Falls from heaven to hell. This is reflected in
his language.

"As truly as to heaven I do confess the vices of
my blood."

"Heaven defend your good souls that you
think I will your serious and great business
scant." I, iii

"If she be false, O then heaven mocks itself;
I'll not believe it."

Desdemona is "fair devil" in III, iii and then
becomes "Devil!" in IV, I

"Heaven truly knows that thou art false as
hell." IV, ii

Othello says to Emilia: "You … that keep the
gate of hell." IV, ii

Damnation is real to Othello. "O I were
damned beneath all depths of hell." V, ii

"I will not kill thy unprepared spirit // No,
heaven forfend, I will not kill thy soul." V, ii

When he knows the truth, he looks for the devil
in Iago: "I look down towards his feet; but that's
a fable. // If that thou be'st a devil, I cannot kill
thee." V, ii

"From the possession of this heavenly sight!
Blow me about in winds! roast me in sulphur!
Wash me in steep-down gulfs of liquid fire!" V, ii

Judgement Day: "When we shall meet at court //
This look of thine will hurl my soul from heaven
// and fiends will snatch at it." V, ii


Read Othello passage and answer questions 3
and 8.
Attempt the other questions in your own
time as revision for exam.

Choose three characters and comment on the
significance of their first lines.

Choose different characters from your
neighbour and discuss the ideas you come up
with.

Select and essay question from the handout
and plan an essay.

Include key quotes your will use in the plan.

Complete essay template sheet.