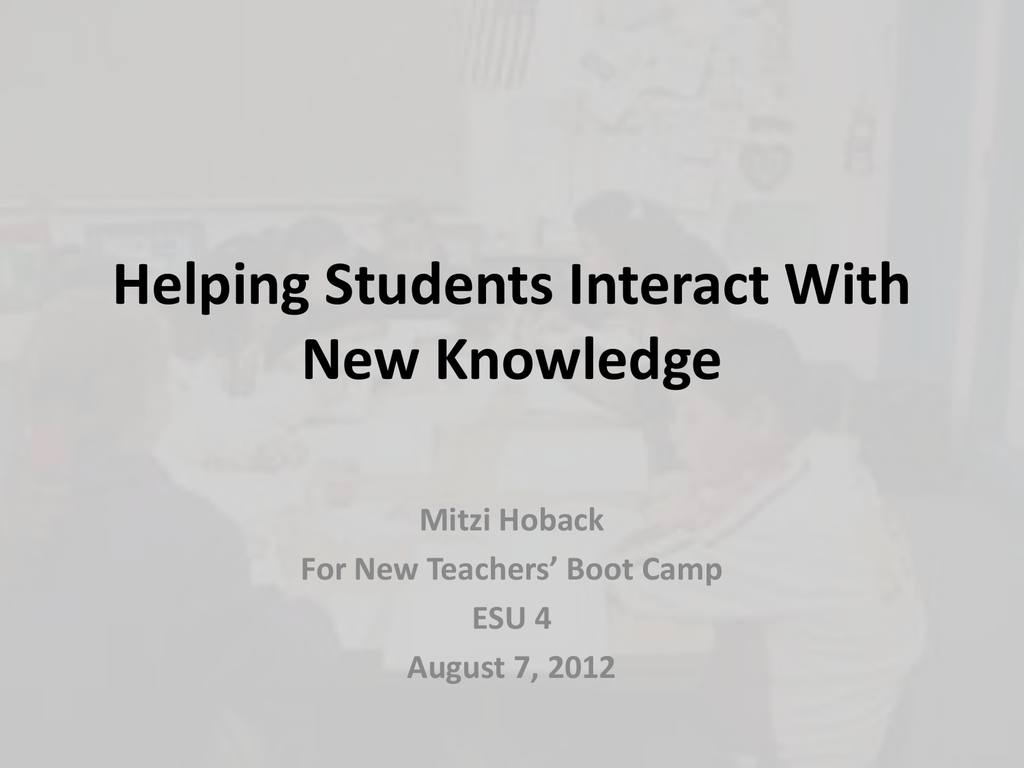 Helping Students Interact With
New Knowledge
Mitzi Hoback
For New Teachers' Boot Camp
ESU 4
August 7, 2012
Design Question Two:
What will I do to help students
effectively interact with new
knowledge?
The Art and Science of Teaching
ENACTED ON THE SPOT
Student Engagement
Teacher/Student Relationships
Learning Goals and Feedback
Rules and Procedures
ADDRESSES CONTENT IN SPECIFIC WAYS
Interacting With
New Knowledge
High Expectations
Practicing
and
Deepening
Generating/
Testing
Hypotheses
Adherence to Rules and Procedures
INVOLVES ROUTINES
Lesson segments that address content in specific
ways: Interacting With New Knowledge
1. Identify critical information.
2. Organize students into groups to interact with
new knowledge.
3. Preview new content.
4. Present new information in small chunks.
5. Process new information (summarize, clarify).
6. Elaborate on new information.
7. Record and represent knowledge.
8. Reflect on learning.
Before we begin…
• Work in pairs
• Determine who is 1, who is 2.
• Review the list of steps on the previous slide.
Are there any that are confusing or unclear?
Be prepared to share with the group.
Learning Goal:
Know and
understand the
history, beliefs, and
process of mehendi,
a custom that is part
of a traditional
Indian wedding
ceremony.
Henna
mehendi
Your own explanation and visual
representation
History
History of Mehendi
Take Off—Touch Down
• Henna is made by grinding the leaves of the
henna tree to a paste.
• Mehendi is the application of henna in intricate
designs, usually to the palms, back of the hands,
and sometimes the feet.
• Historians are certain that mehendi originated in
India.
• Henna artists generally come from the farming
caste.
• The deeper the color, the longer the love
between the couple will last.
Summary
• Write three facts you learned about mehendi.
• Share your statements with your partner.
pp. 103-119
HOW COULD TECHNOLOGY BE
INTEGRATED INTO THIS LESSON?
PRACTICING AND DEEPENING
KNOWLEDGE
Compare the Mehendi to the Western custom of
wearing a white wedding dress.
Standing Meeting
• Use the list of 8 segments for interacting with
new knowledge.
• Form a 3-ish group.
• Discuss the lesson that was just presented:
– What segments did you see?
– What was missing?
– What engagement strategies were used?
– Other thoughts?