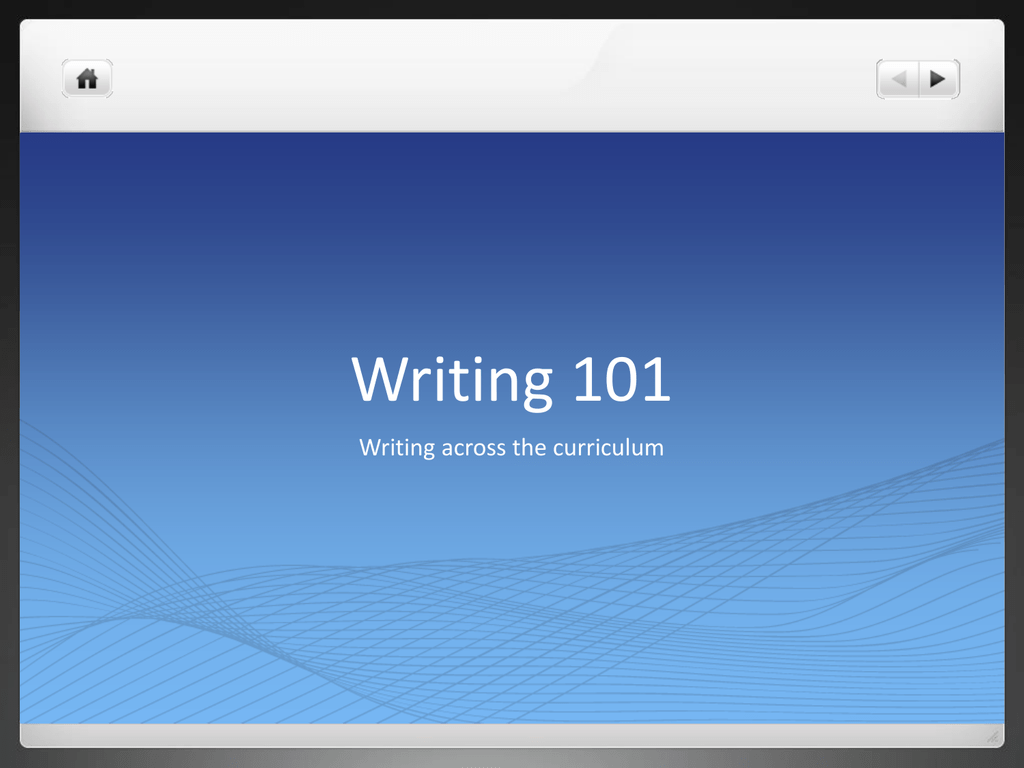 Writing 101
Writing across the curriculum
Improving writing
Write everyday
6+1 Writing Traits

Organization

Ideas

Word Choice

Sentence Fluency

Voice

Conventions

Presentation
Writing Process

Planning

Drafting

Revising

Editing

Publishing
Improving Writing Skills—Essential
Components


Direct instruction

Feedback

Teacher

Individual and specific

Variety of tools

Strengths

Accessible to all learning styles

Next steps
Write

Every day

All subject areas

Variety of text structures

Common language/terminology

Criteria for feedback clearly stated
Writing connected to reading

To get better at reading you read

To get better at writing you write

Free response as a formative measure of writing
Free response

Read a selection aloud—stop and ask students to
respond

Write a sentence or draw a picture (younger
students)

Responses about content, character, or vocabulary

Responses may include:
 What do you like or dislike about the text
 Where does the selection take place?
 How does it make you feel?
 What do you predict will happen?
 How does the character remind you of
someone you know?
 How does the text connect to you and your
life?

Think, pair, share or turn to your neighbor

Reread your response to yourself

Group discussion

Still agree with your response?

No right or wrong answers
Writing development

At first it may be summary types of response—that is what students are
used to

Expands on ideas

Improves sentence fluency

Gives voice to writing

Improves comprehension of reading
Using responses to improve writing:

Complete sentences

Makes sense

Short and choppy or run-on

Start all sentences the same way

Simple or more complex sentences (Adjectives, adverbs)

Strong action verbs

Take risks with new words or voice
Improving writing at the
sentence level
Basic writing
Building better sentences

Pictures give kids words—Paint a picture using words

Write down their responses

Model conventions—Use word sentence to discuss what you are writing

Choose action words rather than passive words

Pattern—who, action, finish the thought (Three box sentences)

Add descriptors—Adjectives and adverbs

Add phrases and clauses (four box sentences)
Three block writing
Four block writing
Moving to paragraphs

Introduction

Body

Conclusion
Topic Sentence

Declarative statement--simple

Number word included

Situation/stand (starter words)

Ask a question—paragraph will answer the question
Beware

My name is_____ and today I will tell you about….

In this paper, I will tell you about…..

I'm going to write about….

Deadly duo:

There are

Here are
Body sentences

Big ideas

Transitons

First, second, third—level one

Transition words and phrases

Repetition of word or thought, pattern
Conclusions

Strong ending

Summarize

Repeat of topic sentence with different words

"clincher"

Words that signal a conclusion
Examples and non examples of good
conclusion words
Good conclusive words

Actually

As a result

Certainly

Clearly

Consequently

Definitely

In fact

Obviously

Surely/truly
Beware

All in all

In conclusion

That is all

The end

I hope you like my paper
Let's Summarize!
Short and Sweet
Summary or Retell?
Summary>3rd or 4th Grade

Big ideas

Written

Retell< 3rd or 4th Grade

Main idea and details (Sometimes
all details)

Oral

Lengthy, may contain information
not necessarily found in the text
Short, sequential, few details
A Good Summary should….

Significantly shorter than original text

Paraphrasing using own words not directly copied from text

Big ideas in sequential order

Eliminate most details (especially fluff)

No personal opinions

No outside information not found in text.
Writing a good summary—Step 1: Topic
sentence

Name it (name of article and author)

Verb it (What it does)

Big picture (What does it tell me, what does it say?)

List of verbs: tells, shows, describes, explains, discusses, listts, explores,
illustrates, teaches, compares, contrasts
Write a summary Step 2—Paraphrase big
ideas.

Jot dots using rule of 5 (five or less words)

Encourages paraphrasing and chunking

4-6 jot dots (most of the time)

Beginning, middle, end. (sequential)

Main ideas from story.
Write a summary: Step 3 Write out loud

Turn to a neighbor and orally write you summary from your topic sentence
and jot dots

Turn each jot dot into a complete sentence

Practice

Helps clarify ideas
Write a summary Step 4 and 5

4: Keep plan close by to refer back to.

5. Write the summary
Response to Literature—Summary plus

Short summary

Personal connections—to self, world, or other text

Author's message or lesson, including a personal comment
Questions
Thank you!