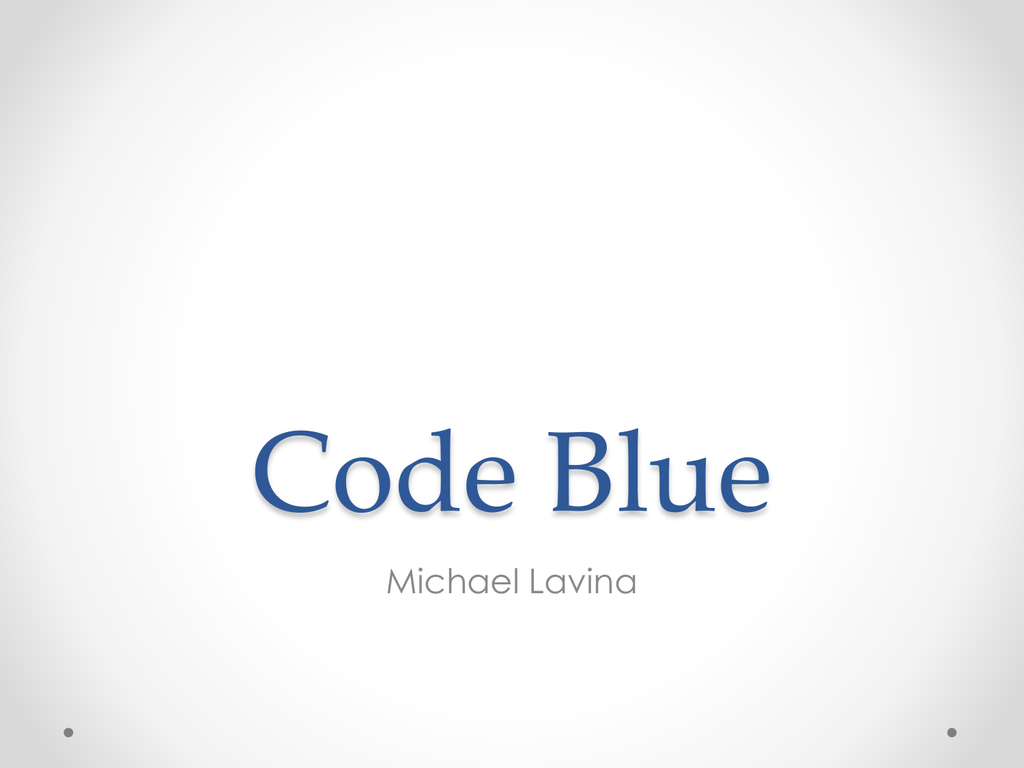 Code Blue
Michael Lavina
Forecast
• 383,000 out-of-hospital cardiac arrests every year in
the United States.
• Nearly 60% of all cardiac arrests are witnessed
• Only 32% of of cardiac arrests have bystanders
perform CPR
• This application will raise the number of cardiac
arrests treated by bystanders by tackling the
problem of the witness not being able to perform
CPR or being able to find someone nearby
Outline
•
•
•
•
•
•
Users
So What
The Product
Partnerships and Distribution
Milestones and Constraints
Scenarios
Users
Users
So What
Survival Rates of Cardiac Arrest
The Product
• Software Based
Application
• Easy User Interface
to Alert nearby
responders
• Use GPS to
broadcast your
location
• Responder recieves
your location and
directions
Partnerships and
Distribution
• American Heart Assocation
o Spread awarness
o Provide funding
• American Red Cross
o CPR Training
o Distribute Product
Constraints and
Milestones
Constraints
• The application needs
to be ubiquitous to be
effective.
• There is a need to store
a lot of data, which
can get costly.
• Data needs to be kept
private.
Milestones
• A significant
percentage of a
certain area uses the
application.
• Have access to
enough servers and
storage and be able to
afford it.
• Create effective
system that keeps data
private.
Scenarios
FAQ
• How is a dying person going to use this application?
o As stated early this application is geared towards witnesses who are not
CPR certified.
• How are you going to make money?
o By partnering with various organizations such as the American Heart
Association.
• Why would people use this application?
o This application would be distributed after completing a CPR course and
thus people would be incentive to add utility to their newly aquired
certification.