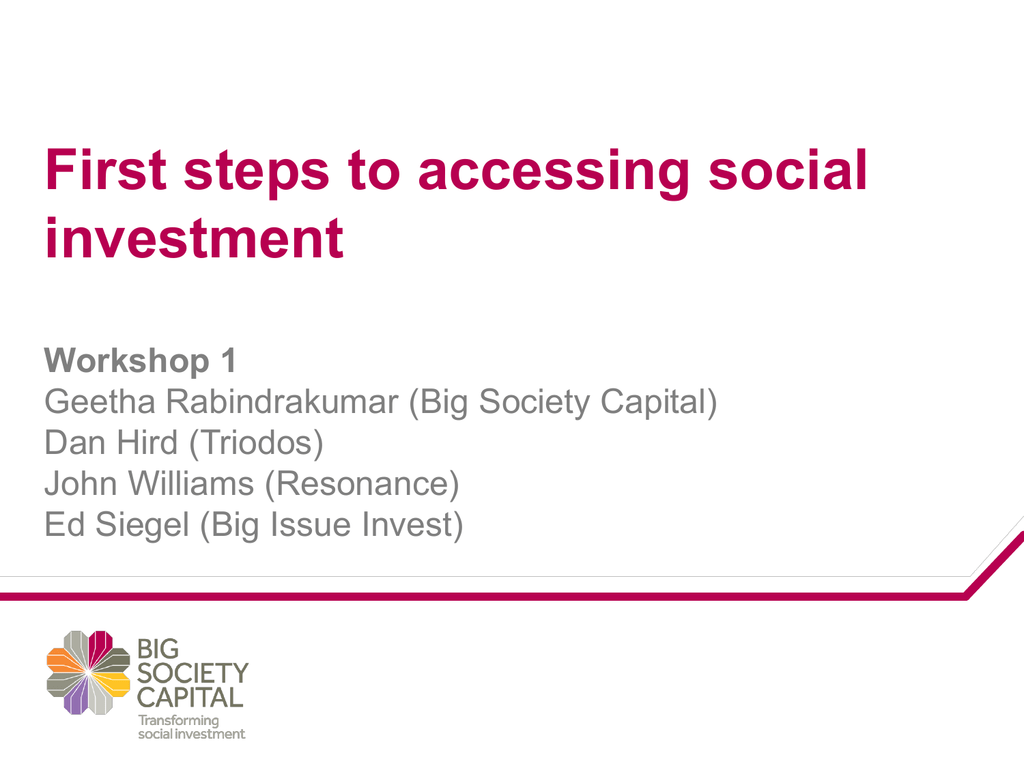 First steps to accessing social
investment
Workshop 1
Geetha Rabindrakumar (Big Society Capital)
Dan Hird (Triodos)
John Williams (Resonance)
Ed Siegel (Big Issue Invest)
Big Society Capital works through roles as:
INVESTOR
CHAMPION
Grow the social investment
intermediary market
Increase awareness and
confidence in social sector and
in social investment
Provide affordable and appropriate
finance for frontline social
organisations
e.g. Increase opportunities to
showcase social investment and
for social sector to connect with
finance providers
Stimulate creation of investible
products for individual and
institutional investors
e.g. Work with UK and EU
governments to encourage
appropriate policy and tax support
for social investment
Role is as a wholesaler:
DORMANT
ACCOUNTS
£109m
£72m
HIGH STREET
BANKS
Improving sustainability - Greenway Centre
"Installing solar panels has
enabled us to reduce our
operating costs, so our services
remain affordable for the whole
community"
Scaling with motivated investors - Oomph! Wellness
"We wanted investors that shared
our values: namely a commitment
to strong commercial returns but
never at the expense of the health
and wellbeing of the older adults
we exist to serve"
Achieving better outcomes – CPCEs
Delivering enhanced
care beyond basic
needs, with reduced
social isolation
• 2
But…need to consider:
• NOT replacement for grants and other income
• Social investment is a means to an end…
• Options for different organisations (size, legal structure, stage in
development)
• Choosing the right option for short term and long term
• Understanding risks
• Internal capacity and capability
• Visibility of process
• Impact – demonstrating social outcomes
Wider social investment ecosystem
Commissio
ning/reven
ue support
BLF Outcomes Fund (£40m)
CO Outcomes Fund (£10m)
Type of capital
Secured
Loans
Social Banks (~£180m)
Unsecured
Loans
Social Investment Funds (~£20m)
Tech for
Good
(£500K)
Equity
Fully or partly funded
by Big Lottery Fund
Big Venture
Challenge (>£5m)
Grant
Partly capitalised by
Big Society Capital
Other
Grant programmes from Charitable
Trusts and Foundations (>£2bn)
Restricted
Grant
OCS Social
Incubator
Fund(£10m)
Start up
BIG
Potential
(£10m)
Early
Fully or partly funded
by government
CO ICRF
(£10m)
Growth
Stage of business growth
Established
Support to prepare for investment
Big Potential (new - first half 2014)
- £10m fund over 3 years
- For VCSE organisations seeking to
raise up to £500k investment (or
contracts)
- Diagnostic tool assessment to check
whether social investment is a realistic
possibility
- Advisory support (apply jointly with an
approved provider):
- Preliminary grants to build
organisational capability (c£25k)
- Investment plan grants (c£45k)
– For social ventures seeking to
raise over £0.5m investment
– Grant (£50k-£150k) to cover cost
of capacity building support
(application joint with advisory
firm – over 35 approved
providers)
– Currently inviting applications
from mutuals and arts ventures,
as well as others.
http://www.beinvestmentready.org.u
k/social-ventures/
Coming soon
• Big Lottery Fund Guide to Social Investment
– to be launched May 2014
- Have your say on what would be useful!
Focus Group in Leeds 13 March
http://www.eventbrite.co.uk/e/social-investment-guide-leedsfocus-group-tickets-10614262545
• Submit online queries to BSC investment team
Other online information
1) Sources of funding currently open:
http://www.bigsocietycapital.com/sources-investment
2) Directory of social finance providers and advisers (can filter for
specific requirements):
http://www.bigsocietycapital.com/finding-the-right-investment
3) NCVO guide and tool
http://www.fundingcentral.org.uk/Page.aspx?SP=6059
Contact: [email protected]
For info:
What is social investment?
It IS:
the provision of finance to generate social and
financial returns
It is NOT:
a grant – there is an expectation of repayment of the
finance, plus a return
Why is social investment beneficial?
For INVESTEES
• Fills financing gap for
innovation and growth,
increasing impact.
For INVESTORS
• Capital is recycled for
onward investment
• Strengthens governance
and accountability
• Deeper engagement with
social sector and
community
• Brings in new groups of
supporters, and their skills
and experience
• Helps shape a new
responsible form of
capitalism
Funds in 2014
Care and
Wellbeing
Healthcare
SIB Fund
Finance for
medium
enterprises
Other sector
focused
funds…?
Charity Bonds
Small
unsecured
loans
Commitments we've made
£150m committed
Operating
Intermediaries
Social Loan Funds
Social Enterprise
Funds
Issue Specific Funds
Social Impact Bonds
Regional Funds
Future Developments
Social Investment
Tax Relief
Social ISAs
(bond funds)
Community
Assets Fund
ICRF 2
(Cabinet Office)
BSC & BIG cofinanced initiatives
Manifesto
development
www.bigsocietycapital.com
Big Society Capital Limited is registered in England and Wales at Companies House number 07599565.
Our registered office is 5th Floor, Chronicle House, 72-78 Fleet Street, London EC4Y 1HY.
Big Society Capital is authorised and regulated by Financial Conduct Authority number 568940.