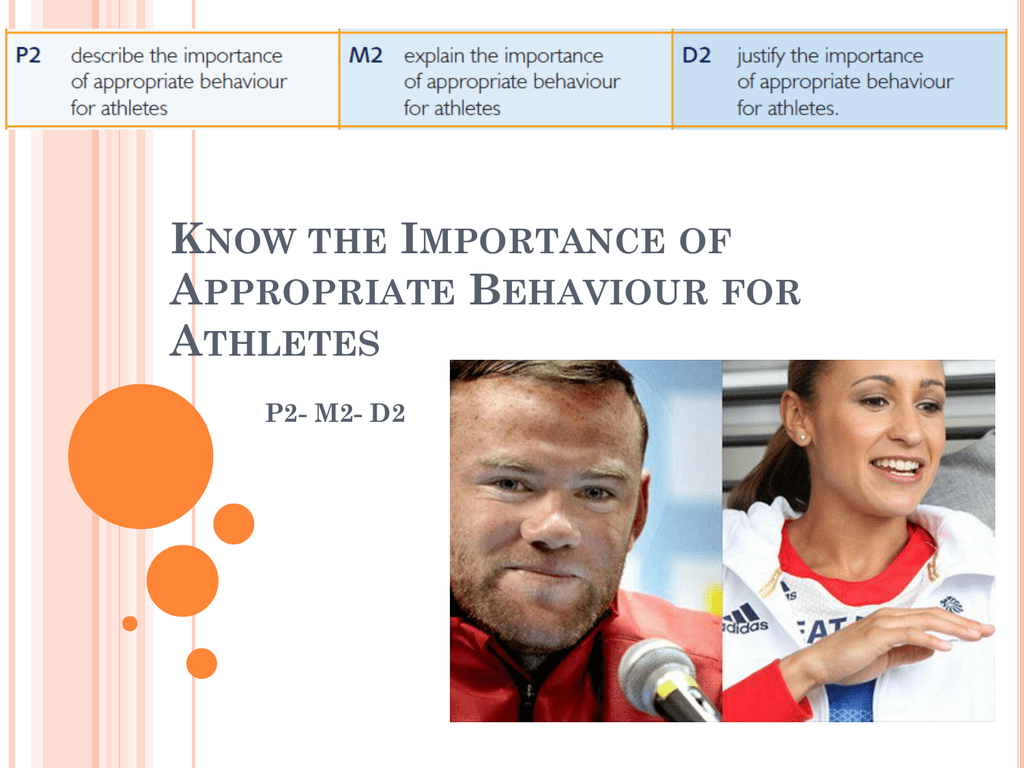 KNOW THE IMPORTANCE OF
APPROPRIATE BEHAVIOUR FOR
ATHLETES
P2- M2- D2
INTRO…

Behaviours of an athlete are in constant coverage
by the media, of which is in line with the public
eye.
Behaviour is viewed in a
variety of situations:
- Competition and
Training
- Social situations
Do you think the media focuses more
on the
positive or
negative aspects of an
athletes behaviour?
TASK

-
In pairs (5 minute research task)…
Find out how each of these factors below reflect
the importance of an athletes behaviour, in order
to relay back to the class.
 Conduct: during training and
competition
 Appropriate clothing
 Respect for peers and others
(coaches/ officials)
 Role Models: both sports
ambassadors and celebrities
 Enhancing the status of sport
 Increasing participation for all
CONDUCT DURING
TRAINING AND DURING
COMPETITION…
•All sports need rules,
The Football Association run football,
and are known as the governing body. To
make it as a top footballer, you have to
live and play by the rules that the F.A.
set both on and off the pitch, and
also by the rules of your club or coach.
Off the pitch:
If you keep breaking the
laws off the pitch, you will
get fined by your club or
even banned.
On the pitch:
For example, if you keep
breaking the laws on the
pitch, you could get
cautioned, or sent off, or
even injure yourself or
someone else.
•For example, Rio Ferdinand was
banned for missing a drug test. He broke
the F.A.'s laws of the game off the pitch.
Other players have been fined and
banned for being out late, or drinking the
night before a big game.
Respect for peers
and others…
The manner in which an
athlete behaves towards his
peers, officials and coaches
Peers:
will also be viewed within the - Players must abide by rules governed by the club, if
public…
there is hostility between team mates, what effect will
this have on the team and the players?
How would showing
disregard or lack of respect be EG: Lee Bowyer and Kieron Dyer, in which Lee
was charged 6 weeks wages and a 4 game ban
viewed by others?
Officials:
- What is the
difference between
athletes behaviours
in rugby and
football?
EG: Paolo Di Canio
receiving an 11 match
ban and fined £51,000
Coaches:
-If a player/ athlete does not
respect their coaches, how will
this impact them and the
others around them?
APPROPRIATE
Different sports have different
conducts of clothing attire when
competing… not just from a safety
aspect (shin pads, gum shields, boots
etc), but there are also themes that
certain sports adhere by, for example:
CLOTHING
- Golf: trousers and
collared tops
- Tennis: traditionally
white shorts, socks
and collared polo
tops
With rules of
behaviour comes rules
and appropriate ways
of presenting yourself
in both training,
competition,
corporate and
in a
social
setting.
Why may these two
pictures be controversial?
ROLE
MODELS
Athletes are role models for the younger
generation, behaviour is learnt from
copying the behaviours of those they
respect- both POSITIVE & NEGATIVE
- They become ambassadors, shaping
public perception
Enhancing the status of
sport
The ways in which athletes
behave will have an impact on
how people perceive that sport.
For example within CYCLING:
current issues of drug taking has
tarnished its credibility (Lance
Armstrong).
INCREASING
PARTICIPATION FOR
ALL
Such positive or negative images created
by the ambassadors (athletes) of the
sport, will increase the participation by
others at all levels.
EG: Winning the Rugby world Cup
2003, saw a substantial growth in
junior participation (Frawley et al,
2011)
Describe the
various factors
that contribute
to appropriate
behaviours for
an athlete






Conduct: during training
and competition
Appropriate clothing
Respect for peers and
others (coaches/ officials)
Role Models: both sports
ambassadors and celebrities
Enhancing the status of
sport
Increasing participation for
all
For M2, learners need to explain the
descriptions made in P2. More detail is
required, with learners providing
examples where appropriate.
Learners also need to justify the importance of
appropriate behaviour for
athletes (D2).
The athletes chosen for examples can be from any
sport but the situations should be varied and cover a
breadth of content.
You will need to provide specific
examples, reasons or evidence to
support your justification for D2.