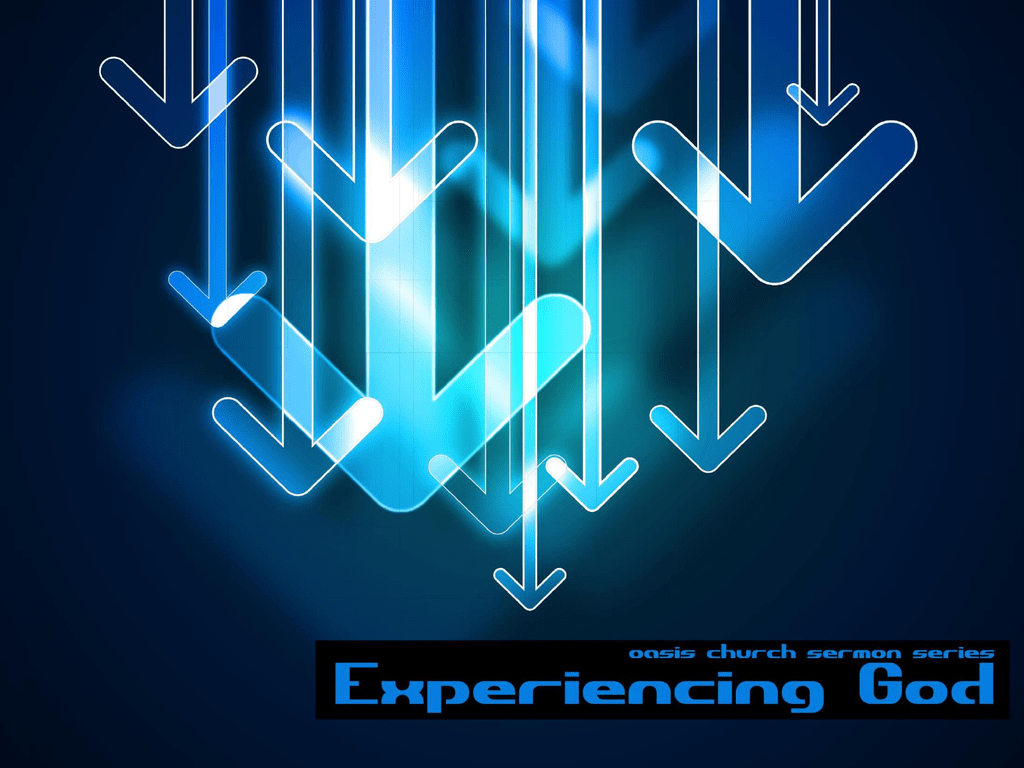 Rms 3:23 – All are Sinners
Rms 6:23 – A Free Gift
Rms 5:8 - Jesus Paid it all
Rms 10:9-10 – Confess & Believe
Rms 10:13 – Ask and Accept
Recognize you are a sinner and need a Savior.
Confess your sins.
Repent of your sins.
Ask Jesus to save you by grace
Turn over your life to Him
The 7 Realities of
Experiencing God
God is always at work around you.
Now it came about in the course of those many
days that the king of Egypt died. And the sons of
Israel sighed because of the bondage, and they
cried out; and their cry for help because of their
bondage rose up to God. 24 So God heard their
groaning; and God remembered His covenant
with Abraham, Isaac, and Jacob. 25 God saw the
sons of Israel, and God took notice of them.
For I am confident of this very thing, that He
who began a good work in you will perfect it
until the day of Christ Jesus.
God pursues a continuing love relationship with
you that is real and personal.
Now Moses was pasturing the flock of Jethro his
father-in-law, the priest of Midian; and he led
the flock to the west side of the wilderness and
came to Horeb, the mountain of God. 2 The
angel of the Lord appeared to him in a blazing
fire from the midst of a bush; and he looked, and
behold, the bush was burning with fire, yet the
bush was not consumed. 3 So Moses said, "I
must turn aside now and see this marvelous
sight, why the bush is not burned up."
4 When the Lord saw that he turned aside to
look, God called to him from the midst of the
bush and said, "Moses, Moses!" And he said,
"Here I am." 5 Then He said, "Do not come near
here; remove your sandals from your feet, for
the place on which you are standing is holy
ground." 6 He said also, "I am the God of your
father, the God of Abraham, the God of Isaac,
and the God of Jacob." Then Moses hid his face,
for he was afraid to look at God.
God invites you to become involved with Him in
His work.
The Lord said, "I have surely seen the affliction of My
people who are in Egypt, and have given heed to their cry
because of their taskmasters, for I am aware of their
sufferings. 8 So I have come down to deliver them from
the power of the Egyptians, and to bring them up from
that land to a good and spacious land, to a land flowing
with milk and honey, to the place of the Canaanite and
the Hittite and the Amorite and the Perizzite and the
Hivite and the Jebusite. 9 Now, behold, the cry of the sons
of Israel has come to Me; furthermore, I have seen the
oppression with which the Egyptians are oppressing
them. Therefore, come now, and I will send you to
Pharaoh, so that you may bring My people, the sons of
Israel, out of Egypt."
God speaks by the Holy Spirit through the Bible, prayer,
circumstances, and the church to reveal Himself, His
purposes, and His ways
Then Moses said to God, "Behold, I am going to the sons
of Israel, and I will say to them, 'The God of your fathers
has sent me to you.' Now they may say to me, 'What is His
name?' What shall I say to them?" 14 God said to Moses,
"I AM WHO I AM"; and He said, "Thus you shall say to the
sons of Israel, 'I AM has sent me to you.'" 15 God,
furthermore, said to Moses, "Thus you shall say to the
sons of Israel, 'The Lord, the God of your fathers, the God
of Abraham, the God of Isaac, and the God of Jacob, has
sent me to you.' This is My name forever, and this is My
memorial-name to generations.
God's invitation for you to
work with Him always lead you
to a crisis of belief that requires
faith and action.
But Moses said to God, "Who am I, that I should go to Pharaoh, and
that I should bring the sons of Israel out of Egypt?
Then Moses said, "What if they will not believe me or listen to what
I say? For they may say, 'The Lord has not appeared to you.'"
Then Moses said to the Lord, "Please, Lord, I have never been
eloquent, neither recently nor in time past, nor since You have
spoken to Your servant; for I am slow of speech and slow of tongue."
But he said, "Please, Lord, now send the message by whomever You
will."
You must make major
adjustments in your life to join
God in what He is doing.
So Moses took his wife and his sons and mounted them on
a donkey, and returned to the land of Egypt. Moses also
took the staff of God in his hand.
You come to experience God as
you obey Him and He
accomplishes His work through
you.
I will make a commitment to be here and/or listen via the
Internet to each of the talks in order to understand and
know the will of God.
I'm already looking forward to the talk on principle
number_____
I'm having a tough time with the prerequisite for this series
and would like to talk to someone.