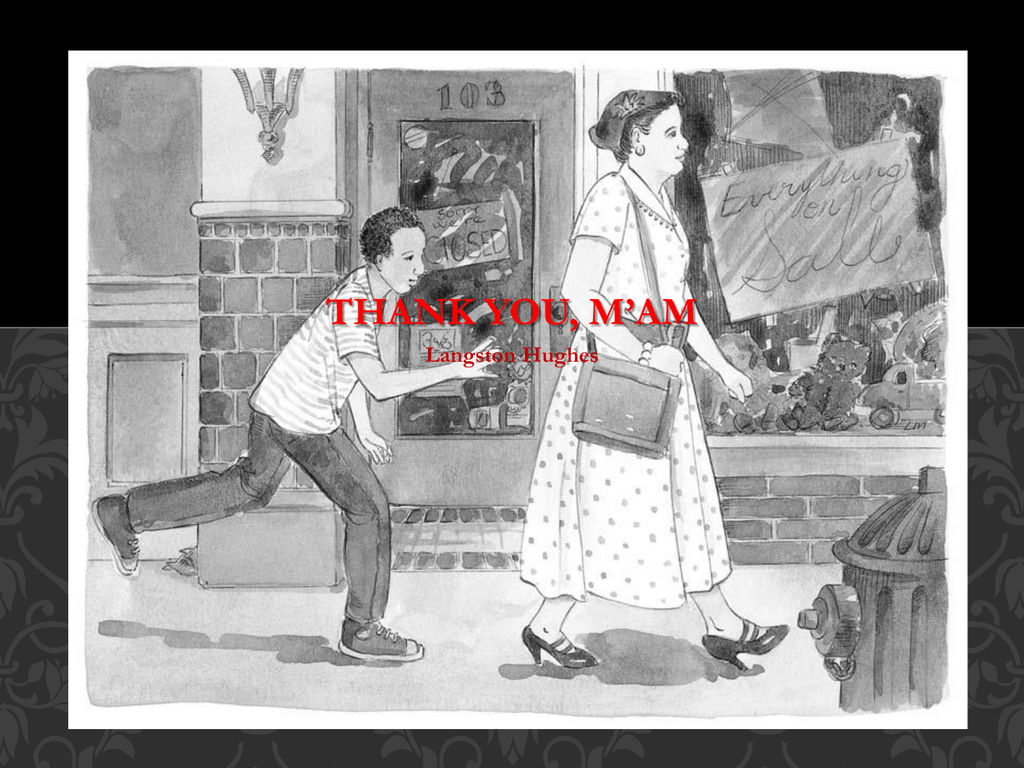 THANK YOU, M'AM
Langston Hughes
MARK YOUR TEXT
Write a question mark (?) next to anything in the story that you
have a question about. For example, you might write a question
mark next to an unfamiliar word or a part of the story that
confuses you.
• Write an exclamation point (!) next to any part of the story that
evokes a reaction from you. You might like or dislike a part of the
story, for example, or you may find a part funny or sad. You might
find yourself getting angry, or you might think that something is
completely true-to-life.
• Write an asterisk (*) next to anything in the story that you want
to comment on during a discussion of the story. For example, if
a part of the story reminds you of something in your own life or
something that you have seen in a movie or TV show, mark it with
an asterisk so you will remember to comment in class.
PREDICT
What do you think Mrs. Luella Bates Washington Jones is going to do to
Roger?
POCKETBOOK
BLUE SUEDE SHOES
ICE BOX
LET'S READ
AFTER READING
Although this story is very brief, Hughes creates two memorable
characters. Scan the story and find the physical descriptions of the
characters. Circle all the words and phrases that describe what the
characters look like. Try to visualize the characters. You may want to
quickly sketch the characters in the My Notes column if that helps
you picture them. Copy the descriptions in the spaces below and tell
what the characters' appearances indicate about them.
Mrs. Luella Bates Washington
Jones' Appearance
What Her Appearance Says
About Her
Roger's Appearance
What His Appearance Says
About Him
ACTION ACTIVITY
Your teacher will give you an envelope with actions from each character and
explanations about his/her character.
You will have 10 minutes to correctly place and write each action and
explanation in the chart on page 121.
PLOT DIAGRAM
CLIMAX
CONFLI
CT
RESOLUTION
EXPOSITION
SHARING SOME IDEAS
Discuss the following questions with a partner, in a small group, or with the
whole class:
1. How does Mrs. Jones react when Roger tries to steal her purse?
2. Is her reaction believable? Why or why not?
3. When they arrive at the boarding house, what do you think Roger is
thinking
or planning to do?
4. Does Mrs. Jones like the boy? Why?
5. How do you think Roger's encounter with Mrs. Jones alters his life?
6. Why does Hughes title the story, "Thank You, Ma'm"?
WRITING DIALOGUE
Continue the story, assuming that the characters meet again. Write a dialogue
between Roger and Mrs. Jones. Describe their second encounter – a week
later, a month later, or a year later.