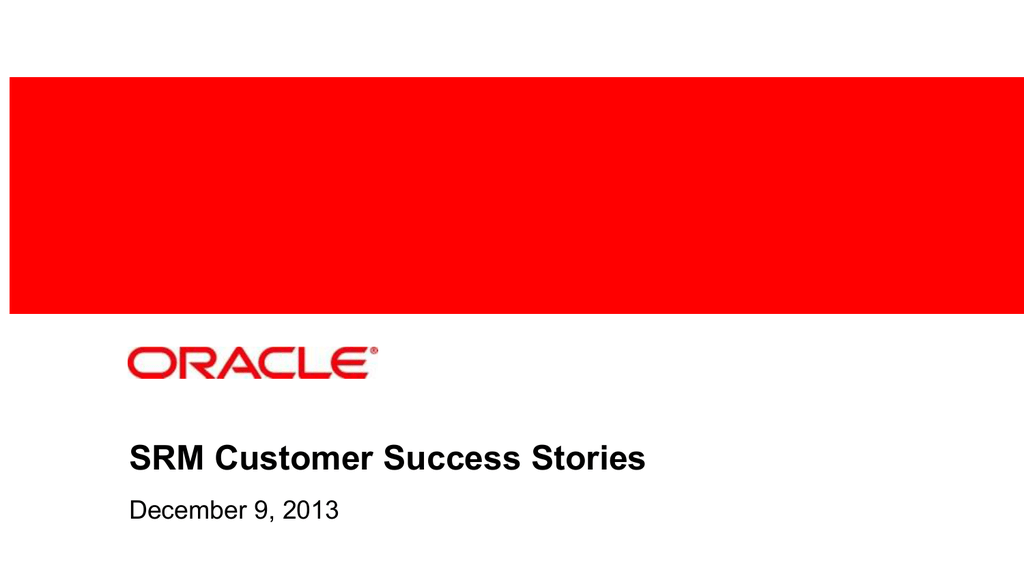 SRM Customer Success Stories
December 9, 2013
Table of Contents
Industry
Consumer Goods
Customer Name
Treasury Wine Estates
Media & Entertainment
NBC Sports
Travel & Transportation
Southwest Airlines
Consumer Goods: Treasury Wine Estates
Live
A global wine company with a leading international portfolio of new world wines. The
company is the world's largest pure-play listed wine company with over 80 brands,
including: Penfolds, Beringer, Lindeman's, Rosemount Estate and Wolf Blass.
Challenge
Company wanted to establish a
social presence, develop a social
strategy, engage in social listening
and create best-in-class content
Solution
Oracle CX Cloud:
• Oracle SRM
then wanted to scale social across
 Successfully launched a
social presence and social
strategy for Penfolds.
 Scaled social strategy and
• Oracle Eloqua
for the wine industry for one of the
key "foundation brands". Company
Result
• Oracle Commerce
deliverables across multiple
brands. (IN PROGRESS)
 Connected web commerce
with social. (IN PROGRESS)
all 80 brands, and connect web
 Connected email marketing
REMOVE THIS BANNER BEFORE USING:
commerce and marketing
with social and launched
This customer slide is APPROVED for external use
marketing automation linked
automation with social.
to social. (IN PROGRESS)
Media & Entertainment: NBC Sports
Live
Cable sports network and sports network portfolio brand in the United States. NBC Sports
and its portfolio of brands offer in-depth coverage of Sunday Night Football, NHL on NBC, the
Olympic Games, Golf Channel, Alli Sports, F1 racing, Tour de France, Premier League Soccer,
and more.
Challenge
Solution

NBC Sports needed a
Oracle CX Cloud:
comprehensive social
• Oracle Social Cloud with
management platform that
services
would provide deep
strategic engagement and
deliver full community
management for properties.

It also wanted guidance on
REMOVE THIS BANNER BEFORE USING:
social business
This customer slide is APPROVED for external use
organization, resourcing,
and execution.
Result
Powerful increase in
engagement and
interactions on portfolio
of properties to lead
competitive set every
month
Created streamlined
social business practices
to govern and organize
Travel: Southwest Airlines
Southwest Airlines continues to differentiate itself from other carriers with exemplary
Customer Service delivered by 46,000 Employees to +100 million Customers each
year in 96 destinations.
Challenge
Solution
Oracle CX:
After overhauling its highly

regarded loyalty program to
• Oracle Marketing
deliver new benefits to
• Oracle Service
travelers, this Company now
• Oracle Social Cloud
wants to integrate its social
• Siebel Loyalty
community member s with

their Loyalty Program
profiles, thus enhancing the
Customer Experience and
REMOVE THIS BANNER BEFORE USING:

Customer Service aspect
of
This customer slide is APPROVED for external use
their business through
social.
Result
Experienced significant
increase in loyalty
members both via
traditional and social
marketing channels.
Improved Customer
Engagement and
Experience.
Enhanced line of
defense and routing for
Customer Service
escalations.