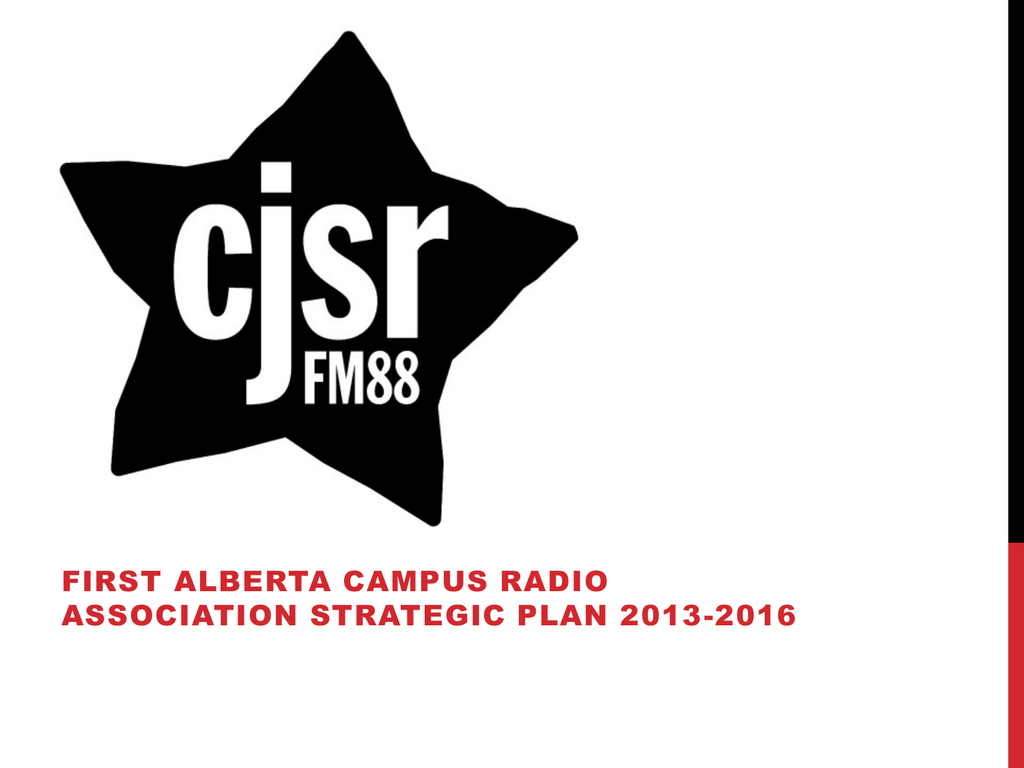 NO TITLE
FIRST ALBERTA CAMPUS RADIO
ASSOCIATION STRATEGIC PLAN 2013-2016
SMARTA GOALS
SMARTA – means
S – Specific
M – Measurable
A – Attainable
R – Results-Orientated
A – Agreed
TYPES OF GOALS
Short Term - 1 year, 2013 to 2014 year
Mid Term - 2 year, 2014 to 2015 year, and
Long Term - 3 years, 2015 to 2016 year
Note: Years are considered to be based on time between the
Annual General Meeting of the Association typically in June
annually, specific dates TBD by FACRA.
STABLE FUNDING & POLICY FUNDING SOURCES
Rationale: Impacts Finances, Ability to do things & achieve
certain desired goals. Due to operational & possible cultural
impact.
GOAL #1 SHORT TERM
"FACRA will pass an update to CJSR's Advertising Policy to
be more congruent with our mission, operational and
financial needs. The update will be conducted
through Policy Committee meetings that include consultation
with interested volunteers and members, and specified staff
& board members. This will be completed by November 30th
2013."
IMPROVING PROGRAM QUALITY
BY STRENGTHENING THE
PROGRAMMING COMMITTEE
STRUCTURE
Rationale: In Lieu of ability to have and afford ($) a Program
Manager as part of the staff compliment.
GOAL #2 SHORT TERM
"Improve program quality by strengthening the program
committee to 15 people. Seven committee members are
required for quorum in order to review show proposals or
show changes. Show proposals will be reviewed within 6
weeks of submission. The new programming committee will
have clearly defined roles for its members, which will include
regular review of current shows. The committee will review
forty shows by the date of the next AGM (September, 2014)
Committee to be struck and hold its first monthly meeting by
August 2, 2013."
VOLUNTEER EXPERIENCE – FIND &
ALLOCATE RESOURCES FOR
VOLUNTEER INTAKE AND TRAINING
PROCESS INITIATIVE
Rationale: Required in short term to move toward long term goal
related to Implementing a Volunteer Intake and Training Process
GOAL #3 SHORT TERM
"A subcommittee two board members and SMED will
research three other similar not-for-profit volunteer programs
by January 15, 2014. This subcommittee will define all
necessary resources ( human and monetary) required to
develop and implement a volunteer program for CJSR and
make a recommendation to the FACRA Board for the 2013/14
budget."
RAISING PUBLIC PROFILE – IMPROVE
PUBLIC PROFILE OF STATION BY
CLARIFYING AND MANAGING THE
STATION BRAND IDENTITY
Rationale: Good Karma, Star Card in community (donors &
business relationships)
GOAL #4 MID TERM
Project to be overseen by Community Relations Committee. Call out to
membership for all Logos currently used by volunteers. (Deadline: September 1,
2013). Create central repository for logos by Oct 1, 2013. Call out to one of many
talented designers that CJSR has around to Create CJSR Brand identity guide in
Adobe PDF Format, including clearly defining pantone colours, fonts, uses and
permissions (November 1, 2013). Rebrand/recreate Star Card (December 1, 2013)
IMPROVE PROGRAM QUALITY
& VOL. EXPERIENCE – CREATE
A MENTORSHIP PROGRAM
Rationale: Increasing quality & consistency of programming
GOAL #5 MID-TERM
"Define role of mentor. Create mentor document. Recruit ten
experienced mentors by November 1, 2013. Assign all new
on-air volunteers to official mentors and their programs for a
minimum of three month period. This mentorship program is
a requirement for all new on air hosts and producers."
IMPROVE PROGRAM QUALITY
Rationale: Improve Programming before increasing efforts
significantly to increase the public profile .
GOAL #6 MID-LONG
TERM
The Music Director and the SMED will research similar sized
stations in the National Campus and Community Radio
Association. This research will include looking at different
models of staffing that include program managers and or
program directors.
A report of the findings will be brought to FACRA by May of
2014. At this time a recommendation will be made on the
feasibility of including a program director/program manager.