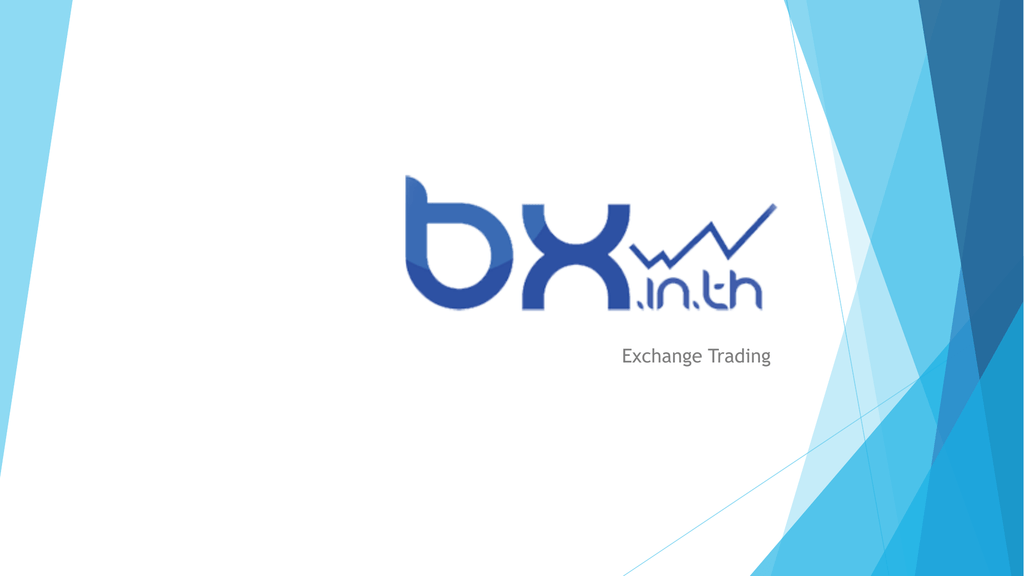 Exchange Trading
How to get bitcoins in Thailand?
Over-the-counter provider (OTC)
Trade with a person or company to buy or sell Bitcoins.
https://bitcoin.co.th
Direct Exchange (Open Market Exchange)
Trade directly with multiple other peers in an option market
system.
https://bx.in.th
Over The Counter - OTC
Advantages
Disadvantages
Quick and Simple
Unfavorable Rates
Fixed rate at the time of sale
Trading amount limitations
How to buy or sell bitcoins?
1. Visit a OTC provider
https://bitcoin.co.th
2. Place an order
3. Send funds
4. Receive funds
* Always use a trusted company or person to trade with.
Bitcoins payments are irreversible and it's unlikely the police will
Help you if the other trader runs away with your bitcoins
OTC Using Bitcoin.co.th
OTC Using Bitcoin.co.th
OTC Using Bitcoin.co.th
OTC Using Bitcoin.co.th
Market Exchange: BX.in.th
Advantages
Disadvantages
Set your own rates
Learning curve
Open orders
Fluctuating rates
API for linking your robots/programs
ID Verification
Alt-coin trading
How to trade on BX.in.th?
1. Create and verify an account
Upload an ID card and tell us your address
2. Set security settings
2Factor Authentication
Withdrawal Limits
3. Deposit funds
Send your Bitcoins, Thai Baht or altcoins from your account deposit page.
Your deposit will appear in your account balance.
4. Ready to trade!
You are now ready to trade
How to trade on BX.in.th?
How to trade on BX.in.th?
Market Orders
Market orders will be executed immediately at the best available rates
It is dangerous to perform market orders on a shallow market
as it may result in an unexpectedly poor rate
Limit Orders
Set your own rate that you are willing to trade at
Order will only trade at the rate you entered or better
Example: You offer to buy BTC at a rate of 1BTC = 13,000THB
If there is an existing sell order to sell at 1BTC = 12,500THB
You will receive the more favorable rate of 12,500THB
Open Orders
Safety and Security Features
1.
2.
3.
4.
5.
6.
7.
8.
9.
Two Factor Authentication: Google Authenticator
Email change 24 hour delay
Password change notification/easy cancel
12 hour withdrawal hold after password change
Email confirmation on withdrawals
Withdrawal time period locks
Withdrawal per transaction limits
Withdrawal per day limits
24 hour waiting period on withdrawal setting updates
We are always looking to add more security options and are
always open to your suggestions.
Can you trust BX?
• BX.in.th is owned by Bitcoin Co. Ltd. and we were started June 2013
• We keep an open record of all funds and balances called "Transparency System"
• High value coins are kept in multisig cold storage
• We maintain our own fully encrypted local wallet servers
• Website frontend never has direct access to the wallet servers
• All code was written in-house by our own staff;
we did not use any other existing exchange software.
Questions and Comments
We are always interested in improving our system
and hearing about new coins.