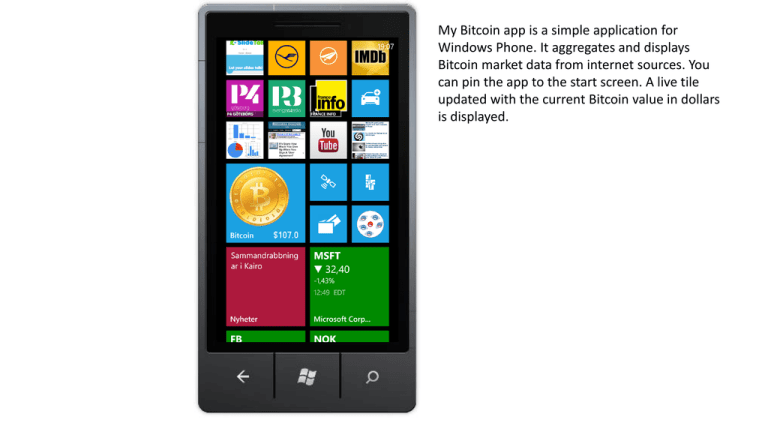 My Bitcoin app is a simple application for
Windows Phone. It aggregates and displays
Bitcoin market data from internet sources. You
can pin the app to the start screen. A live tile
updated with the current Bitcoin value in dollars
is displayed.
The first page of the app shows the Mount Gox
data. Such as todays volume in bitcoin and US
dollars as well as the current bitcoin value in US
dollars. You can also click on the Mount Gox
login button to go to the Mount Gox website to
access your Mount Gox account.
This is the Mount Gox login page. The page is
opened in the standard Windows Phone web
browser.
The news page lists current news related to
bitcoin. Click on any title to open the news
article.
This is the charts page. Here different bitcoin
charts are listed. Click on any graph to see it in
full screen.
Here is an example of a graph in full screen.
The next page lists the current bitcoin OTC data.
And the final page shows the bitcoin value in
different currencies.
I hope you enjoy this bitcoin app. If you have any
comments or feature requests, please post it as
app reviews. Thanks. Johan.