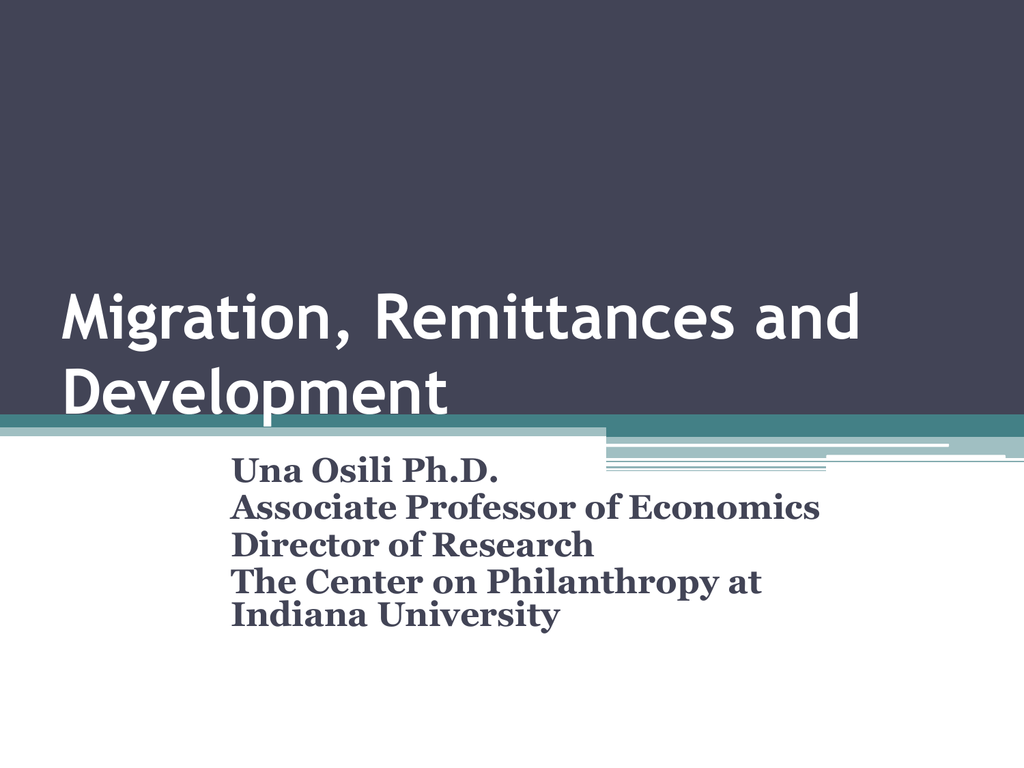 Migration, Remittances and
Development
Una Osili Ph.D.
Associate Professor of Economics
Director of Research
The Center on Philanthropy at
Indiana University
Outline
• Background
• Lessons from the New Immigrant Survey,
African Diaspora Project
• U.S. - Nigeria Migration Survey
• Challenges and Opportunities
• Policy Issues
Motivation
• Remittances have outpaced official development
assistance, and exceed foreign direct investment (FDI) in
many developing countries (World Bank, 2009)
• Women account for about half of an estimated 215
million international migrants (United Nations, 2010).
• Gender remains an understudied aspect of international
remittance flows and philanthropy.
New Immigrant Survey 2003: Fraction
of sample sending remittances
0.204
0.196
0.161
0.154
0.125
0.085
Africa
Middle east
Asia
Latin
Europe & Canada & Eastern Europe &
Oceania
Russia & Central
Asia
Key Findings from New Immigrant
Survey
• Female headed are more likely to send
remittances, holding other variables constant
• Migrants also maintain broad economic and
social ties with origin families and communities
• Beyond remittances, U.S. immigrants have
significant human capital, skills and experiences
in the origin country
The Case of Nigeria
• Nigeria is the only country in sub-Saharan Africa to rank
among the top 25 remittance-receiving countries globally
• Nigeria accounts for 60 per cent of all the remittance flows
to sub Saharan Africa.
• Remittances are now the second largest source of foreign
exchange earnings in Nigeria, after oil exports.
• A large share of remittances (>50 percent) take place
through informal channels
Unpacking remittances: Lessons from
the U.S. Nigeria-Migration Survey
3 types of remittances:
Transfers to the Origin Household
support living and educational expenses of home families, finance expenses associated with
income shocks (illness, job loss, crop failure)
Migrants' Savings in the Home Country
finance migrants' investments in the home country (include financial assets, housing, land, small
businesses)
Nearly half of the U.S. migrant sample has initiated housing investments in the community of
origin!
Community-based transfers
Sent to finance development projects in the community of origin or community needs (schools,
health supplies, libraries, hospitals, erosion control, water supply, computer equipment, church
buildings)
U.S. Migrants
(Migrant Sample)
Mean
Standard
Deviation
U.S. Migrants &
Origin Households
(Matched Sample)
Mean
Standard
Deviation
Variable
Sent remittance in the past yr
Received remittance in the past year
0.93
0.93
0.87
Migrant Sent Transfer to Origin Family
Migrant Sent Transfer towards Investment
0.85
0.35
0.86
0.40
Total amount sent in past yr (in U.S. $)
5807.43
10653.92
6018.52
7961.14
Amount Transferred to Origin Family
Total amount received by Origin Family
3018.60
3797.58
3489.72
2220.25
4317.56
3970.48
Amount Transferred towards investment
Other transfers
Note: For the survey period $1=86naira
US-Nigeria Migration Survey
2706.95
277.69
8737.84
1216.65
2400.07
128.73
5352.08
467.28
Insights from US-Nigeria Migration
Survey
• The 1997 US-Nigeria Migration Survey found
that over 90 percent of Nigerian migrants living
in the U.S. send remittances to family members
regularly and about another 40% send
investment-related transfers.
• Gender influences the incidence, levels and
types of remittances sent.
Additional Findings
• Women are more likely to be remitters
• Female-headed households in the country of
origin are more likely to be recipients of
remittances and receive larger amounts.
• Female migrants tend to target their remittances
toward education, health, youth projects
Key Findings: Housing Investments
• Migrants' income and origin household assets
are positively associated with housing
investments.
• Less-developed villages are less likely to receive
housing investments
• The policy context matters
Community Transfers
• Descriptive evidence that migrants maintain
direct economic ties with their communities of
origin.
• Hometown associations mobilize migrants'
contributions towards the construction of
schools, hospitals and roads, and the provision
of other amenities (Attah-Poku, 1996; Egboh,
1987; Smock, 1971).
Community Transfers
• Hometowns with larger populations are
positively associated with both the incidence and
the magnitude of community transfers.
• Hometowns located in more remote locations
are less likely to receive community transfers
and receive lower levels of community transfers.
Gender, Remittances and Philanthropy:
Challenges and Opportunities
• Migration, Brain Gain and Philanthropy
• Beyond Remittances: Diaspora Engagement
Key concerns
• Scale
• Leverage
• Collaboration
• Sustainability
Regulatory and Policy Issues
• Creating an enabling environment
• Remittance Barriers: -- cost, convenience,
competition, confidence and trust
• Role of technology
-----family transfers
• ---investment transfers
• ---community transfers ---
Conclusions
• Women account for a growing share of the world's
migrants
• Gender affects the incidence, amount and types of
remittances –and the impact on the origin household
• Female migrants can have a significant impact on their
communities of origin through their remittance flows.