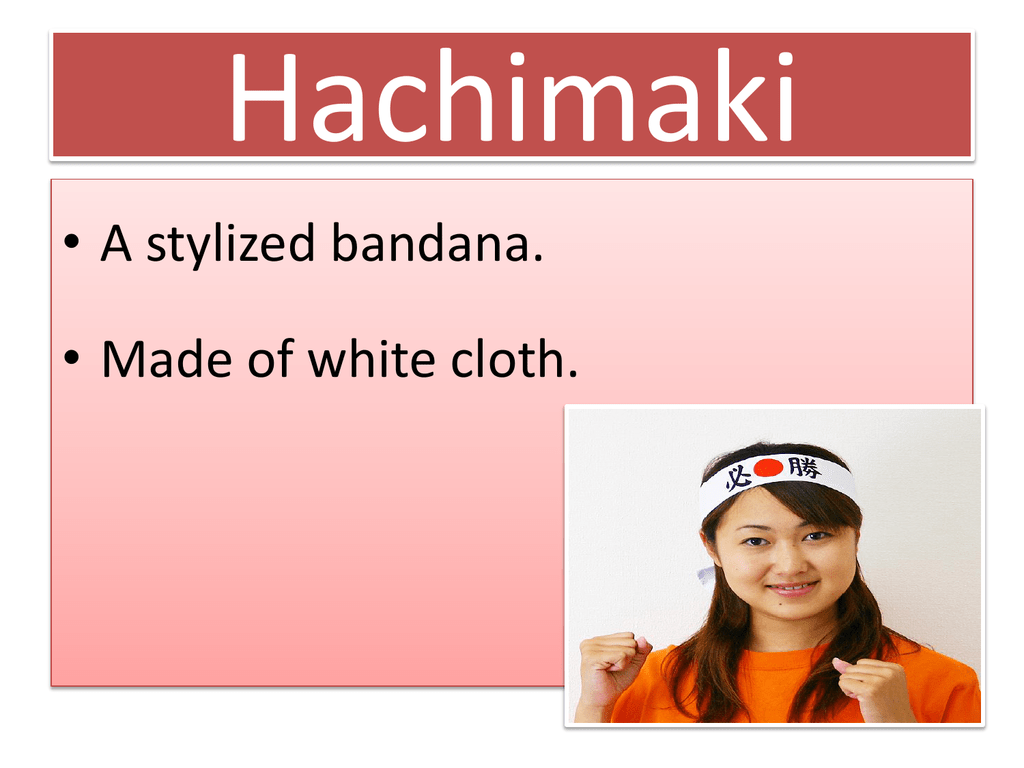 Hachimaki
• A stylized bandana.
• Made of white cloth.
Origin
• The origin of the hachimaki is uncertain.
• Religious practitioners
• Samurai warriors
Worn on Many Different Occasions
• Sport Spectators
• Martial Arts Demonstrators
• Symbol of Perseverance
Worn on many Different Occasions
• Women giving birth
• Students studying for exams
• Hachimaki also help the wearer to gather
his/her energy and show determination and
resolve. The slight pressure around the
forehead is said to improve concentration.
Worn on many Different Occasions
•
•
•
•
Worn at festivals to ward off evil spirits.
Office workers
Trade men
Boosouzoku (Biker Gangs)
* Keeps sweat from the eyes and hair off the
face.
Gods of the Winds
• Kamikaze wore hachimaki during WW2.
Navy pilots outside Shanghai
Slogans
• Usually decorated by inspirational slogans.
• Represent your personal hopes and dreams.
• The most typical is the rising sun motif.
日
本
Sample Hachimakis
• This work is licensed under the Creative
Commons Attribution-NonCommercialNoDerivs 3.0 Unported License. To view a copy
of this license, visit
http://creativecommons.org/licenses/by-ncnd/3.0/ or send a letter to Creative Commons,
444 Castro Street, Suite 900, Mountain View,
California, 94041, USA.