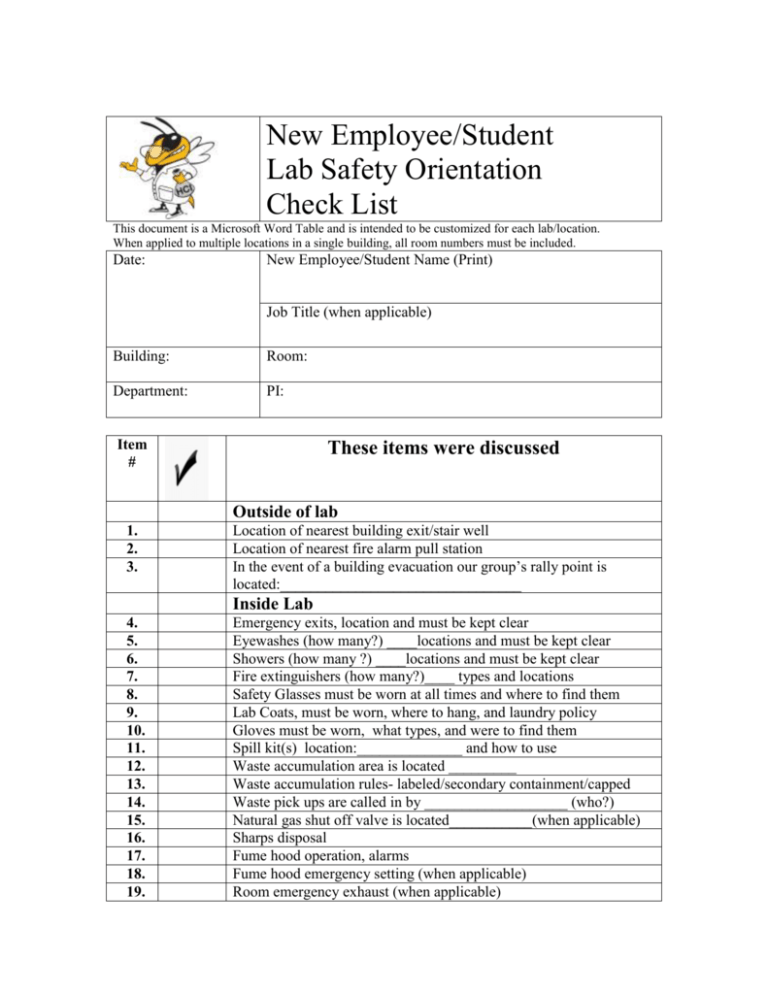 New Employee/Student
Lab Safety Orientation
Check List
This document is a Microsoft Word Table and is intended to be customized for each lab/location.
When applied to multiple locations in a single building, all room numbers must be included.
Date:
New Employee/Student Name (Print)
Job Title (when applicable)
Building:
Room:
Department:
PI:
Item
#
These items were discussed
Outside of lab
1.
2.
3.
Location of nearest building exit/stair well
Location of nearest fire alarm pull station
In the event of a building evacuation our group's rally point is
located:________________________________
Inside Lab
4.
5.
6.
7.
8.
9.
10.
11.
12.
13.
14.
15.
16.
17.
18.
19.
Emergency exits, location and must be kept clear
Eyewashes (how many?) ____locations and must be kept clear
Showers (how many ?) ____locations and must be kept clear
Fire extinguishers (how many?)____ types and locations
Safety Glasses must be worn at all times and where to find them
Lab Coats, must be worn, where to hang, and laundry policy
Gloves must be worn, what types, and were to find them
Spill kit(s) location:______________ and how to use
Waste accumulation area is located _________
Waste accumulation rules- labeled/secondary containment/capped
Waste pick ups are called in by ___________________ (who?)
Natural gas shut off valve is located___________(when applicable)
Sharps disposal
Fume hood operation, alarms
Fume hood emergency setting (when applicable)
Room emergency exhaust (when applicable)
20.
21.
22.
23.
24.
25.
Emergency procedures (refer to poster on wall and review with new
employee)
Ignition Sources within 24" of the floor include__________
Electrical boxes/kill switch for power located______________
Chemical Storage: flammable cabinet, acid, base storage
Specific hazards in this lab (examples)
26.
27.
28.
29.
30.
31.
32.
33.
34.
HF- hazards, handling instructions, PPE, calcium gluconate is
located______________
Nano materials, hazards, handling instructions, PPE
Lasers
Training Required to Work in This Room
35.
36.
37.
38.
39.
40.
41.
42.
43.
44.
45.
46.
Must be completed by ____________________
Right to Know
Basic Lab Safety
Waste Handling
Fire Safety
Fire Extinguisher Training
New Employee/Student
Signature
Date
Person Giving the Orientation
Name (print)
Name (sign)
Date
Job Title
PI retain original for your records.