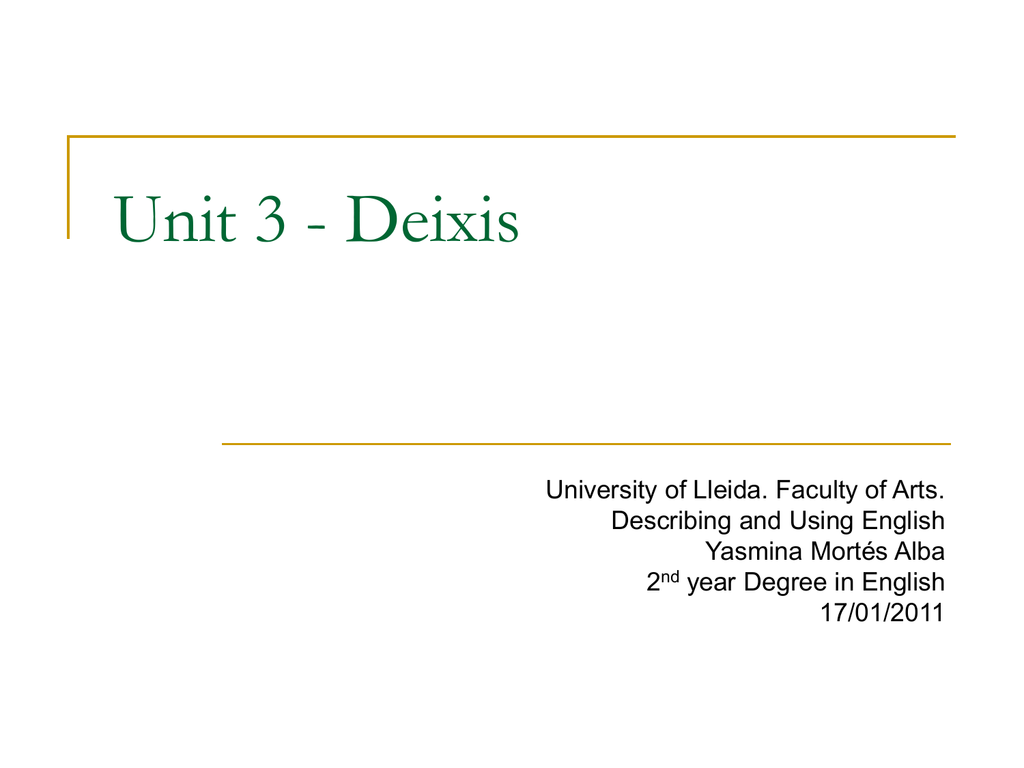 Unit 3 - Deixis
University of Lleida. Faculty of Arts.
Describing and Using English
Yasmina Mortés Alba
2nd year Degree in English
17/01/2011
Deixis: definition

Deixis

Phenomenon of the language which consists on
referring to a piece of reality by using a word
whose meaning can only be guessed when both
speaker and addressee are sharing the same
context.

Example: Would you mind leaving this room now,
please?

You, now and this are deictics.
Deixis: components

Deictics / Indexicals

Words whose meaning depend on the context
where the speaker and the addressee are located.




Personal pronouns
Possessives
Locative & temporal adverbs
Demonstratives
Reference: definition

Reference

The act of matching a word with the piece of
reality that designates.

Relating a word with the object that designates.
The concept of anaphora

Anaphora

When a non-deictic word that names an object
comes before a deictic that also refers to that
piece of reality / object.

Example: Mary's marks are high. So, she is a good
student.

Mary (non-deictic word and referent), she (deictic).
The concept of cataphora

Cataphora

When the deictic appears before that non-deictic
("more specific") word that designates that object.

Example: She is a good student because Mary has
always loved learning.

She (deictic) and Mary (non-deictic word and referent).
Gestural and symbolic deixis

Gestural deixis


Pointing at something.
Symbolic deixis:

Temporal & spatial circumstances are important.
Types of deixis

I) Person deixis



II) Place deixis




Demonstratives (This/these: proximal. That/those: distal).
Adverbs (Here/there).
Verbs (Come/go;Take/bring).
III) Time deixis



Pronouns (I, you, we…)
Possessives (Your, our, their…)
Adverbs (Yesterday, tomorrow, now…).
Adjectives (Next).
Example: Would you mind leaving this room now, please?
(type I)
(type II)
(type III)
End of the presentation

Thanks for your attention!