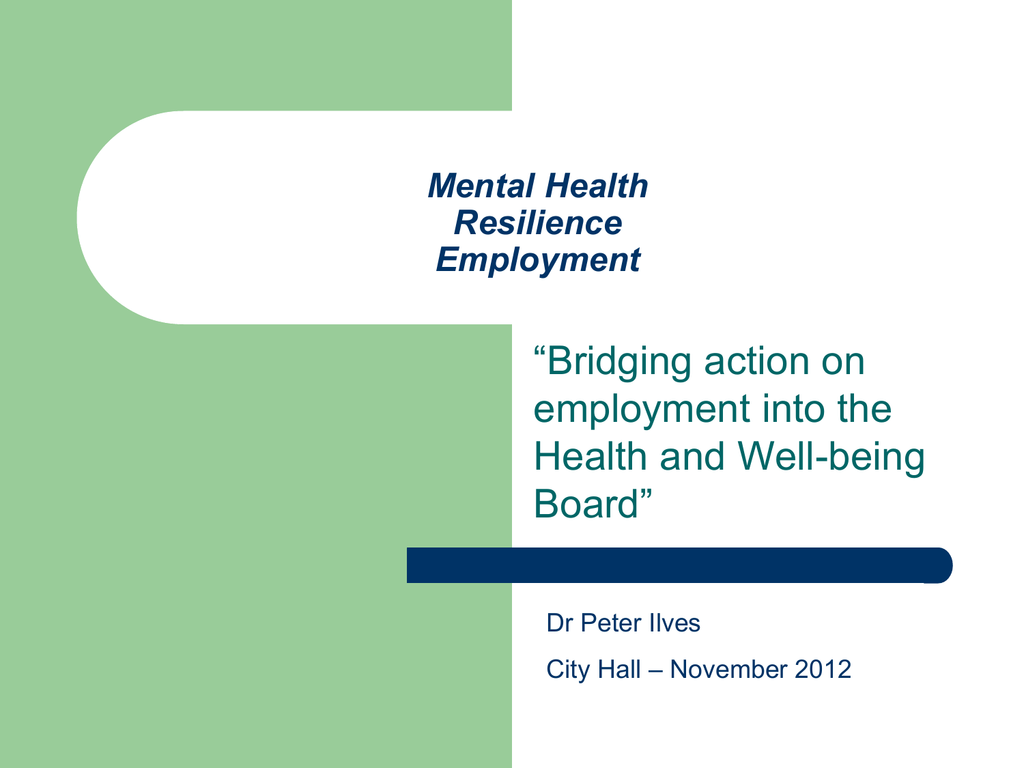 Mental Health
Resilience
Employment
"Bridging action on
employment into the
Health and Well-being
Board"
Dr Peter Ilves
City Hall – November 2012
Health and Wellbeing Boards




What will they want?
What will they need?
What will they do?
How will this match with:
–
–
–
–
The "integrated – whole system approach"
Mental health
Employment
Resilience
The Headlines



Joint Strategic Needs Assessment
Joint Health and Wellbeing Strategies
Priorities will inevitably need to be:
–
–
–
Mental health
Integrated Health and Social Care
Personal and community resilience



Prevention and self management
Empowering individuals and communities
Realising assets in the system
Revisit the facts
Lifetime risk:
 1 in 4 suffer depression and/or anxiety
 1 in 5 women
 1in 3 men
 ONS 2007 Office of National Surveys of adult
psychiatric morbidity in England 16.2% of adults
aged 16-64 met the diagnostic criteria for at least
one disorder in the week prior to interview
 Chicken and the egg
–
–
mental health/wellbeing or
Unemployment
Primary care and community care


Medical certification – local solutions
Volunteering
–
–

Realising the assets in the system
–
–
–



hands on approach
Brokering relationships
Expert patients/people service users
Carers
Lived experience
Taking personal and community responsibility – "maintained
purpose"
Working together and/or under the wing of HWBs
Recognising the true impact on health – physical and mental
A story to tell
My "Jerry Maguire" moment
Beginnings - Personal resilience low with little integrated
health care available. Very Primary and Secondary care
service dependent. Community resilience having little impact
Personal
resilience
Primary
Care
Integrated
care
Community
resilience
Acute and
secondary care
Transition: individuals building personal resilience.
Still a health and social care dependent phase. Integrated
health care developing. Community resilience still not fully
realised
Personal
resilience
Primary care
Integrated
Care
Community
resilience
Acute and
secondary
care
Journeys end: Personal resilience and community resilience developed – peer
support and networked support in place. Primary care and integrated care
systems working closely together. Secondary care demand acutely and non
acutely reduced.
Primary Care
Personal
resilience
Community
resilience
Acute and
Secondary care
Integrated
care
Watch how a persons journey takes them through this final model and how the
contact with health and social care is reduced but remains more consistently in
the community setting. Observe how personal skills and peer support plays its
part.
Primary Care
Personal
resilience
Day 1
Day
365
Community
resilience
Acute and
Secondary care
Integrated
care
"HWBs – they know where we are!"



The sheer numbers are staggering
Unemployment rises and patterns vary month on month
The effects are significant on:
–
–
–
–
–
–
–


Mental Health
Physical Health
Communities
Individuals
Drugs
Alcohol
Crime
HWBs we can run but we cannot hide!!
Call to action…….
Thank you
Thank you for listening!