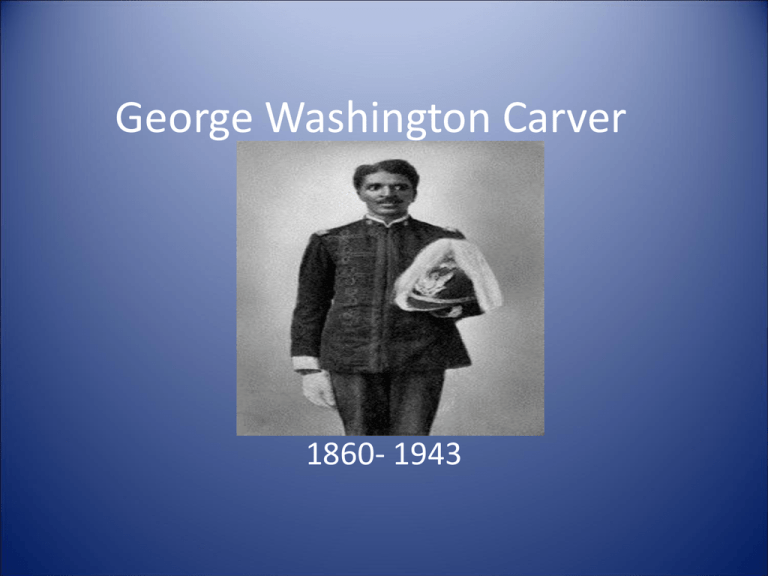 George Washington Carver
1860- 1943
GEORGE WASHINGTON CARVER WAS
BORN IN 1860 OF SLAVE PARENTS IN
DIAMOND GROVE, MISSOURI.
WHEN HE WAS YOUNG HE LIKED TO
GARDEN AND TAKE CARE OF PLANTS.
PEOPLE AROUND HIME BEGAN TO CALL
HIM THE PLANT DOCTOR.
GEORGE HAD LEAVE HIS HOME TO GO
TO A SCHOOL FOR BLACK CHILDREN
WHEN HE WAS ONLY 12 YEARS OLD.
WHEN HE WAS 30, GEORGE
WASHINGTON CARVER WENT TO
COLLEGE TO STUDY BOTANY. BOTANY IS
THE STUDY OF PLANTS AND FARMING.
AFTER HE GRADUATED COLLEGE
BOOKER T. WASHINGTON CALLED
GEORGE WASHINGTON CARVER TO
TEACH AT THE TUSKEGEE INSTITUTE.
WHILE AT TUSKEGEE, HE TAUGHT THE
STUDENTS AND THE FARMERS ABOUT
PLANTS.
HE ALSO CREATED MANY THINGS WITH
PEANUTS AND SWEET POTATOES.
CAN YOU NAME SOME OF THE
THINGS HE CREATED?
HE CREATED 325
THINGS WITH THE
PEANUT!
DO YOU LIKE…
PEANUT BUTTER?
LET'S MAKE OUR OWN PEANUT
BUTTER!
NOW WE ARE BECOME GEORGE
WASHINGTON CARVERS!