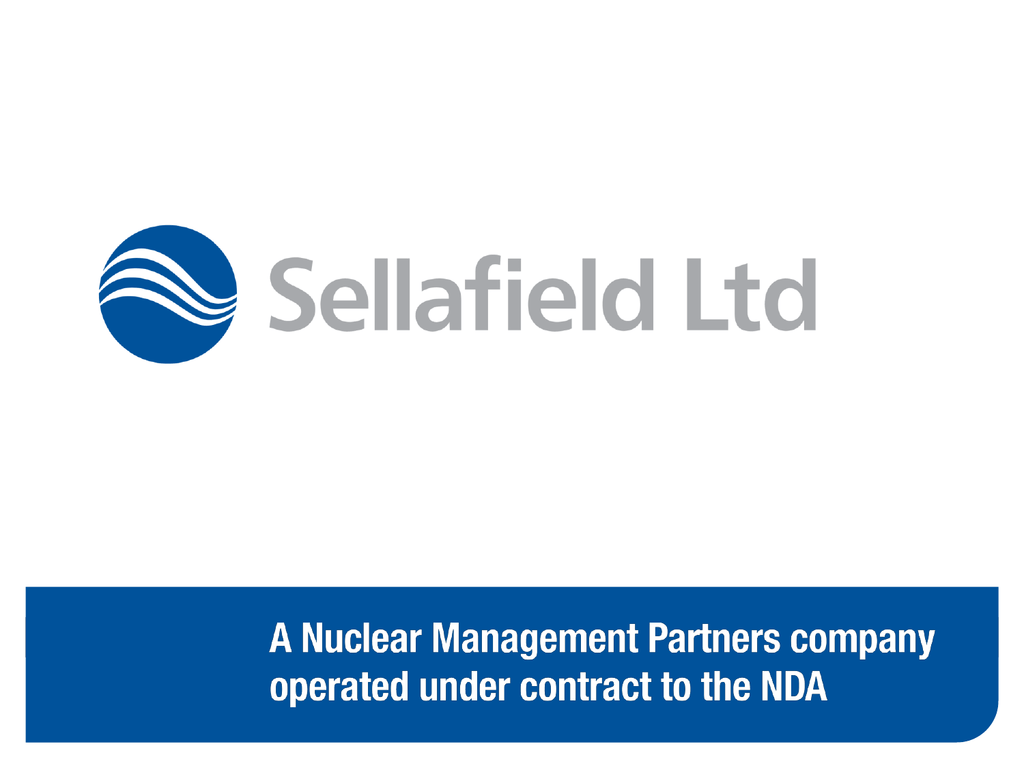 Nuclear Safety
Presented by: Graham Young
June 2014
1
The purpose of this presentation is to answer the question: 'why and
how does Sellafield Ltd ensure nuclear safety at the Sellafield sites?'
and how do I fit in ?
3
Since the Fukushima event, nuclear safety has become a topic around
the world . . .
Why nuclear safety is important
•
Radiation and all things nuclear have
unique and threatening aspects
•
The hazard can't be detected by any
of the human senses
. . .and citizens, government officials, and others want
to know how nuclear sites ensure nuclear safety.
4
Nuclear Safety – The Golden Thread
• For Operations, Nuclear Safety is about the Safe, Secure
Site Stewardship ( Management of nuclear materials)
• To enable this to happen, the plants need to be designed and
constructed to enable optimum performance
• So for Projects, Nuclear Safety is about the design recognising the
required operating parameters and then realising the design
intent through the quality of workmanship
• Therefore, from concept to decommissioning, everyone has a part to
play in Nuclear Safety
5
Sellafield nuclear safety starts with a clear definition of the work to be
performed at the sites . . .
This scope of
work is defined
at multiple
levels using
multiple
mechanisms . . .
Corporate
level
Parent Body Agreement
between NDA, NMP,
Sellafield Ltd
Sellafield
Stategy
Policies & Charters
Company /
Site level
Manuals and Plans
Work
Breakdown
Structures
(WBSs)
( SLP's)
Sellafield Ltd Supporting practices
Sellafield Ltd Management of
contractors standards (SCS's)
Contractors own Management
system
Local working Documents
Project /
Plant level
Worker
level
Sellafield Ltd practices
( How do I do ?)
Contract
R2A2s – roles,
responsibilities,
authorities,
accountabilities
6
Comprehensive efforts are taken to ensure that the scope of work is
planned and performed in compliance with all government regulations
...
The key government
regulations
concerning nuclear
safety are the site
license conditions
issued by the HSE
Office of Nuclear
Regulations (ONR)
7
In addition, Sellafield Ltd strives for performance excellence (e.g.,
'beyond compliance'), so it also works to ensure that work is performed
to international nuclear safety standards . . .
Sellafield ltd is a member of both the World Association of Nuclear
Operators (WANO) and the Institute of Nuclear Power operations (INPO)
and follows the guidance of the International Atomic Energy Agency (IAEA)
8
At the core of Sellafield nuclear safety is the Sellafield Ltd Nuclear
Safety Policy . . .
This document establishes nuclear safety as
Sellafield Ltd's principal priority
•
•
•
Approved by the Sellafield Ltd Managing
Director
Sponsored by the Executive Director of
Environment, Health, Safety & Quality
(EHS&Q)
Defines nuclear safety and underlying
principles of nuclear safety
9
Supporting the Nuclear Safety Policy is the Sellafield Ltd Nuclear Safety
Manual . . .
Helps employees and their organisations
understand their roles (and the roles of others)
in assuring nuclear safety
•
•
Amended 2013
Describes Sellafield Ltd's Nuclear Safety principles:
and incorporates the INPO traits of a healthy nuclear
safety culture ( INPO 12-12)
•
Describes how nuclear safety is currently managed
within Sellafield Ltd in support of the Nuclear Safety
Policy
10
How do I fit in ?
• The implementation of Nuclear Safety includes five elements which
apply to every one involved in the operations at Sellafield and
supporting Sellafield. For Example:• Suppliers of components and equipment
• Support services
• Construction companies
• Sub contractors
• The supply chain that supports Sellafield
11
How do you implement nuclear safety?
Physical
Controls
Local
Administrative
Controls
Physical items ( walls
, components , pipe
work, brackets etc
Procedures, method
statements, risk
assessments
4 C's (Criticality, Cooling, Containment and Control)
Standards
Quality control,
supervision, leadership,
audits
SQEP
Culture
Training and Personnel
Development
Values
Principles
and Traits
Contractors
management
system
Delivery of the Sellafield Ltd strategy
12
How do I fit in ?
• Suppliers of components and equipment
• Support services
• Cleaners
• Construction companies
• Sub contractors
• The list is goes on
13
Physical controls
• Equipment performs to it's requirement
• How do I fit in ?
• Nuclear safety = realising the design intent through the quality of
workmanship
14
Local Administrative controls
• Follow the procedures, method statements, risk assessments
what ever the instruction is
• Plan the work
• Ensure common understanding
Standards
• Sellafields contractors standards complied with via the
contractors own management system
• Are they realistic ?
• Are they being followed ? How do you know ?
• Are they being cascaded through your supply chain ?
• Are you assuring that happens or hoping for the best ?
SQEP (suitably Qualified and Experienced personnel )
• People are trained and competent to carry out their jobs, they
understand their job, and they undertake it rigorously everyday
• Not just core skills but also understanding how their actions can
influence nuclear safety
Culture
• Culture is defined as our values and behaviours and how our
leaders reinforce them
Culture
•
Personnel accountability
•
Questioning attitude
•
Effective communication
•
Leadership values and actions
•
Decision making
•
Respectful work environment
•
Continuous learning
•
Problem identification and resolution
•
Environment for raising concerns
•
Work process
Nuclear Safety
• Nuclear safety is everyone's accountability and responsibility
• Nuclear safety means different things to different people
• Difference can be making wrong and bad decisions
• Our culture affects our decisions
20
Intelligent customer - what is it ?
• The ONR's Technical Assessment Guide 49 states ;
"The licensee shall retain overall responsibility for, and control of,
the nuclear and radiological safety and security of all its business
,including work carried out on its behalf by contractors"
and
"The licensee should maintain an intelligent customer capability for
all work carried out on its behalf by contractors that may impact
upon nuclear safety "
• The discharging of this responsibility is referred to as the
Intelligent Customer function and ,as can be seen ,although
undertaking the work can be delegated ,the responsibility always
stays with SL as the licensee – which is why SL must be involved
with all tasks that have the potential to effect nuclear safety
Intelligent customer – how do SL undertake it?
• By including in the PXP which parts of the workscope have nuclear
safety related significance
• By ensuring contractor personnel involved in performing nuclear
safety related work are qualified to do so and understand the nuclear
related implications
• By maintaining oversight of contractor work that includes nuclear
safety related aspects, including subcontracted work
• For further details see SLP 1.10.214.