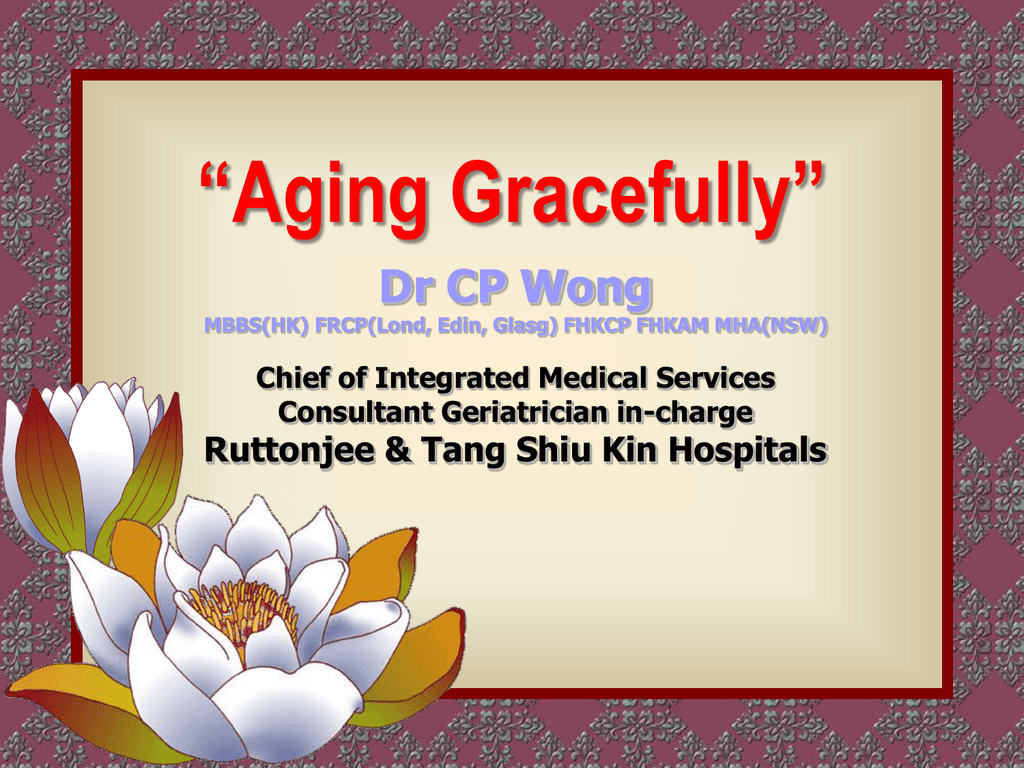 "Aging Gracefully"
Dr CP Wong
MBBS(HK) FRCP(Lond, Edin, Glasg) FHKCP FHKAM MHA(NSW)
Chief of Integrated Medical Services
Consultant Geriatrician in-charge
Ruttonjee & Tang Shiu Kin Hospitals
Outline
Your Outlooks
Lessons from the Centenarians
4 tricks: Diet, Exercise, Rest, Water
Expectation of Life at Birth
Hong Kong 2014
MALE FEMALE
81.06
87.25
82.44* 88.18*
* If you are still alive at 50 of age
The Truth Is:
1 in 15 of you will end up in an
aged home
 1 in 2 of you will live with
children; 1 in 4 of you will live
with spouse only; 1 in 8 of you
will live alone.
 1 in 5 men will be widowed
 1 in 2 women will be widowed

The Truth Is:





1 in 7 of you will have NO major
chronic diseases (6 will have)
1 in 3 men will die of cancer (28%
women)
1 in 7 men will die of heart attacks
1 in 3 of you will have
hypertension; 1 in 5 of you will
have diabetes
ALL of you will have joint problems
Centenarians








Record oldest 122 (died 1997)
85% female; Genes DR1
Siblings of centenarians 8x
Middle age mothers 5x; Late
menopause
Diet & exercise; Not Very different!
Only 10% overweight !
Attitude: Positive, Active Socially
Screen for diseases
Our Physical Development
100%
Aging Gracefully
Average
The Miserable
0
30
50
100
The Importance of Diet









No Fatty Foods
No Salty Foods
No Sweets
No Processed Foods (Salt)
Vegetables (Fibers)
Balanced Diet
Plenty of Water
No Cigarettes
Moderate Drinking ??
The Cornell Rat Experiment


McCay CM et al. J. Nutrition 1935, 10: 63-79
McCay, C. M., and M. F. Crowell. 1934. Prolonging the life span.
Science Monthly 39:405–414.
More than that !

Maintain youthful activity levels longer.

Maintain immune function longer.

Better performance in memory tests (water maze),
retain memory abilities longer.

Fewer tumors.

More resistant to carcinogens.

Less oxidative damage


Collagen crosslinks form slower (less AGEs).

Fewer free radicals.
Lower mean blood glucose.
The Magic of Exercise
Keeps you strong and trim
Protecting your heart and bones
Improving your mood, sleep, memory and
toileting
Warding off breast and colon cancer
Reducing your overall risk of dying
prematurely
What Sorts of Exercise?
Aerobic: Rowing, Swimming, Jogging,
Hiking, Basketball, Tennis, Badminton..
Gymnastics: Tai-chi, gym-works, Yoga,
stretchings…
What amount of exercise?
Start low, go slow, but has to be
PROGRESSIVE!
Just start to sweat, breathless, heart
palpitates
Daily for 30 minutes optimal
3 times a week, 20 minutes minimal
My 5 Exercise Principles
Persistence
Incremental
Breaking the Threshold
Interval Training
Cross Training
Sleep Early!
Best time to sleep 10 pm to 4 am
Recovery time!
Stayed Connected & Engaged
•
•
•
•
•
•
•
A psychological feat
Hobbies
Companions
Cope with stress
Drive & resilience – don't quit
Laughter and Pleasure
Exercise your brains
Screen for Diseases
 Breast (1/24) & Cervical (1/94) Cancers
 Yearly Check Ups for High Risks
 5 Yearly Check Ups if normal
 Do not add stress to yourself
Diseases & Your Life
 70% of Diseases are caused by bad life
style habits
 30% of Diseases are gene-determined
 80% of chances of having chronic diseases
when old
 Live Happily with Your Diseases !
In Conclusion
Half of you will live beyond 84 years
Health is our First Wealth
Exercise
Diet
Good Social Attitude
Screening for Diseases
Living Happily with Your Diseases
May I wish all of you
could Age Gracefully !