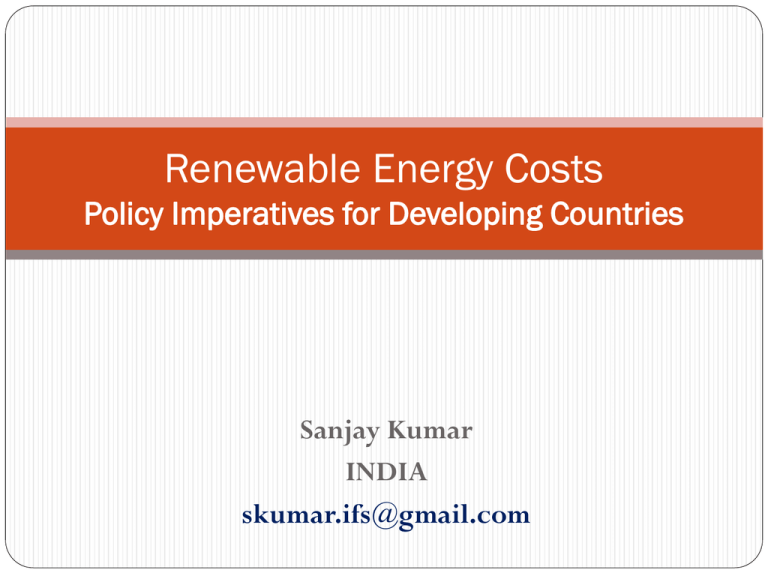 Renewable Energy Costs
Policy Imperatives for Developing Countries
Sanjay Kumar
INDIA
skumar.ifs@gmail.com
Summary of Average Levelised Cost of Electricity Generation
(In service 2009)
Range of Levelised Cost of Electricity Generation (Merchant Power 2009)
Source: ibid
Average Instant Cost Trend (source: ibid)
Levelised Cost of Electricity: Cost Reduction Curve
(Source: Lazard 2010)
PV Module Experience Curve 1975-2000
(Log Linear Relationship: Source C Handleman; Heliotronics 2005)
POLICY INSTRUMENTS TO REDUCE
INVESTMENT RISKS FOR RENEWABLE
ENERGY DEPLOYMENT IN DEVELOPING
COUNTRIES
1. Enunciate a good Policy:
1. Passed by the Parliament  stability
2. Set ambitious targets  attract multiple
stakeholders
3. Emphasize promotional targets  fixed
targets with penal clauses often
counterproductive and costly to administer
4. Harmonise state and federal laws/ policies
and establish incentive programmes at
federal level to support harmonisation
2. Prioritise detailed renewable energy
mapping
1. Detailed and comprehensive mapping of the
potential of all RE sources and RE
technologies in a locality
2. Put maps in the public domain
3. Install a mechanism to monitor performance
of RE generating plants at a given locality
against the maximum potential
3. Give "infrastructure" status to RE projects
1. Allows longer term lending by banks
2. Allows renewable energy companies to raise
public money through long-term bonds
3. Allows enhanced tax credits
4. Establish a "Risk Guarantee Fund"
1. Assures generators/ distributors for the
returns
2. Should be simple to operate and located
conveniently
3. In-built mechanism for quantitative and
qualitative check to be available
4. Replenishable fund
5. Establish a combination of Obligations and
Market Instruments
1. FiTs most sought after but costly for
Governments
2. Right level of FiT difficult to determine
3. Hence, combine FiT with open market
mechanism (e.g. Renewable Energy
Certificates)
6. Establish an ambitious R&D Fund
1. R&D reduces costs faster than experience
curves suggest
2. Matching development and developing
country funds
7. Establish programme for capacity building of
Regulators
1. Electricity markets highly complex, changing
fast
2. Able to embed a policy/ regulation in other
policies and regulations at state and federal
levels
3. Independent
Thanks for your kind
attention!!
2.