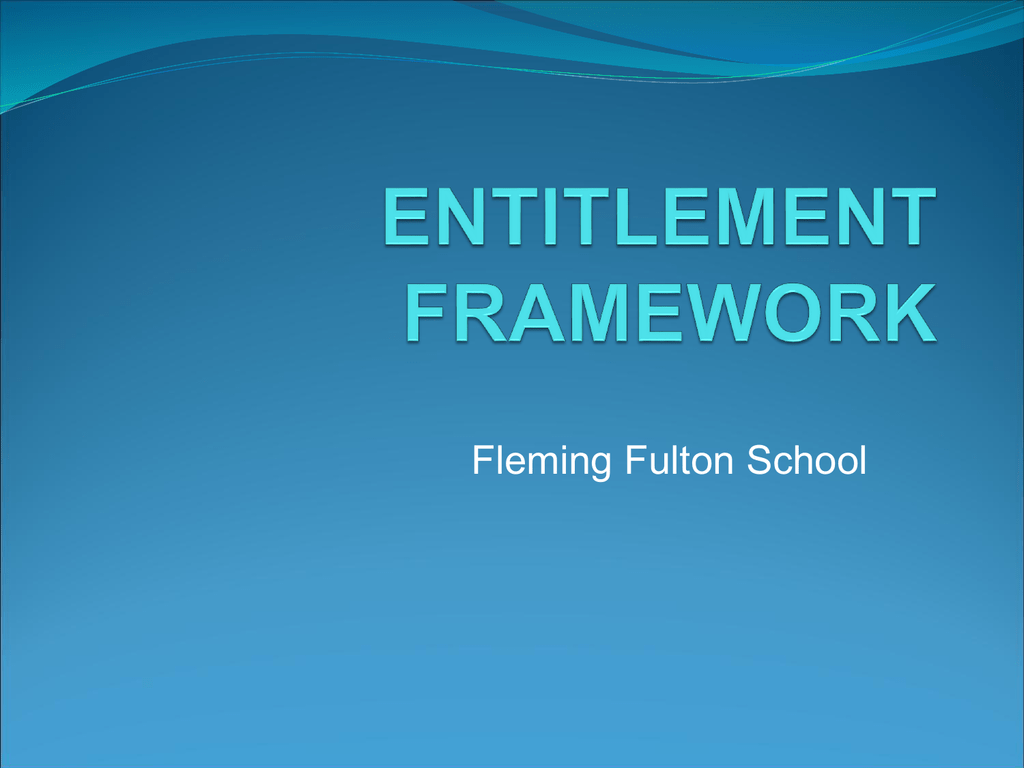 Fleming Fulton School
What is the Entitlement Framework?
2013/14
School
Year
2014/15
School
Year
2015/16
School
Year
KEY
STAGE
4
18
courses
21
courses
24
courses
POST
16
21
courses
24
courses
27
courses
The over arching policy objective of
the Entitlement Framework is to
guarantee all post primary pupils
aged 14 and above greater choice
and flexibility by providing them
with access to a wide range of
learning opportunities. It aims to
provide pupils with a broad and
balanced curriculum to enable
them to reach their full potential no
matter which school they attend or
where they live.
It will guarantee all pupils access to a
minimum number of courses at
Key Stage 4 and post-16, of which
at least one third must be general
and one third applied.
What is our obligation to the EF in
Fleming Fulton?
The situation for special schools has not been finalised.
Department of Education has said that:
•"while we want to see the Special Sector engaged in the EF and the
pupils therein to have access to opportunities and choice in the same
way as pupils in mainstream schools, it is vital that this is done in a way
relevant to the needs of these pupils.
•Our message has been 'work with other schools and providers to put in
place provision that is appropriate for your pupils'.
•We are determined that EF policy must not work against this principle,
which is why we have not finalised policy until it has been thoroughly
discussed and tested within the sector" (CCEA "Recognising the
achievements of learners with special educational needs- pilot scheme")
•DE officials have said "only you can decide what is appropriate for
your pupils".
3 Clear Pathways Identified:
•Learning Programme (e.g. OCR Life &
Living Skills)
•Entry Level GCSE (or Equivalent)
•GCSE
Learning Programmes
 Learning programmes are defined as flexible
packages or groupings of qualifications taken
mainly from the QCF. Qualifications within these
programmes will range from Entry Level to Level
1 and will have a clear destination or route of
progression for the learner. Qualifications within
the programme can differ in size and a
programme can have a mixture of different levels
– Entry Level 1, 2, 3 and Level 1.
Transition 2 – OCR Life & Living Skills
(Learning Programme)
Subject Area
(from timetable)
Life & Living Skill Area
(e.g. Home Management)
Unit Title and OCR Unit No.
Delivering at Entry?
Credit Value
ICT
ICT
Entry 1
3
Maths
Numeracy
Entry 2
2
"
Personal Skills
Entry 3
2
Class Time
Arts and Crafts
Entry 2
2
Life & Living Skills
Home Management
Entry 1
3
"
"
Entry 1
3
LLW
World of Work
Entry 1
2
Life & Living Skills
Personal Skills
Using ICT to Record and Edit
Information
FO1
Using Coins and Notes
JO9
Managing Own Money
M30
Creating an Art or Craft
Product
AO5
Planning & Preparing Food for
an Event
DO2
Preparing Drinks & Snacks
DO6
Preparation for Life and Work
NO5
Introduction to Diversity,
Prejudice and Discrimination
M26
Entry 3
2
(with a mixed group of
pupils)
LLW
Horticulture
Entry 3
1
World of Work
Entry 2
1
"
"
Entry 3
2
"
"
Insert Plant Material
EO1
Developing Job Search Skills
N11
Preparation for Work
N16
Participating in a MiniEnterprise Project NO3
Entry 1
4
TOTAL CREDITS = 27
The focus of the Entitlement Framework ensures that our
approach to curriculum planning means that every young
person in Fleming Fulton has access to appropriate,
relevant and progressive learning. We will best meet the
needs of our young people by offering them a wide and
better balanced range of courses that are applicable to
their needs, aptitudes, interests and their future.