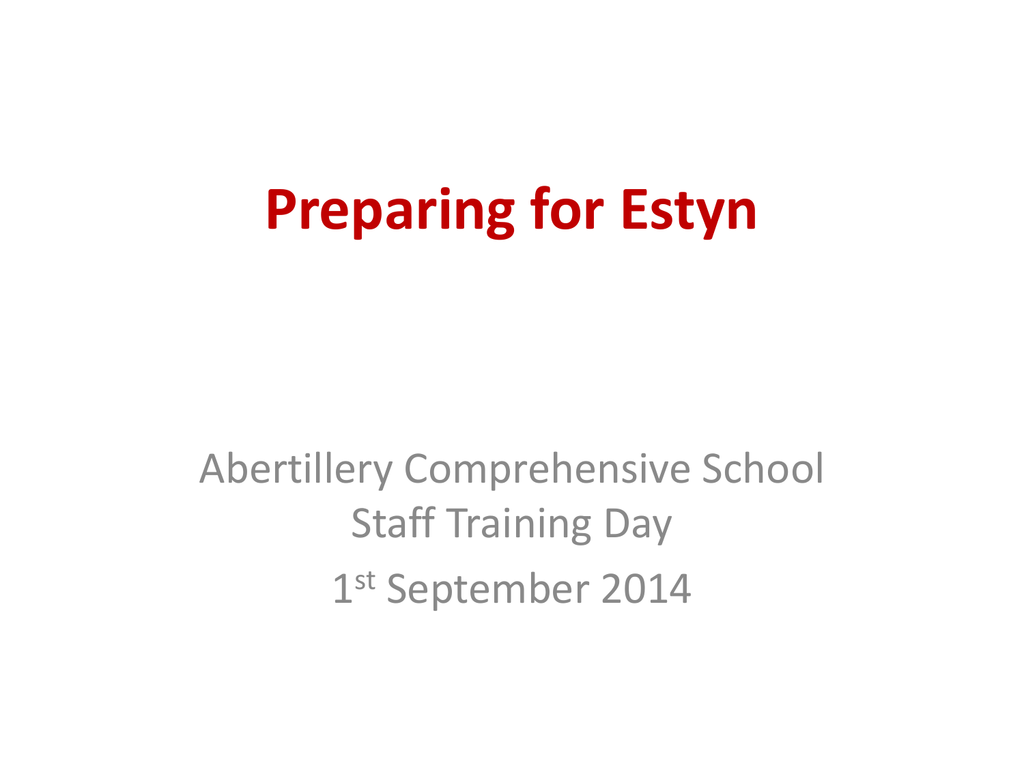 Preparing for Estyn
Abertillery Comprehensive School
Staff Training Day
1st September 2014
Estyn expect to see:
• Greater focus on improvement in teaching and
learning
• Progress in literacy skills in lessons
• More and better writing for learning
• Better performance by boys
Weaknesses in lessons:
• Slow pace
• Questioning does not extend pupils'
understanding
• Too much teacher direction
• Low expectations
• Insufficiently challenging tasks
• Incomplete tasks
• Variable quality of feedback
Building
on
Success
The answers are here!
•
•
•
•
•
Clear learning intentions
Good pace
High expectations
Challenging demands
Well-organised individual, pair and group
activities
• Skilful questioning
• Engaging, enthusiastic delivery
Pedagogy Framework
E
C
L
T
F
I
E
V
The Learning
Process
R
Teaching
Strategies
E
Enhanced learner
outcomes and
wellbeing
E
P
Relationships and
Environment
R
A
C
I
C
T
What makes a Grade 1 lesson?
1. Plan the programme for the
inspection week as the
culmination of units or
sequences of work
What makes a Grade 1 lesson?
2. Focus on the learning intentions:
– refer to the bigger picture!
– enquiry-based learning: teaching for
curiosity
– build in differentiation
– have examples of feedback and assessment
for learning
What makes a Grade 1 lesson?
3. Showcase the students!
(and demonstrate their
learning!)
What makes a Grade 1 lesson?
4. Plan for high levels of interaction
and participation – probing
questions!
5. Have examples of helpful feedback
to learners - how they can improve?
What makes a Grade 1 lesson?
6. Spontaneity – go with the
students!
7. Be prepared to take risks!
8. Enjoy the lessons!
What is a unit?
•
•
•
•
A sequence of lessons
With clear learning objectives/ intentions
Including a variety of learning activities
Based on the exploration of a subject-related topic or
theme (big questions!)
• Leading to a major task, test, assignment or
performance
• Resulting in feedback to the learner (AfL) against
clear criteria
Language and Learning, 00 Month
2010
18
Challenge!
•
•
•
•
•
•
Raise our expectations of all pupils
Focus on big questions
Set more extended and ambitious tasks
Build in differentiation
Put language at the heart of learning
Research, problem-solving and
evaluation
Task setting: levels of challenge
Knowledge/skills
Purpose/outcome
1
locating
retrieval
2
re-ordering
presentation
3
applying
solving problems
4
adapting
teaching others
5
researching
synthesising
6
reflecting, evaluating
theorising, creating
Language and Learning, 00 Month
2010
20
Task setting: differentiation
Learning objective
All pupils will…..
Some pupils will…..
A few pupils will…..
Language and Learning, 00 Month
2010
21
Questioning:
•
•
•
•
•
•
•
•
•
Why do you think that?
What do you notice when…?
What do you mean by…?
Is there another way…?
What would happen if…?
Can you show me how…?
Will it always work?
What might explain it?
How can you test it?
Language for learning!
• Speaking and listening activities
• Reading for learning
• Planning extended writing
Learning through talk
Varieties of classroom talk
questions reading out answers
debates arguments role-play
gossip sharing news discussion
telling stories
seeking approval
Interruptions
jokes thinking aloud
giving information
exploring ideas
performing making presentations
protesting complaining shouting
Language and Learning, 00 Month
2010
25
Traditional class discussion:
Teacher dominated discussion: characterised by
direction, requests and demands – pupils cast in
passive/reactive roles
1. Teacher initiates talk/ poses question
2. Individual pupil responds
3. Teacher gives feedback – confirmation of 'right'
or 'wrong' answer
4. Teacher answers own question
Language and Learning, 00 Month
2010
26
Talking for learning:
• Exploratory talk – pondering, speculation,
thinking aloud
• Clarification - formulating and refining ideas
• Hypothesising - solving problems
• Disputational talk – characterised by
disagreement and the development of
personal opinion
• Collaborative talk – problem solving
The best oral work is:
• Collective – teachers and pupils address tasks
together
• Reciprocal – listen, share ideas and consider
alternatives
• Supportive – articulate freely without fear of
'wrong' answers
• Cumulative – building on one another's ideas
• Purposeful – teachers plan talk with
educational goals in view
Reading and learning
Reading: the challenge
• 'High proportions of pupils in Wales
reported in the PISA survey that
they do not like reading and do not
engage in reading on a frequent
basis.'
• (Estyn)
Wide reading – building positive attitudes
•
•
•
•
•
•
•
•
Building on primary school habits
Independent reading
Expectations of reading whole texts
Interactive reading (on-line)
Reading and boys
Role of the library
Links with home
Visual literacy – using media
texts
Writing for
learning
Year 8 sample:
•
•
•
•
•
•
•
Too few opportunities for extended writing
Lack of progress and improvement over time
Inconsistent expectations between subjects
Narrow range of purposes and audiences
Frequent low level tasks
Untidy and incomplete work
Limited impact of teachers' feedback
Kinds of writing
reporting poetry
Description
Recording
Discussion
Giving Instructions
Explanations Accounts/Re-telling
Argument and Persuasion
Exploration
Evaluation
Narrative
Language and Learning, 00 Month
2010
34
Understanding the main types of text:
• Narrative – give a sequenced account in the past tense
• Instruction – tell the reader how to do something
• Description – describe characteristics/ provide information
• Explanation – processes/ cause and effect
• Persuasion – argue a case/ single point of view
• Discussion – balanced presentation of information and
arguments
Understanding writing process vs product
Product
Arbitrary task – necessary chore
'One-shot'
Solitary confinement
Artificial – de-contextualised
Notes – 'fair copy' – test rehearsal
Exercise book/worksheet
Teacher/reader as assessor
Understanding writing process vs product
Product
Process
Arbitrary task – necessary chore
Stimulus – interest
'One-shot'
Text evolves – extended tasks
Solitary confinement
Collaboration – discussion
Artificial – de-contextualised
Context – audience and purpose
Notes – 'fair copy' – test rehearsal
Discussion, preparation and
drafting, feedback
Exercise book/worksheet
Presentation – colourful formats
Teacher/reader as assessor
Publication – distribution and
display
Feedback!
• Praise is important – but should be earned!
• Assess the writing against the purpose and the
specific criteria for success
• Good writers also need to know what was
good
• All writers need to know how to improve –
and the opportunity to make those
improvements!
• Two stars and a wish – be subject specific!
Where are we going?
'In short, real improvement doesn't come about
through fear of threats about targets
or having inspections hovering over you
(though both of these can serve to sharpen
the mind!). Real improvement is a feature
of learning organisations.'
John Macbeath
What worked in successful schools?
'Raised expectations and a sense
of aspiration which flowed
across the whole school from
headteacher to teachers and
support staff to learners'
Thank you –
and enjoy the new term!