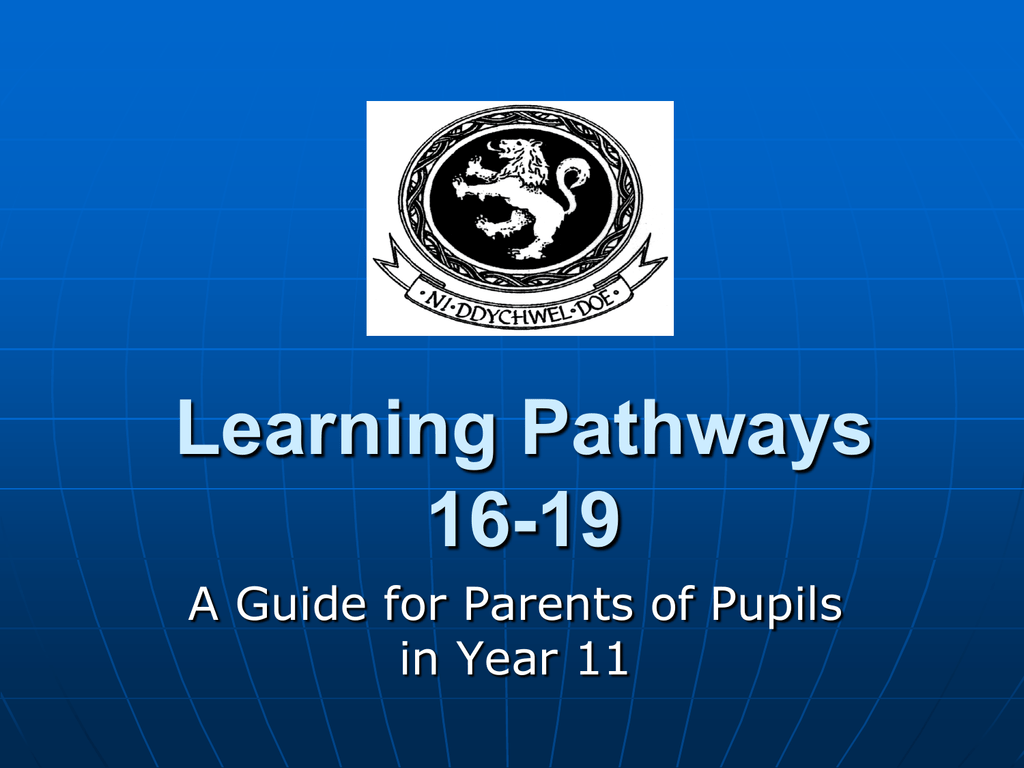 Learning Pathways
16-19
A Guide for Parents of Pupils
in Year 11
Important dates for Year 11





Learning Pathways Evening ( 11/04/13).
Deadline for applications for entry to 6th
form (25/04/13).
Examinations begin (13/05/13)
Results Day (22/08/13).
6th Form Enrolment Day (03/9/13).
Choices after year 11
1.
2.
3.
4.
Remain in School/Consortium to
study a Level 3 course.
Remain in School/Consortium to
Study a Level 2 course.
Attend Ystrad Mynach college full
time.
Leave school to seek employment
or training.
Learning Pathways 14-19






What is a learning Pathway?
What courses are available?
What are vocational courses?
What qualifications are on offer?
What will I need to achieve to study
in the sixth form?
What will be available in the sixth
form?
Learning Pathways 16-19
Level 3
Level 2
Level 1
AS/A2
GCSE (A*-C)
BTEC Level 3
BTEC Level 2
GCSE
(D-G)
BTEC
Level 1
Pathways

Traditional Pathway
• Pursue all A/AS courses

Vocational Pathway
• Pursue all BTEC courses

Mix and Match
• Pursue a combination of AS and BTEC
courses
What happens after Year 11?




Obviously depends on how well you do in
your Level 2 examinations!
Achieving the Level 2 Threshold or 5 GCSE
(A*-C) grades or equivalent is the key to
the widest possible choice of options post
16.
This should also include English and
Maths!
If you do not reach this indicator or
achieve 5 GCSE (D-G) grades then there
are still options available.
Pathways Post 16





If you have achieved 5 GCSE (A*-C)
grades or equivalent.
Proceed to study at Level 3.
This can be via AS/A2 courses.
Or via BTEC Level 3 courses.
Both of these options lead to entry
into University or employment.
Pathways Post 16



In order to study an AS in this
consortium we advise you have
attained at least a B grade at GCSE!
We will also ask about Module or
component results.
In order to study a Level 3 BTEC
course we also advise that you have
achieved at least a 'Merit' in the
equivalent level 2 course.
Pathways Post 16



If you achieved 5 GCSE (D-G) grades
or equivalent.
BTEC Level 2 Diploma.
Vital that you also work towards
gaining both English and Maths at C
grade or better!
AS/A2 Courses





AS – Year 12
A2 – Year 13
AS, 2 or 3 units
A2 4 or 6 units.(2 or 3 from AS plus
2 or 3 more).
Units are assessed by formal
examinations as well as
coursework/practical assessments.
BTEC System

BTEC Level 3 Subsidiary Diploma
• Equivalent to ONE A Level

BTEC Level 3 Diploma
• Equivalent to TWO A Levels
Sport
Lewis School is affiliated with
Newport Gwent Dragons. This means
students can complete study in
conjunction with training at NDG.
Two former students are currently
representing the NDG.
Courses at Ystrad Mynach College



If you intend to leave school and go
to college full time then they have
their own application procedure.
This should be done promptly in
order to guarantee a place on the
course of your choice
Contact the college immediately if
you have not done so!
Welsh Baccalaureate






Compulsory to take the Welsh
Baccalaureate at Level 3 in Lewis
School
Equivalent to an A grade at A level
Key Skills Qualifications
Wider Skills
Community Participation
Work Experience
Thinking beyond 18/19!




University
Employment
Getting Harder to gain either!
Need to do show experience and
passion.
Thinking beyond 18/19!


Gaining a place in university or
employment is no longer just simply
a case a having 2/3 A Levels'!
Increasingly to gain an offer of a
place on a university course pupils
have to be able to demonstrate a
'passion' for a particular career and
'work experience' of what the career
actually involves.
What does this mean

Example1
• For Medicine/Veterinary science a university
would expect to see some sort of log that you
have already done a significant amount of
work experience.

Example 2
• For Primary School Teaching the course
requirements include at least 60 hours
experience in two different primary schools

Many courses require such things BEFORE
making you an offer
Important!!



Choosing the correct subjects at post
16 is vital!
A levels or BTEC are significantly
more difficult than GCSE.
They require different skills and just
because you are A*/A at GCSE does
not mean an A at A level!
Important!!




You must find out what the course at
post 16 involves. Will it suit you?
Have you always wanted to study it,
not just decide to study it because
you had an 'A' in it!
Do you have a genuine interest in
the subject, a passion for it!
Do you have the desire to work very
hard, even the most able will have to
work hard to achieve
Misconceptions




There are often misconceptions about
what subjects you should take at Level 3
for certain careers.
For example you do NOT need to study A
level Law to do a Law degree!
For example you must study Chemistry
NOT Biology for Medicine.
You should check this before you choose
your subjects with the careers service and
with universities.
Research



You need to research the type of course
you may be considering doing.
For example what is the difference
between sports science and sports
management? Do they have different
entry requirements?
For example what is the difference
between management science and
business studies?
Where do I find out this
information?



Careers Advisor.
University web sites.
The important thing is you find out
as much as you can now so you can
make the correct choice of subjects
to keep your options open!
Oxbridge and Russell group
Universities





Group of the leading 20 universities called
the Russell Group.
Why are they so special?
Last year we have had one pupil gain
entrance to Oxford to read Music.
Six other pupils gained entrance to Russell
group universities last year.
We have a support programme to aid the
process of applying to these elite places.
What if I have no idea of what I
want to do?




Many in the same position!
Study subjects you genuinely like not
ones you think you should!
Many graduate careers do not
require specific subjects but look for
you to have acquired the appropriate
skills from your choice of subject!
In two years time you do have to
specialise!