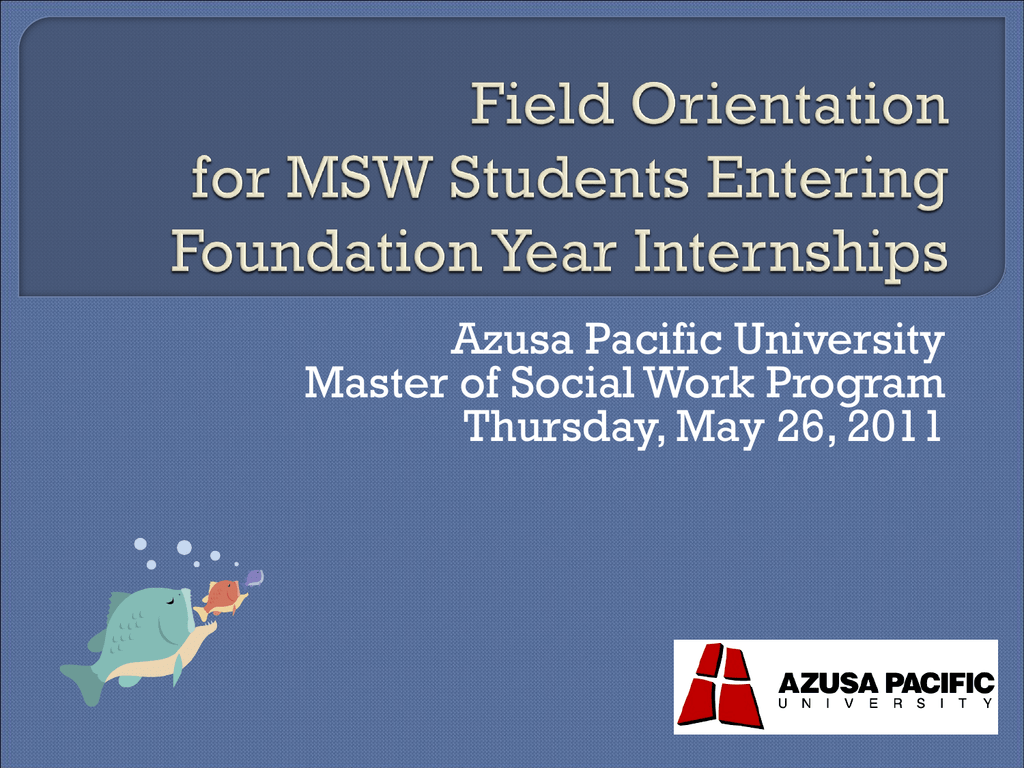 Azusa Pacific University
Master of Social Work Program
Thursday, May 26, 2011
 Introductions
 Meet & Greet
 Discussion
of Field Education Requirements
for MSW students beginning their
Foundation Year (FY) field internships
 Discuss field internship placement
procedures and field matching timeline
 Preparing for your Field Interviews
 Purchasing Liability Insurance
 Paperwork Completion
 Q&A

The MSW program in the Department of Social Work at
Azusa Pacific University seeks to develop competent
advanced social work practitioners who can integrate the
knowledge, values, and skills of social work to advance
social justice and provide services to assist individuals,
families, groups, organizations, and communities.
Grounded in the profession's Code of Ethics and
sensitivity to diversity, the MSW program is committed to
excellence in our teaching and scholarship, the
integration of faith and learning, the development of
professional leadership, and the strengthening of
communities in local, national, and international contexts.
 Why
are we required to complete field hours?
• Field experience is a requirement of the Council
 Is
on Social Work Education (CSWE), the
accrediting board of Social Work Programs.
field necessary in order to become an MSW?
• Yes, definitely. Field provides students with the
hands-on experience necessary to become an
MSW. In field, students receive training,
supervision, and guidance to integrate
coursework with field learning assignments.
• Also, your field courses are requirements for
graduation in the MSW Program
Foundation
Year (Fall)
Course: Field I
Foundation
Year (Spring)
Course: Field II
Concentration
Year (Fall)
Concentration
Year (Spring)
Course: Field III
Course: Field IV
Minimum
Hours
Required
240
240
240+
240+
Field Days
M,W, or F
(PT: M-F)
M,W, or F
(PT: M-F)
M,W, and/or F
(PT: M-F)
M,W, and/or F
(PT: M-F)
Type of
Field
Placement
Foundation
level setting
Foundation
level setting
Concentration
specific setting
Concentration
specific setting
Selection
Process
Field Faculty
assigns field
internship
Field Faculty
assigns field
internship
Student
interviews at
two field
sites, ranks
choices
Student
interviews at
two field
sites, ranks
choices
TOTAL
960
 Field courses:
• Are required coursework in the MSW Program
• Will Integrate Social Work practice material in a
supervised setting
• Are not usually paid as you are enrolled as a student
 Field courses are not:
• volunteer work or paid employment, therefore one's
role is of a student.
 Successful completion of field:
• Is required each semester in order to continue in the
MSW Program
• Requires a grade of B or better in all field courses
• Requires active, hands-on participation as an adult
learner
1.
2.
3.
4.
5.
6.
7.
Students complete an
Application for Field
Internship, due no later
than 5/23/2011
Attend Field Orientation on
5/26/11 to complete
interview preparation
Receive field internship
assignment during May
through July 2011
Schedule agency interview
Complete Interview at
agency
Submit Internship
Assignment Form
Agency will notify APU with
final placement decisions






Construct a Student Resume and
Experience Review Sheet
Schedule your interview
immediately
Verify the agency's address and
the name of the person who will
be interviewing you
Make sure you know how to get
to the agency. Do a dry run if
necessary.
Do research on the agency.
Check out the agency website
and any other available
information.
Be prepared to demonstrate
some knowledge of the agency
and to ask some relevant
questions.
 Various
community-based agencies
throughout the five counties (Los Angeles,
Orange, San Bernardino, Riverside, and
Ventura) are contracted with APU
 These agencies may accept MSW or MFT
students from other nearby graduate
programs
 Agencies have decreased # of students
accepted for internships due to budget cuts
and other organizational issues
 Internships are more scarce than ever
 It
is extremely important that you prepare
well for your pre-placement interviews
 Agencies may be selecting students
based on:
• Best mutual fit for the client population served
• Interview preparedness
• Ability to demonstrate knowledge about the
agency, including population served, types of
serves provided, etc.
• Ability to discuss your learning goals in field
 An
incoming MSW student arrived to the
counseling agency for pre-placement
interview. She arrived to the agency in
very casual attire. She met with agency
representative who interviewed her. She
presented with a smiling demeanor. She
asked questions and engaged in some
self-disclosure.
 Cathy, the
agency representative who
interviewed the student had these comments:
• She didn't seem prepared for the interview.
• Inappropriate disclosure. Student related that she was
been in therapy herself.
• Unprofessional attire. They were a distraction during
the interview.
 Make
sure you are dressed professionally
 Make sure you have copies of your Student
Resume
 Take a portfolio with a pad of paper for notetaking
 Have the agency address and driving
directions available
 Do eat a healthy breakfast; but don't overeat
 Don't drink too much caffeine
 Give yourself extra drive time in case of traffic
delays
 Do Wear This:
 DON'T Wear This:









Know the components of business presence, and learn how to use
them to your advantage:
Attire - all aspects of your clothing selections, including
accessories such as shoes, jewelry, eye-glasses, etc.
Hair - style, color, condition, length
Grooming - overall cleanliness, and personal presentation,
including fragrances use and abuse
Posture - confidence in the way you hold yourself
Demeanor - mannerisms, and body language
Business Accessories -such as briefcases, pens, technology
tools, etc.
Communication Skills - articulation, eye contact, and effective
listening
Etiquette Skills - the right handshake, business protocols, and
courtesies
Retrieved from:
http://www.casualpower.com/business_casual_tips/biz_presence.html
Field
Blog: MSW Field Education
Blog
http://mswfieldeducation.blogspot.com/
• Obtain updates and information about field
• Posted Field Assignments
Online
access to field documents
• Field Forms
– Student Resume
- Interview Preparation Questions
- Social Work Terminology
 Some
agencies require that students
carry their own health insurance as a
condition of placement.
 APU offers student health coverage. If
you require coverage, please visit:
• APU Health Center website
(www.apu.edu/healthcenter/insurance)
All students are required to purchase
individual liability insurance plans prior to
beginning field. A copy of your policy is to
be submitted to the MSW Program Office NO
LATER than August _________
If you need to complete any paperwork or
would like to meet with field faculty, please
be sure to stay behind for a few minutes.