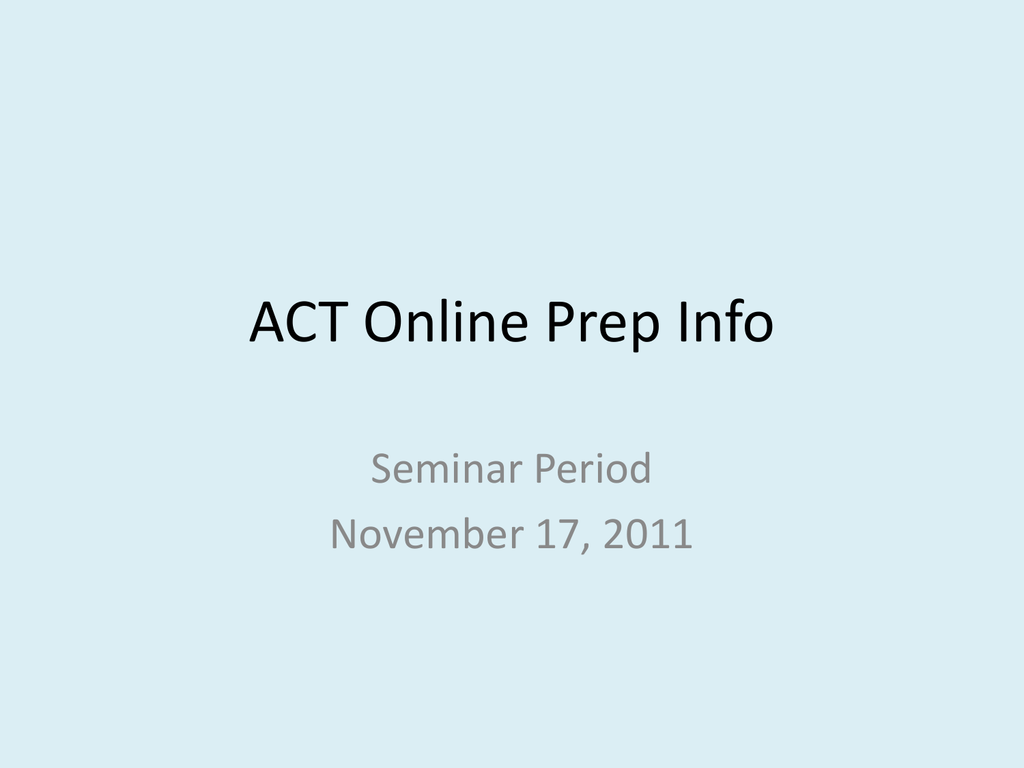 ACT Online Prep Info
Seminar Period
November 17, 2011
https://actonlineprep.act.org/ePrep/browserInfo.do
Log in Here…...
Next: Once logged in, edit your information.
Add your email and make changes as needed. For now, don't
worry about the graduation year shown.
Next: Answer your security question and change your username
and password to a value you want to use. If you don't change it
now you will not be able to change it later.
Next: You are now at the Visitor Center. Click on "main
menu" in the lower left just above "quit".
At the Main Menu, select the testing center,
where you will take a diagnostic test.
Next: Choose the Diagnostic Test Tab. Here you will take a
shortened version of the ACT. It will provide you an idea of what
you should focus on to improve your scores.
1. The diagnostic test is a short test you will take to create
a Study Path. The test includes four subjects: English,
math, reading, and science. The diagnostic test does,
however, contain enough questions in each subject to
identify areas in which you may need more preparation.
2. You will NOT be able to see your actual scores on the
diagnostic test, but your performance will be reflected
in your study path.
3. The diagnostic test is not timed. You may choose the
subjects in any order, and you can stop and come back
later, picking up where you left off.
4. Your Study Path will be created when you finish all four
subjects.
WHY DO THIS?
MONEY MY FRIENDS. IMPROVING BY JUST A COUPLE
POINTS CAN MEAN THOUSANDS OF DOLLARS AS SHOWN
BY THIS INFO FROM EMPORIA STATE.
WHO SHOULD DO THIS?
ANY SENIOR PLANNING TO ATTEND COLLEGE CAN STILL TAKE THE EXAM ON
THE REMAINING DATES SHOWN BELOW AND MOSTS CHOOLS WILL ACCEPT
IMPROVED SCORES FOR FINANCIAL AWARDS.
SO DO IT!
Test Date
Registration Deadline
(Late Fee Required)
December 10, 2011
November 11, 2011
November 12 – 18, 2011
February 11, 2012*
January 13, 2012
January 14 – 20, 2012
April 14, 2012
March 9, 2012
March 10 – 23, 2012
June 9, 2012
May 4, 2012
May 5 – 18, 2012
WHO ELSE SHOULD DO THIS?
ANY JUNIOR, SOPHOMORE, OR
FRESHMAN WANTING TO ATTEND
COLLEGE CAN USE THE WEBSITE TO
IMPROVE FAMILIARITY WITH THE ACT
EXAM AND BE READY WHEN THE TIME
COMES TO DO YOUR BEST ON THE
EXAM YOUR SENIOR YEAR.
SO DO IT!