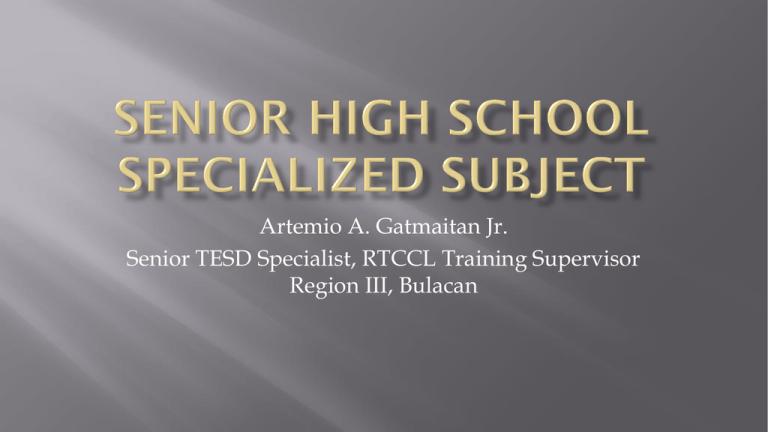 Artemio A. Gatmaitan Jr.
Senior TESD Specialist, RTCCL Training Supervisor
Region III, Bulacan




Moving ahead like in many developed countries, DepEd &
TESDA will be integrating programmes for K11 and K12
Upon Graduation from High School the challenges for students
are far greater and complicated in the present day world.
The questions that some students and most parents ponder
usually "Where do I/my child progress to after High School."
To widen our Education System DepEd, CHED & TESDA are
offering more choices of programs for our High School students
from SY 2015-2016.
WE ARE MIGRATING FROM THE
OLD SCHOOL OF THOUGHT TO
THE NEW SCHOOL OF THINKING
PATTERN
There will be 4 Specialized tracks.

Specialized Track A

Specialised Track B

Academic Track

Sports Track




Accountancy, Business & Management
(ABM) Strand
Humanities & Social Sciences Strand
(HUMSS)
Science, Technology, Engineering &
Mathematics (STEM) Strand
General Academic Strand

Covering a wide prospect in the
field from Sports participation
to fitness to Sports Training and
Coaching to Sports Activity
Management



Specialized Track C
Arts and Design Track
This covers a wide spectrum of
Arts Academy. Some areas but
not limiting to Performing Arts,
Filipino Identity in Arts and
Culture, Music, Dance, Theatre,
Media and Visual


Specialized Track D
Technical-Vocational Livelihood
Track
1. HOME ECONOMICS










Hairdressing
Tailoring
Caregiving
Food and Beverages Services
Bread and Pastry Production
Housekeeping
Tour Guiding Services
Tourism Promotion Services
Attractions and Theme Parks
Tourism
Handicraft
2. INFORMATION &
COMMUNICATION
TECHNOLOGY



Computer Programming
Medical Transcription
Animation
3.1. AGRICROP
PRODUCTION





Horticulture
Landscape
Organic Agriculture
Pest Management
Rice Machinery
Operation
3.2. ANIMAL
PRODUCTION




Animal Production
Artificial
Insemination – Large
Ruminants
Artificial
Insemination –Swine
Slaughtering
3.3. FISH
PRODUCTION




Fish Nursery
Operation
Fish or Shrimp Grow
Out Operation
Fishport /Wharf
Operation
Fish Processing








Automotive Servicing
Refrigeration and Air-Conditioning
Consumer Electronics Servicing
Electrical Installation and
Maintenance
Shielded Metal-Arc Welding
Carpentry
Plumbing
Tile Setting
To ensure the smooth conduct of the competency assessment
including the proper disbursement and utilization of funds at
the field levels, the flowchart illustrates the procedures from
planning and orientation to release of assessment results. The
flowchart also serves as guide for those involved in the
assessment scheme.