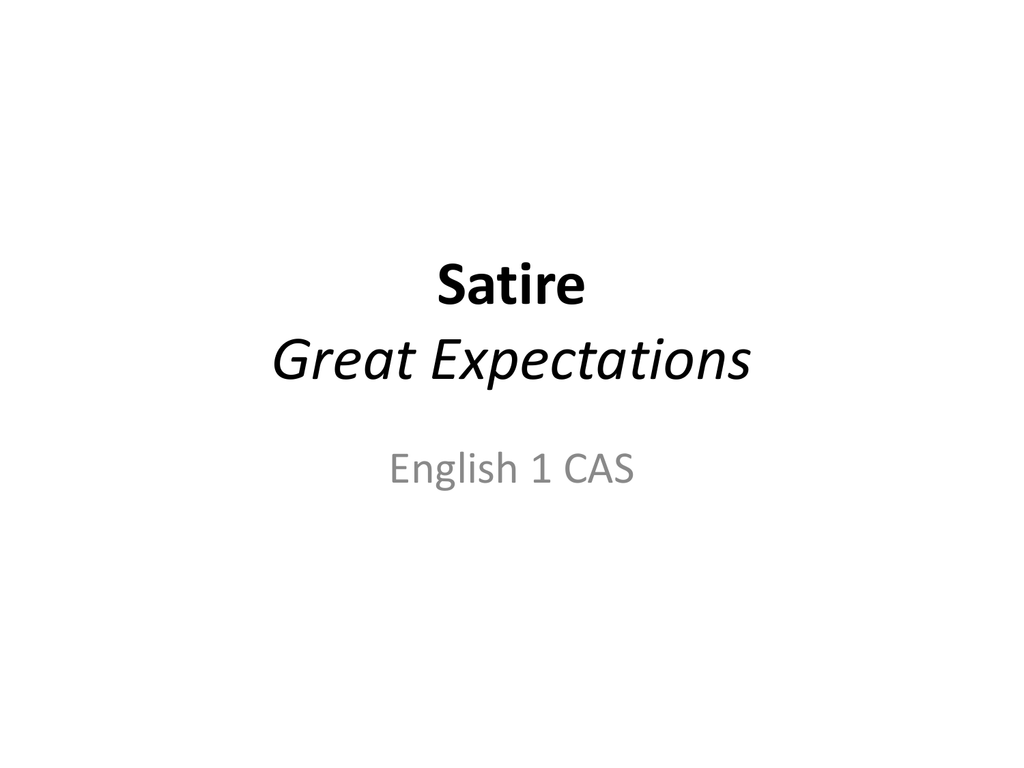 Satire
Great Expectations
English 1 CAS
Satire
• In a literary work, satire is writing that ridicules its
subject through the use of techniques such as:
– Exaggeration
– Reversal (irony)
– Incongruity (things that don't match up or make
sense)
– Parody (mocking)
in order to make a comment or criticism about
it.
Satire
• Though it often is, satire does not have to be
funny.
• A satirical scene can even be dark or ominous
depending on the author's purpose.
Satire QuickWrite
• Based on the previous definition, generate a
list of films, television programs, or print
sources that represent this definition.
Examples of Satire
•
•
•
•
•
•
•
•
The Colbert Report
Bruno
The Ben Show
"8 Reasons to Oppose Gay Marriage"
AMND
Community
Oliver Twist
30 Rock
Examples of Satire
•
•
•
•
•
•
•
•
•
•
The Harvard Lampoon
The Onion
The Campaign
The Dictator
Spaceballs
The Soup
Willy Wonka
Tosh.0
Family Guy
Boondocks
Dickens & Satire Article
• In Great Expectations, Dickens primarily
critiques the rigid and often superficial class
structure of Victorian England.
• In other works, he takes aim at social
institutions and treatment of the poor.
Satire in Great Expectations
• While Dickens' language is often verbose, the
intent is to use exaggeration to achieve
elements of satire.
• Listen attentively to the reading of excerpts
from chapter 4 (first two).
– Listen for elements of comedy, exaggeration, or
mockery.
– Underline or highlight what you find to be
satirical.
Satire in Great Expectations
• What lines, phrases or words did you identify
as comical OR exaggerated?
• Why were these words emphasized in the
reading? How does it enhance the humor OR
irony of the situation?
• Read the third excerpt silently.
StepBack
• Did you find Dickens' satire to be comical or
dark?
• What is he exposing/ridiculing/critiquing in
the novel?
• How did engaging in this exercise help you to
better understand the concept of satire?