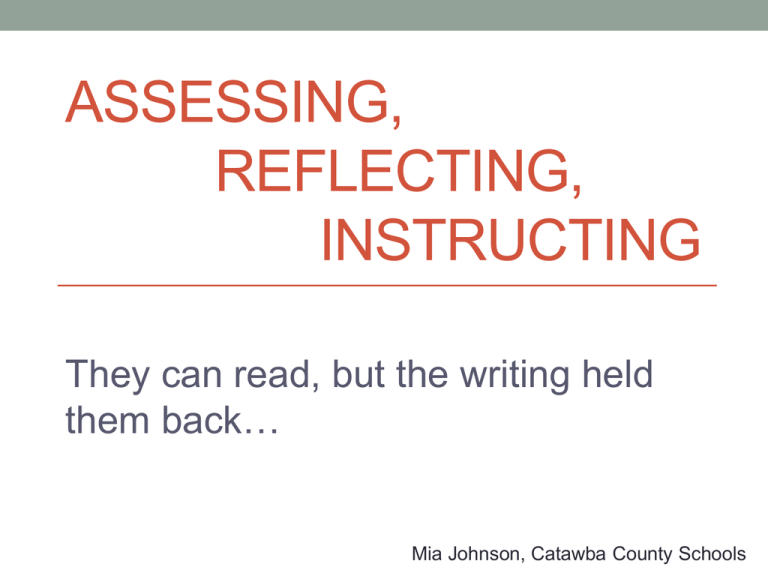 ASSESSING,
REFLECTING,
INSTRUCTING
They can read, but the writing held
them back…
Mia Johnson, Catawba County Schools
TRC Written Comprehension
(Benchmark Levels F and higher)
Tap Written Comp to
access the rubric.
TRC
2
Written Comprehension
Scoring Rubric
Score
Level
What it means
What it requires
0
No
Understanding
The response demonstrates
no understanding of the text.
• Completely incorrect, irrelevant to the
question, or missing
1
Minimal
Understanding
The response demonstrates a
minimal understanding of the
text.
• Minimally addresses the demands of the
questions
• Uses minimal information to show
understanding of the text in relation to
the question
2
General
Understanding
The response demonstrates a
general understanding of the
text.
• Partially addresses the demands of the
question
• Uses text-relevant information to show
understanding
3
Complex
Understanding
The response demonstrates an
understanding of the
complexities of the text.
• Addresses the demands of the question
• Effectively uses text-relevant information
to clarify or extend understanding
TRC
3
Scoring Written Comprehension
Tap the
corresponding
number.
Tap the
arrow to view
rubric criteria.
TRC
4
Written Comprehension
• Teachers are cautioned to not use comments such as "are you
sure you are finished and look back over your answers" as a
means of prompting students to change incorrect answers.
• MUST be completed for reading levels F and above
• A student MUST answer all parts of BOTH written questions
• Teachers can draw charts if charts are part of the written
comprehension question.
• Allow students to use book when answering written
comprehension questions.
Written Comprehension
• Kindergarteners and 1st Graders (BOY & MOY) may
dictate answers to assessor AFTER the student makes an
attempt at writing the answer independently.
• Assessor CANNOT read or explain written prompts to
students (even if scribing in K-1).
• If a teacher struggles to read a student's writing, student
may be asked, "Will you please read me what you have
written?" If beyond, first grade MOY, student's oral
reading of their answer should reasonably match written
response.
Written Comprehension
• Use exemplars (found in spiral Assessment Material book) to
help score written responses.
*Exemplars are only examples and may not describe all
possible answers.
*If unsure of scoring student answer, consult a colleague
for second opinion.
• Scoring- Students must score proficient (2 or 3) on both
questions to be proficient in the written comprehension
component. If they score below proficient (0 or 1) on either
question, then they are not proficient in written comprehension.
• The score given is the lower of the two scores. It is not an
average of the two scores. For example a student who scores
a 1 and a 3 the final score is a 1.
Let's Look at the Exemplars…
• Notebook
• www.amplify.com/north-carolina
• Resources
• TRC Written Comprehension Questions
(complete version)
Let's Give it a Go…
• Writing samples have been collected from several schools
representing a range of students in Title I and Non-Title I
schools.
Sample #1
Individual score-sticky note on chart paper
Small Group score-discuss at your table
Whole Group score-visit chart and discuss scoring
Additional Samples:
Work with your group to score these samples
Be prepared to support your scores.
Now What…
• It is critical as teacher leaders, we expect and assist in
lessening the subjectivity of scoring written
comprehension.
• Encourage colleagues to get a second opinion, use
common sense, and be consistent!
• Utilize this information as one snapshot in conjunction
with other assessments/information to inform instruction
• But what about that child that is reading accurately and
orally comprehending at a level M, but ended at level J
because of the writing….
How do I work on writing?
• Explicitly model writing expectations and skills.
• Embed writing throughout the instructional day.
• Provide daily opportunities for writing in response to text.
• Use sentence frames during instruction:
"On page/paragraph ____, the text states, _________________.
"On page _____, the author wrote, _______________________.
Catawba County Schools
K-12
District Writing Plan
Other business…
• Letterland Inventory
• Fountas and Pinnell Kits
• Let us know how we can best
support you!