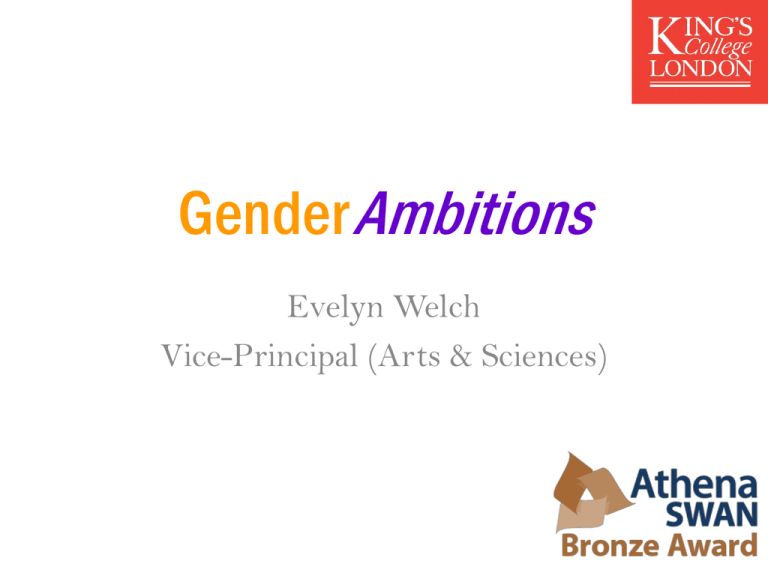 Gender Ambitions
Evelyn Welch
Vice-Principal (Arts & Sciences)
Is there a problem nationally?
• Women comprised the majority in some departments, such as
nursing and paramedical studies (73.7%) and psychology and
behavioural sciences (58.6%).
• But a higher proportion of professors are male. This was true
across all modes of employment and within SET and non-SET.
The gender difference is most prominently observed in full-time
professorial roles in SET, where men made up 84.9% of staff.
• The proportion of male academics earning a salary over £50,000
was almost double that of female academics (31.9%, compared with
16.9%).
(Equality Challenge Unit Data, UK 2012)
Why So Slow?
• 'Science faculty's subtle gender biases favor
male students', PNAS, September 2012
• The Matilda Effect in Science
Communication: An Experiment on Gender
Bias in Publication Quality Perceptions and
Collaboration Interest Science Communication
2013 35 (5) 603-625
• Women in cell biology: a seat at the table and
a place at the podium Mol. Biol. Cell 2013 24
(2) 57-60
Is there a problem at King's?
King's 2012 Equalities Report
• Women and men are fairly equally represented across all staff
groups (54.41% female and 45.59% male).
• Men are under‐represented in the School of Nursing &
Midwifery
• Women are under‐represented in the School of Natural &
Mathematical Sciences
• The proportions of female staff begin to decline from the age
of 31
• Women are under‐represented as Professors, Readers and at
the Clinical Carer Grade
• Two‐thirds of part‐time staff at the College are women
• Female staff are more likely than their male counterparts to
be employed under a fixed‐term contract
King's Gender distribution by age
King's Gender distribution by role
King's Gender Distribution
Table 21 Gender distribution according to function area 2011
Female
%
Male
%
•
Arts & Humanities
•
Biomedical Sciences
298
48.61%
315
51.39%
•
Dental Institute
169
48.29%
181
51.71%
•
Institute of Psychiatry
615
66.06%
316
33.94%
•
Law
46
47.42%
51
52.58%
•
Medicine
721
58.43%
513
41.57%
•
Natural & Mathematical Sciences
48
23.41%
157
76.59%
•
Nursing & Midwifery
150
81.08%
35
18.92%
•
Social Science & Public Policy
•
Health Schools Services
115
63.54%
66
36.46%
•
Professional Services
596
51.51%
561
48.49%
3202
54.38%
2686
45.62%
257
187
51.20%
245
43.19%
246
Gender Equality at King's
• Diversity and Inclusion Steering Group: Chair, Chris
Mottershead
• Athena SWAN Steering Group: Chair, Evelyn Welch
• Athena SWAN Champions Network: Chair, Elizabeth
Kuipers
• Aurora membership (Leadership Foundation
mentorship scheme)
• ECU Gender Charter Mark scheme (piloted by Social
Science Health and Medicine)
Actions underway
• A Pilot Mentoring Programme for Women
Academics. The VP Health has agreed to act as
Champion for the scheme which will operate in
all 6 STEMM Schools.
• Unconscious Bias Training. An invitation to
tender for the delivery of training for members
of Academic Staff Committee and senior
academic and professional services staff has been
sent to relevant providers
Actions underway
• Academic Promotions. Steps have been taken within
Schools and centrally to encourage all managers to actively
discuss promotion plans with their staff as standard, and
where colleagues are not yet ready to apply for promotion,
put in place measures to prepare them to apply in future
rounds
• Parenting Leave Fund. This was launched in April 2013
and a high number of applications have been received. To
date 14 applications have been approved and the funds for
the 2013-14 financial year have been exhausted
Actions underway
• Parent Buddy Scheme. A scheme to allow
men and women returning from maternity/
paternity/adoption leave to give and receive
mutual support has been launched with a
take up from staff
• King's Award. A dedicated Athena SWAN
Award category has been launched and
strong nominations have been received
Next Steps
• Planned Silver Submissions from all SET
units
• Pilot Gender chartermark submission from
SSHM
Next Steps
• This matters to all of us – a fairer, more
equitable place to work creates real value for
everyone: men and women
• The award is the icing on the cake – not the
aim in itself
• Its challenging but also a lot of fun - coming
together to support a new way of working is
exciting
Thank you for working with us
• Sandra Brown, Debbie Epstein and Carl
Akintola-Davies
• Professor Helen McCutcheon and the Athena
SWAN Bronze submission group
• SSHM for piloting the Gender charter mark
• All those going forward for Silver!