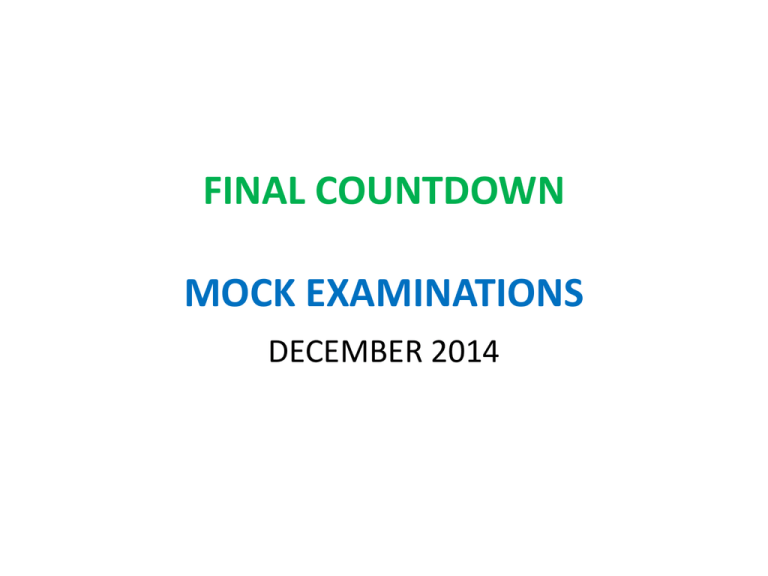 FINAL COUNTDOWN
MOCK EXAMINATIONS
DECEMBER 2014
Why?
•
•
•
•
•
Clear and accurate picture
Follow up actions
Shape individual support
Practise
Unforeseen Circumstances!
You've been going to school for nearly 11 Years.
That's a long time.
All your exams are over and done in
around 2 weeks time.
That's not a long time.
Day
Date
Sunday
30th November
Time
Revision Details
Today I will Revise:
9.00
Monday
Exam
1 December
English iGCSE
Economics
11.15
Today I will Revise:
English
• 3 questions in 2 hours – 40 marks (15,10,15)
• Directed Writing
• Writer's Effects
• Summary
Q1: Directed Writing (15)
• '…I was terrified. I spent the night holding onto
my flask ready to use it as a weapon to protect
myself. I feel so lonely out here.'
• '…the young teen spent two terrifying nights
fighting for his life, in the jungle, before rescue
efforts were successful in finding him.'
WHO? WHY? HOW? – make decisions!
Know the conventions
Q2: Writer's Effects (10)
• '…scowling, he looked me in the eye and began to
speak….'
• '…beaming he looked me in the eye and began to
speak….'
• '…she took a turning with a handwritten sign. She
had to cross a rickety, rotting footbridge over a
rushing stream. Another battered sign, nailed to a
tree, bore the ominous words, ambiguosly
addressed: 'Wild Big Cats – Keep Out'.
Easy Marks!
•
•
•
•
•
•
Juxtaposition
Rhetorical Question
Metaphor
Simile
Hyperbole
Imagery
• What strikes you? Why?
Q3: Summary
• Select the right part of the passage
• Pick out the key parts
• Turn the bullet points into full sentences and
paragraphs
• READ THE INSTRUCTIONS EXACTLY!