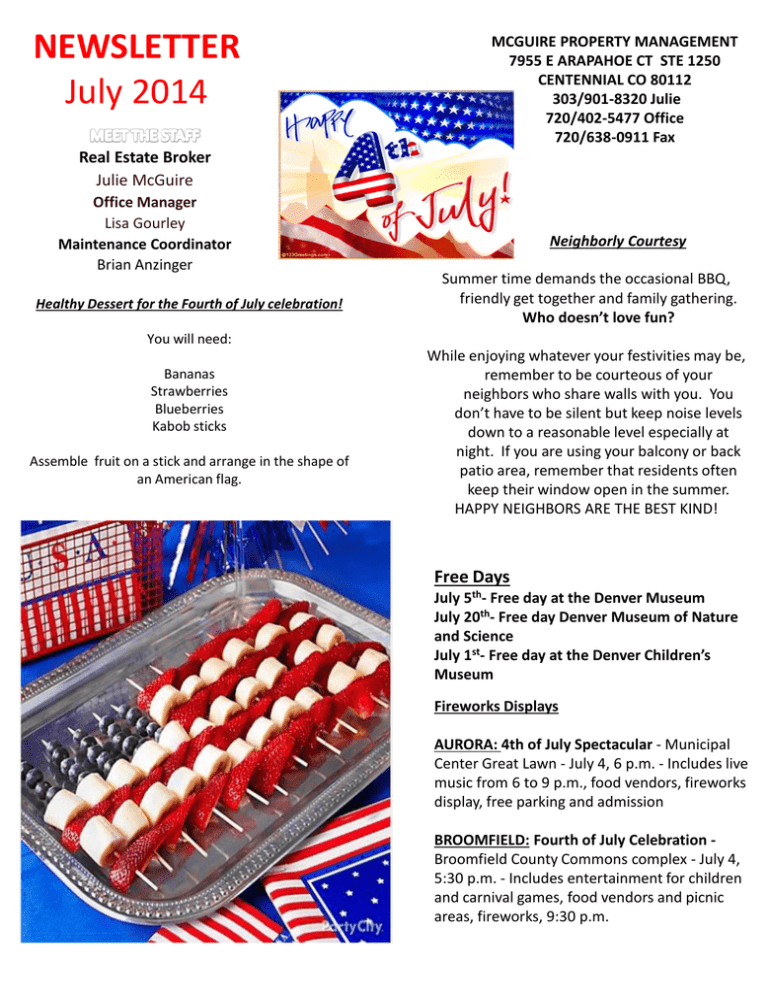 NEWSLETTER
July 2014
MCGUIRE PROPERTY MANAGEMENT
7955 E ARAPAHOE CT STE 1250
CENTENNIAL CO 80112
303/901-8320 Julie
720/402-5477 Office
720/638-0911 Fax
Real Estate Broker
Julie McGuire
Office Manager
Lisa Gourley
Maintenance Coordinator
Brian Anzinger
Healthy Dessert for the Fourth of July celebration!
Neighborly Courtesy
Summer time demands the occasional BBQ,
friendly get together and family gathering.
Who doesn't love fun?
You will need:
Bananas
Strawberries
Blueberries
Kabob sticks
Assemble fruit on a stick and arrange in the shape of
an American flag.
While enjoying whatever your festivities may be,
remember to be courteous of your
neighbors who share walls with you. You
don't have to be silent but keep noise levels
down to a reasonable level especially at
night. If you are using your balcony or back
patio area, remember that residents often
keep their window open in the summer.
HAPPY NEIGHBORS ARE THE BEST KIND!
Free Days
July 5th- Free day at the Denver Museum
July 20th- Free day Denver Museum of Nature
and Science
July 1st- Free day at the Denver Children's
Museum
Fireworks Displays
AURORA: 4th of July Spectacular - Municipal
Center Great Lawn - July 4, 6 p.m. - Includes live
music from 6 to 9 p.m., food vendors, fireworks
display, free parking and admission
BROOMFIELD: Fourth of July Celebration Broomfield County Commons complex - July 4,
5:30 p.m. - Includes entertainment for children
and carnival games, food vendors and picnic
areas, fireworks, 9:30 p.m.