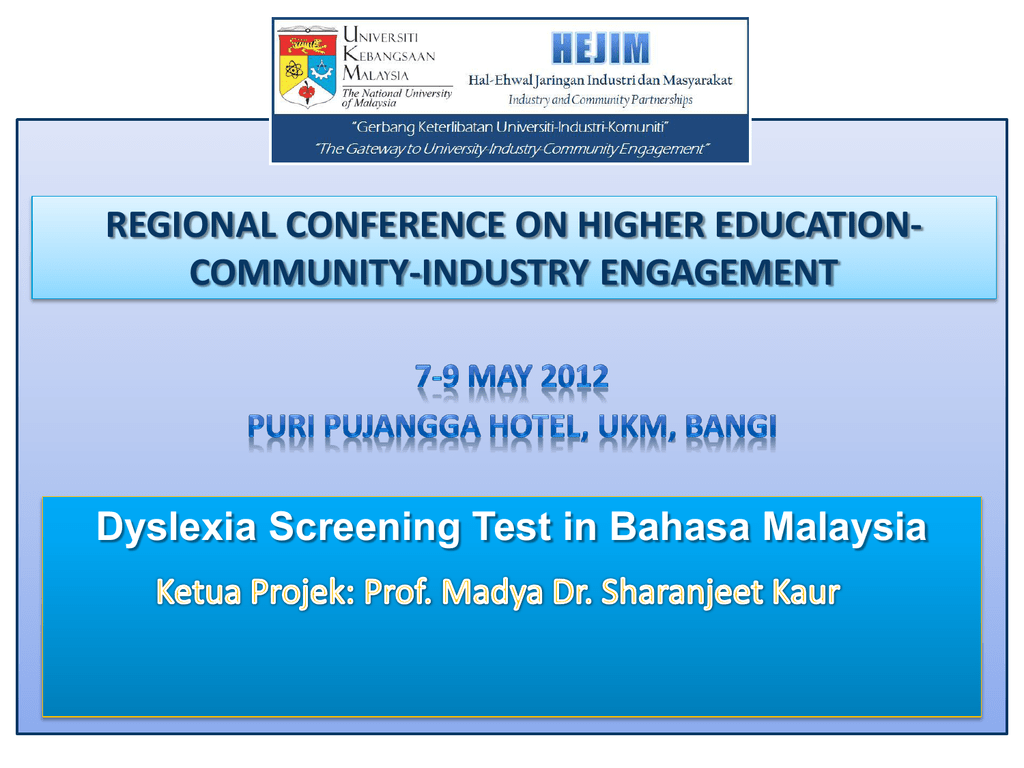 REGIONAL CONFERENCE ON HIGHER EDUCATIONCOMMUNITY-INDUSTRY ENGAGEMENT
Dyslexia Screening Test in Bahasa Malaysia
Literacy Rate among Year 1
Children at the end of 2010
Illiterate
15%
Literate
85%
(PEMANDU, 2011)
 7 % of standard 2 Malay
children were found to have
dyslexia (Gomez 2000)
 4.43% of undergraduate
university students were found
to have dyslexia (Ong et al. 2009)
• Presently - no Malaysian
standardized
instruments to identify
children with specific
• The checklist ('Senarai Semak
reading difficulties.
Disleksia') consists of three
elements:
• In March 2001, the
– (i) pupils' level of mastery in reading
Ministry of Education
and writing (spelling) and numeracy
officials formulated a
skills (difficulties);
checklist for screening
– (ii) teachers'/parents' perception of
pupils' abilities (strengths); and
all Malaysian children in
– (iii) predictors of dyslexia.
Standard 1.
Objectives
• To develop and validate the Dyslexia Screening Test Bahasa
Malaysia (DSTBM).
• To determine the effectiveness of the DSTBM to identify
dyslexic children.
• To determine the visual status of children with dyslexia.
• To determine the language and literacy abilities of children
with dyslexia.
• To determine the auditory status of children with dyslexia.
• To determine the internalizing and externalizing problems of
children with dyslexia.
Dyslexia Screening Test Bahasa
Malaysia (DSTBM)
• Adapted from Fawcett & Nicolson (1996) and
developed by lecturers from multidisciplinary
field of Faculty of Health Sciences, Universiti
Kebangsaan Malaysia.
• For school professionals
• Wan Nor Azlen (2004) provides norms for 8-yearold children.
• Psychometric properties has not been reported.
Study Design & Sample
•
•
•
•
•
Cross-sectional design
Standard 2 children – 7:6 – 8:6 (n= 501)
Cluster sampling
5 Sekolah Kebangsaan at Klang Valley area
Received at least 15 months of formal
instruction.
DSTBM has 11 subsets:
1. Rapid naming
2. One minute reading
3. Two minutes spelling
4. Postural stability
5. Bead Threading
6. One minute writing
7. Nonsense passage reading
8. Phonemic segmentation
9. Semantic fluency
10. Verbal fluency
11. Backward digit span
RESULTS
Number of children at-risk
(At-risk Quotient > 1.0)
ARQ > 1.0
15%
ARQ < 1.0
85%
Cronbach's Alpha of DSTBM
Cronbach's Alpha if Item Deleted
Rapid Naming
0.782
Bead Threading
0.814
One Minuet Reading
0.742
Postural Stability
0.824
Phonemic Segmentation
0.752
Two Minutes Spelling
0.750
Backward Digit Span
0.784
Nonsense Passage Reading
0.764
One Minute Writing
0.761
Verbal Fluency
0.759
Semantic Fluency
0.777
Overall Cronbach's Alpha
0.792
Lack of
awareness
in Parents
& Teachers
Challenges of
the project
High dropout rate
for
diagnosis
Lack of
human
resources
for
diagnostic
Benefits of community
Confirmed
Dyslexia
Educational
Placement
Intervention
Planning
Benefits of community
FUTURE
Helpful tool for teachers at school level to
determine whether a student needs further
evaluation by clinical or educational psychologist.
EARLY DETECTION
EARLY INTERVENTION – now also in
planning
Before the dyslexics lose their self-esteem
Conclusions
• With the exclusion of Postural Stability subtest
and Bead Threading subtest, DSTBM is
currently a reliable and valid dyslexia
screening instrument for eight-year-old Malay
speaking children.
Who are the dyslexics?