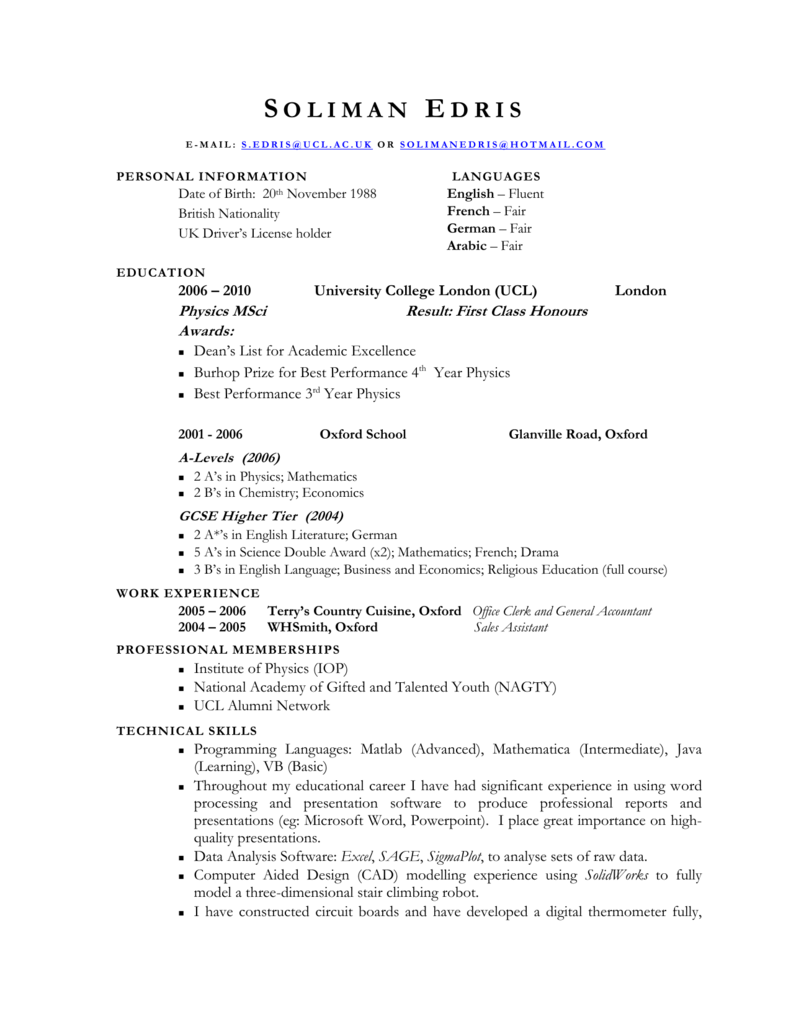 SOLIMAN EDRIS
E-MAIL: [email protected] OR [email protected]
PERSONAL INFORMATION
LANGUAGES
20th
Date of Birth:
November 1988
British Nationality
UK Driver's License holder
English – Fluent
French – Fair
German – Fair
Arabic – Fair
EDUCATION
2006 – 2010
University College London (UCL)
Physics MSci
Awards:



London
Result: First Class Honours
Dean's List for Academic Excellence
Burhop Prize for Best Performance 4th Year Physics
Best Performance 3rd Year Physics
2001 - 2006
Oxford School
Glanville Road, Oxford
A-Levels (2006)


2 A's in Physics; Mathematics
2 B's in Chemistry; Economics
GCSE Higher Tier (2004)



2 A*'s in English Literature; German
5 A's in Science Double Award (x2); Mathematics; French; Drama
3 B's in English Language; Business and Economics; Religious Education (full course)
WORK EXPERIENCE
2005 – 2006
2004 – 2005
Terry's Country Cuisine, Oxford Office Clerk and General Accountant
WHSmith, Oxford
Sales Assistant
PROFESSIONAL MEMBERSHIPS



Institute of Physics (IOP)
National Academy of Gifted and Talented Youth (NAGTY)
UCL Alumni Network
TECHNICAL SKILLS





Programming Languages: Matlab (Advanced), Mathematica (Intermediate), Java
(Learning), VB (Basic)
Throughout my educational career I have had significant experience in using word
processing and presentation software to produce professional reports and
presentations (eg: Microsoft Word, Powerpoint). I place great importance on highquality presentations.
Data Analysis Software: Excel, SAGE, SigmaPlot, to analyse sets of raw data.
Computer Aided Design (CAD) modelling experience using SolidWorks to fully
model a three-dimensional stair climbing robot.
I have constructed circuit boards and have developed a digital thermometer fully,

from transducer to display.
Over 350 hours experience working in a scientific Lab, often with a partner.
INTERESTS AND ACTIVI TIES
Academic
I am becoming increasingly fascinated by Quantum Theory, and its elegant
mathematical formulations. I intend to dedicate my future studies to Quantum Optics,
as I relish the opportunity to further the advancement of a comparatively young theory
which combines the subtleties of mathematics with the practicalities of Physics.
I am a dedicated individual, exerting myself in any activity I take up. In 2002, 2003 and
2004 I took part in the National Maths Challenge receiving a Bronze, Silver and Gold
Award respectively.
Physical
I am a member of a Tae-Kwon Do martial arts club and in the year 2000 I received a
Bronze Medal in the International Tae-Kwon Do Federation Championships, and also
the Student of the Year award from my club.
Arts
I am a dedicated musician, considering it to be one of the most beautiful
manifestations of the underlying harmonies governing the Universe.
I enjoy writing stories and poetry, and in 2003 I was the winner of the Youth National
Poetry Slam and an entrant into the National Poetry Slam where I competed against
professional adult poets. As part of my NAGTY membership, I attended a week-long
residential training course on effective writing skills, where I learnt methods for writing
in various disciplines.
I also took part in the "Commenius Project" which aimed to establish international
links with a school in Bonneville, France, by staging theatrical adaptations of Romeo
and Juliet.
Social
As part of my elected representation of Oxford School in the Oxfordshire Youth
Council (OYC), I helped to establish links between us and the UK Youth Parliament
and European Youth Parliament. I was involved in securing funding for a local centre
for youth with disabilities. I was also selected to be part of a team that developed the
OYC website. In 2004 I was a leading participant in the "Question Time for Schools"
campaign where we went on to achieve fourth place in the National competition.
Voluntary
As part of my voluntary endeavours, I helped to construct the Howard Street Garden
for the Howard Street Project. It later appeared on the BBC Oxford as the winner of
the best public garden.