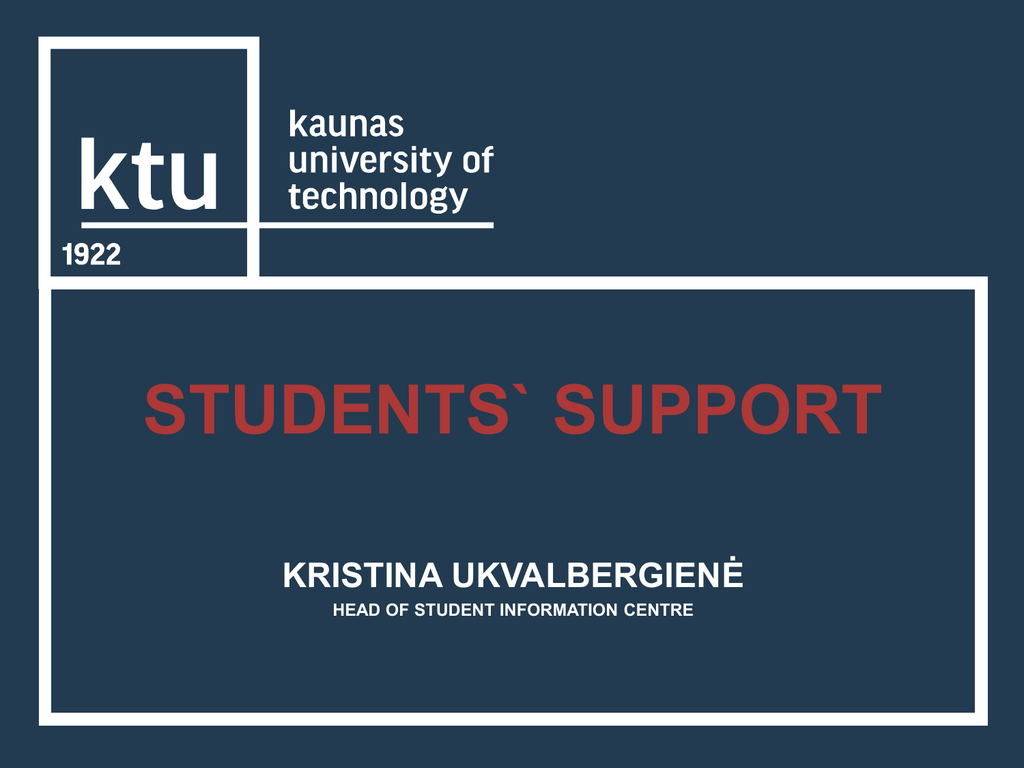 STUDENTS` SUPPORT
KRISTINA UKVALBERGIENĖ
HEAD OF STUDENT INFORMATION CENTRE
SUPPORT POSSIBILITIES
Academic advice
Financial matters
Your career
Student leisure
Personal matters
STUDENTS` SUPPORT
UNIVERSITY OFFERS THE FOLLOWING SERVICES ALSO
•
•
•
•
•
•
•
individual counseling;
group counseling sessions;
peer mentoring from senior students;
spaces for meetings or studying with other students;
tutoring services;
consultations on starting your own business;
and many more…
DEPT. OF STUDENT AFFAIRS
DEPARTMENT OF STUDENT AFFAIRS
Director – dr. Martynas Ubartas
• Student Information Centre – one-stop student service, University
mentoring program;
• Social Support Group – financial matters and support for students
with special needs;
• Students Leisure Group – leisure issues;
• Career Centre – career issues;
• Chaplain.
STUDENT INFORMATION CENTRE
ONE - STOP STUDENT SERVICE
•
•
•
•
•
•
•
academic and general issues;
course information and advice;
personal issues and any other student matters;
arrangement appointments with the specialists;
projects of information dissemination;
maintenance of student information sources;
coordination of University mentoring program (academic advisers,
career mentors, tutors).
Studentų str. 50
E-mail: [email protected]
Tel. (8 37) 300 327
SOCIAL SUPPORT GROUP
ALL SOCIAL ISSUES
•
•
•
•
scholarships (excluding social scholarships from State budget);
financial matters (excluding loans from State budget);
advising;
care of students with special needs.
KTU Central Administration Building
Donelaičio 73, Room 113
Tel. (8 37) 300 080
SOCIAL SUPPORT GROUP
SCHOLARSHIPS FOR FULL TIME INTERNATIONAL STUDENTS
• For very good results in studies and science (260 Lt (75 EUR) /
month, 1 semester long);
• Rector`s for exceptional results in studies and science (650 Lt (188
EUR) / month, 1 semester long);
• Onetime incentive (Faculty's dean's (up to 390 Lt (113 EUR)) or
Rector's (up to 1040 Lt (300 EUR));
• Onetime social (up to 1560 Lt (452 EUR)) – illness, family members
illness or death, natural disaster or loss of property, other exceptional
cases;
• Scholarships of companies and sponsors – for talented students.
STUDENT LEISURE GROUP
ALL LEISURE ISSUES
•
•
•
•
leisure events;
students leisure activities;
care of students organizations infrastructure;
advising and assistance to new organizations and leisure centers and
etc.
KTU Central Administration Building
Donelaičio 73, Room 113
Tel. (8 37) 300 743
CAREER CENTRE
CAREER ISSUES
•
•
•
•
•
•
individual career goals;
career development;
help in searching for a job;
assistance in writing resumes, cover letters;
organization of career fairs and seminars;
internship program IAESTE.
Studentų g. 67, Rooms 204 and 205
Tel. (8 37) 32 13 30
MENTORING PROGRAM
MENTORS
Peer mentor – senior student assigned to freshers to get oriented in the
University (study system, rules and etc.).
Academic Adviser – academic person appointed to student to help in
academic matters (major, minor, academic progress and etc.).
Career mentor – experienced person assigned to student to share his
knowledge, experience and insights on career issues.
Research mentor – researcher appointed to undergraduate student to
start research in desired field. Special requirements for students.
Tutor – student or academic person who helps students in difficult
undergraduate courses (mathematics and etc.).