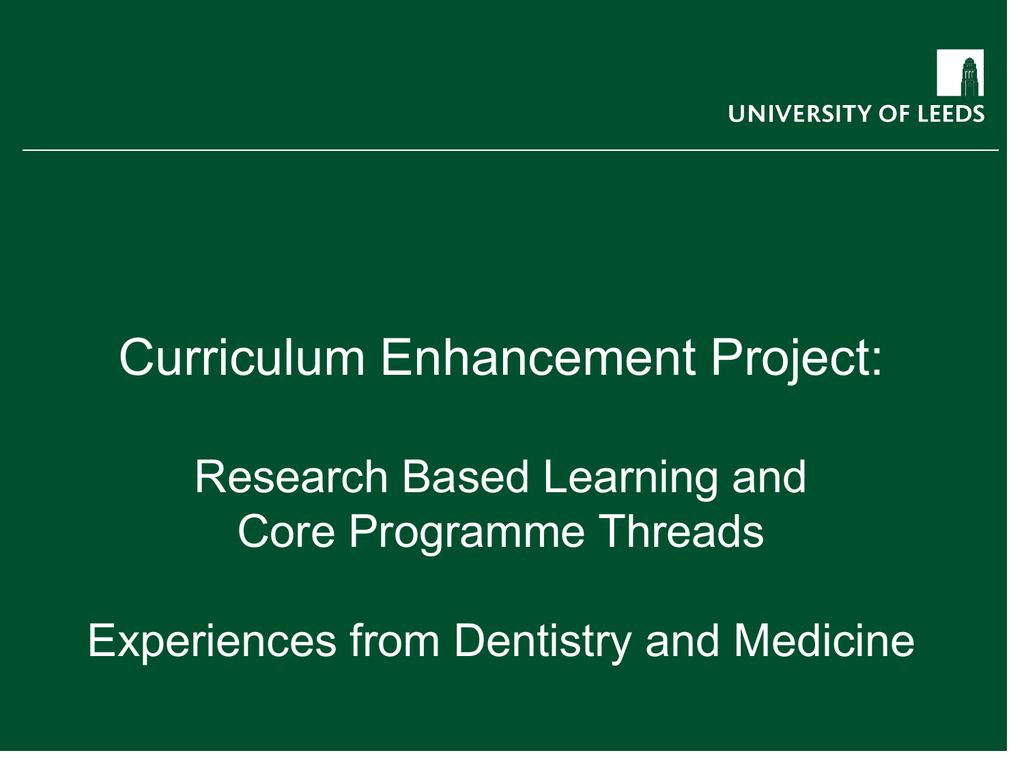 Curriculum Enhancement Project:
Research Based Learning and
Core Programme Threads
Experiences from Dentistry and Medicine
Curriculum Enhancement
Project
• Key strategic project for
Student Education
• Academically led, by PVC
Student Education and
Pro-Deans
• Working in partnership
with LUU
What are the drivers?
• Ensuring our students get the full
benefit of education in a large and
diverse institution
• Responding to a changing HE
landscape
• Students (and parents) seeking 'return on
investment'
• Improving our articulation of 'Why Leeds?' in
an increasingly competitive market
• Employers looking for more rounded
graduates with flexible skills and
attributes
• Need to improve assessment and
feedback practice
• Greater clarity around information and
guidance to support student choice
RBL and CPT:
Work to date
• Agreed key aspects of Research-Based Learning (RBL):
• Programmes should actively develop students' independent research skills
• Latest research, including that produced by our own staff, will contribute to the
curriculum
• All students provided with opportunities to practise those skills
• All students undertake a supervised but autonomous piece of research
• Programmes evidence a journey from Research-led to Research-based
• Students can articulate the benefits of their RBL experience + skills gained
• Agreed: all programmes should provide a final year research project
for students entering L1 in the 2012/13 Session
• Agreed: final year projects ideal 40/60 credits, minimum of 20 credits;
double blind marked where the amount of credit awarded justifies it, or
with some other robust QA on assessment given influence on award.
RBL and CPT:
Work to date
• Agreed & defined the Core Programme Threads (CPT)
Employability, Global and Cultural Insight & Ethics and Responsibility
• Long list of programme-based examples to assist schools to identify
threads.
• Threads to be in context of the discipline, so hopefully mainly a matter of
highlighting existing presence.
• Developed a toolkit to support schools in evidencing RBL and CPT, as
need to move beyond assertion to actual demonstration.
• Templates, Healey matrix, RSDF supporting tools
• Agreed: evidence of RBL and CPT to be embedded in QA processes –
programme review and approval and Annual Health Checks
Research-Based Learning
Healey, M., 2005. Linking Research and teaching: disciplinary spaces. In Barnett, R., (ed) Reshaping the university: new
relationships between research, scholarship and teaching. Maidenhead: McGraw-Hill/Open University Press.
Research-Based Learning
Research-Based Learning
Curriculum Enhancement Project: Mapping Template for Research-Based Learning
School:
Level[1]
Programme:
Module
Code and
Title
Elements Identified
(L.Outcomes/content/delivery/
assessment)
Healey
Quadrant
(RL/RT/RO/
RB)
RSDF labels
(Facet of
Inquiry: F to A;
Level of Student
Autonomy: level
I to V)
1
1
1
1
1
1
1
[1]
Completing the template for each Level of study will demonstrate the shift in the balance from RL to RB
STSEC Subgroup
confirmation
(Elements
confirmed as
aligned with labels)
STSEC
confirms
module balance
by level:
RL/RT/RO/RB
Core Programme Threads
Programme Name:
Programme Leader:
Level
Module title
Module
number
Thread activity
Ethics &
Responsibility
1
1
2
3
3
Global and
Cultural Insight
Employability
Assessed
Benefit to
students
Formative /
summative
Brief
description
Timescales and further information
• By Jan 2013: Schools to map RBL and CPT via programme review
• Feb/Mar 2013: Evidence of RBL and CPT audited via AHCs
• Feb-July 2013: References to RBL and CPT on course pages for KIS+
• By April 2013: RBL and CPT evidenced in all programmes
• RBL and CPT resources available at :
http://curriculum.leeds.ac.uk/project/resources
Experiences – Core Programme Threads
• PSRBs i.e. GDC and GDC made some of it easier i.e. ethics
• Examples of how we mapped, engaged and developed CPTs
Medicine - CPT
• Inclusion of questions in annual QMER course
returns
• Evidence of where and how GH has been incorporated
• Ethics theme, assessed
• RESS
• Research based learning longitudinal theme
• RLT within core curricular components
• Culmination in 18 month longitudinal project (years 4/5)
• Research , audit, clinical service evaluation
• Employability – portfolio (aligned with LfL) maps against future
professional standards within GMC, employability officer appointed
March 2009
Medicine – example of mapping CPT
Year of
Programme
Programme strand /
integrated
unit
Thread
Activity
Ethics &
Responsibility
Year 1
Introductory
Course
Introduction to
becoming a
professional –
roles and
responsibilities
Innovation,
Development
, Enterprise,
Leadership.
Safety
Interprofessional
education (IPE) /
Safety Days
(IDEALS 1)
Behaviour &
Responsibility
Professionalism &
Regulators
Personal
Awareness
March 2009
Global &
Cultural
Insights
Other
models of
healthcare
(&
Healthcare
systems
project)
Utility
Assessment
(to students)
(& type)
Job Idol &
Research Idol
Both an introductory course to
MBChB which helps stream into
key learning for year 1 and a
major focus on professionalism,
roles and responsibility (as a
student and eventually as a
doctor)
Merges into incourse year 1
learning and
assessment
IPE / Safety
Days
Underpins the whole MBChB,
recognising the challenges and
requirements of modern
postgraduate practice. Strong
emphasis on professionalism,
careers & development.
IDEALS – in course
Assessment for
Learning (AfL) via
'passport'; materials
blueprinted into End
of Year (EoY) High
Stakes tests
Employability
Planning your
career &
iDecide
Careers tool
Teamwork,
Leadership &
Management
'Whole curriculum approach' on
safety into healthcare, with a
strong focus on both healthcare
organisation management
culture and safety, as well as
initiatives surrounding safer care
for individual patients
Medicine – example of mapping RBL (1)
The RESS strand comprises six key themes:
a)
Research and evaluation methods
b)
Informational retrieval and evidence gathering
c)
Critical analysis and review
d)
Data capture and processing
e)
Interpreting research implications
f)
Communicating research and evaluation outcomes
March 2009
Medicine – example of mapping RBL (2)
Level
Module Code
and title
Elements Identified (L.
Outcomes/content/deliver/assessment
Healey Quadrant
(RL/RT/RO/RB)
1
RESS 1
RL/RT
1
RESS SSP
(Special Studies
Project)
Students learn how to formulate research
questions, gather information from a
range of sources, make
judgments on quality and draw
conclusions.
Teaching is delivered via lectures, online learning and tutor led small group
work. Learning is in groups and by
independent work
Assessment by
 The Human Body Measurement
Project, which provides structured
learning and practice of research
and evaluation skills.
 MCQ/EMQ in end of year high
stakes exam.
Students use information gathering skills
to understand their chosen topic (from a
range of projects offered by and
supervised by University staff)
Learning outcomes
• To understand or develop research
method
• Analyse generated data or data
provided using appropriate procedures
• Present findings
• Draw conclusions
• Evaluate
March 2009
RL/RB
RSDF labels
(Facet of
Inquiry: F to A;
Level of
Student
Autonomy:
level I to V)
Level 1
a, b, c, d,
Level 1
a, b, c, d, e, f
Experiences – Broadening
• PSRBs i.e. GDC and GDC – makes this not possible – for our students!
• Duration of teaching within the year, medicine not modularized,
• Broadening already included within core longitudinal strand / theme of RESS –
Research , Evaluation and Special Studies – key curricular areas that provide students
with choice around topics / skills related to medicine
• Confidential nature of content, and organisation , and space makes it not possible to
open up our core courses to students outside of medicine / dentistry
• Other ways of doing this??
• What could we offer for students across the university?
Experiences
• Anything to add?