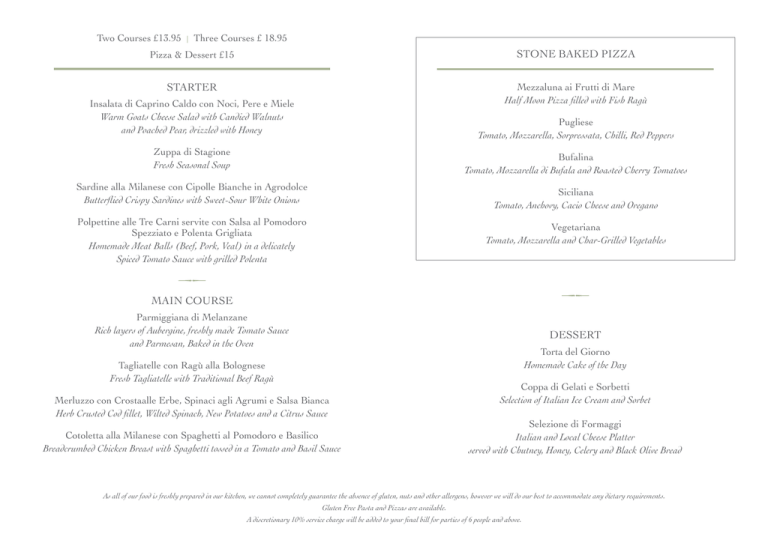 Two Courses £13.95 | Three Courses £ 18.95
Pizza & Dessert £15
STONE BAKED PIZZA
STARTER
Mezzaluna ai Frutti di Mare
Half Moon Pizza filled with Fish Ragù
Insalata di Caprino Caldo con Noci, Pere e Miele
Warm Goats Cheese Salad with Candied Walnuts
and Poached Pear, drizzled with Honey
Pugliese
Tomato, Mozzarella, Sorpressata, Chilli, Red Peppers
Zuppa di Stagione
Fresh Seasonal Soup
Bufalina
Tomato, Mozzarella di Bufala and Roasted Cherry Tomatoes
Sardine alla Milanese con Cipolle Bianche in Agrodolce
Butterflied Crispy Sardines with Sweet-Sour White Onions
Siciliana
Tomato, Anchovy, Cacio Cheese and Oregano
Polpettine alle Tre Carni servite con Salsa al Pomodoro
Spezziato e Polenta Grigliata
Homemade Meat Balls (Beef, Pork, Veal) in a delicately
Spiced Tomato Sauce with grilled Polenta
Vegetariana
Tomato, Mozzarella and Char-Grilled Vegetables
opo
opo
MAIN COURSE
Parmiggiana di Melanzane
Rich layers of Aubergine, freshly made Tomato Sauce
and Parmesan, Baked in the Oven
DESSERT
Torta del Giorno
Homemade Cake of the Day
Tagliatelle con Ragù alla Bolognese
Fresh Tagliatelle with Traditional Beef Ragù
Merluzzo con Crostaalle Erbe, Spinaci agli Agrumi e Salsa Bianca
Herb Crusted Cod fillet, Wilted Spinach, New Potatoes and a Citrus Sauce
Cotoletta alla Milanese con Spaghetti al Pomodoro e Basilico
Breadcrumbed Chicken Breast with Spaghetti tossed in a Tomato and Basil Sauce
Coppa di Gelati e Sorbetti
Selection of Italian Ice Cream and Sorbet
Selezione di Formaggi
Italian and Local Cheese Platter
served with Chutney, Honey, Celery and Black Olive Bread
As all of our food is freshly prepared in our kitchen, we cannot completely guarantee the absence of gluten, nuts and other allergens, however we will do our best to accommodate any dietary requirements.
Gluten Free Pasta and Pizzas are available.
A discretionary 10% service charge will be added to your final bill for parties of 6 people and above.