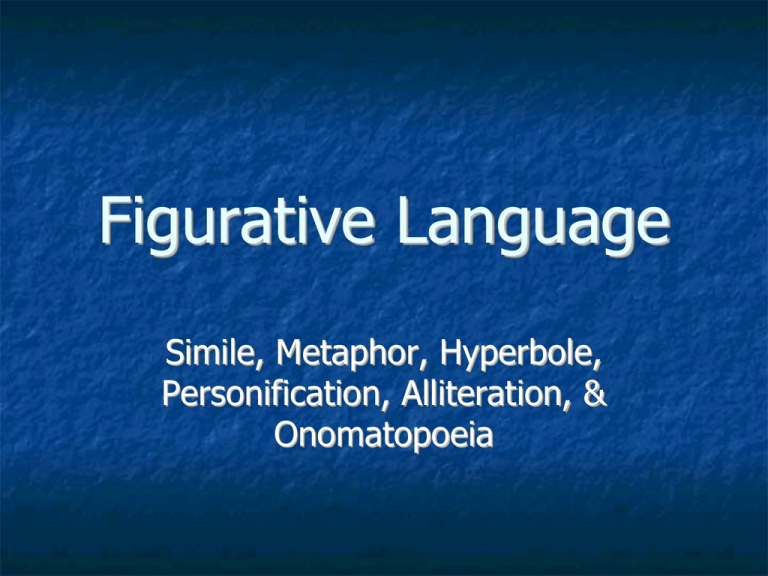 Figurative Language
Simile, Metaphor, Hyperbole,
Personification, Alliteration, &
Onomatopoeia
SIMILE



a figure of speech, in which two things are
compared
uses the words "like" or "as"
example: "She is like a rose."
Built like a tank
Still as a stone
METAPHOR




The comparison of one thing to another
Does NOT use 'like' or 'as'
A stronger comparison- says something
IS something else.
Example: She IS a rose He IS a tank
Examples of a Metaphor
Perry is a pig when he eats.
The teacher was a witch to the children.
He was a volcano, ready to explode with anger.
My mother is a rock during troubled times.
HYPERBOLE
A figure of speech in which exaggeration
is used for emphasis or effect
 Example: I could sleep for a year
or This book weighs a ton.

PERSONIFICATION


Giving human qualities to animals or
objects
Example: The daffodils nodded their
yellow heads in the wind
or The snow whispered as it fell to the
ground.
ALLITERATION


Repeating the same first consonant in
speech (must repeat at least two times in
a row)
Example: "Peter Piper picked a peck of
pickled peppers" or
"dewdrops dwell
delicately"
Onomatopoeia


The use of words that imitate the sounds
they describe
Example: "The burning wood crackled
and hissed" or "The bacon sizzled on
the stove"
IDIOMS
 An idiom is an expression that means
something other than the literal meanings
of its individual words.
 Example: It's raining cats and dogs.
 Literal- Cats and dogs are raining from the
sky.
 Figurative- It is raining really hard.
Examples of idioms:
This will be a piece of cake:
A task that can be accomplished very
easily.
I'm stuck between a rock and a hard
place:
Stuck between two very bad options.
Bite Your Tongue!:
Avoid talking.