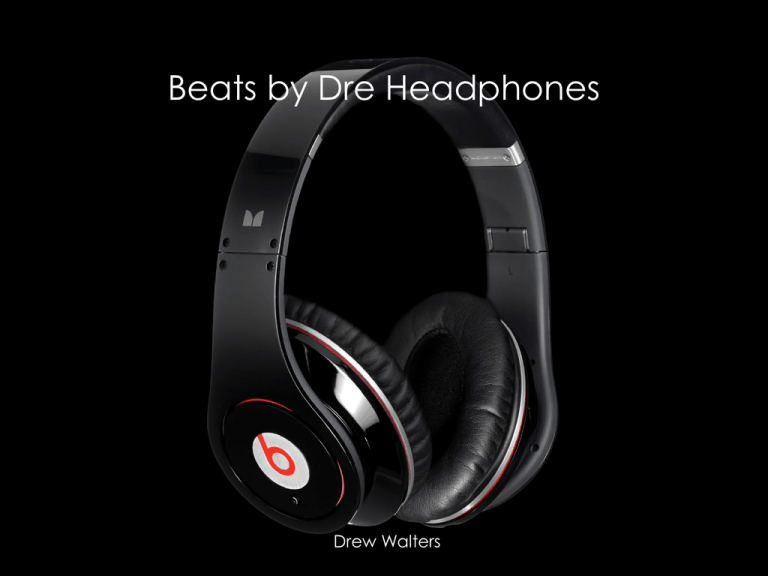 Beats by Dre Headphones
Drew Walters
Preapproach
Item
Company or Organization
background/ history
Company policies
Returns/refunds
Service provided
Product composition
What is the product made
out of – relative quality
Description for Product
• Monster- Beats By Dr. Dre
• Noel Lee started Monster out of his garage 30 years ago and now his son
Kevin Lee is the current owner
• One year limited warranty
• Free Shipping
• Ships within 24 hours of order
Constructed of advanced materials, combining extra-large speaker drivers and
a high-power digital amplifier. Powered noise cancellation technology that
keeps outside noise out
Product appearance
Colors available
Special Design Features
• Smooth, thin, lightweight, soft and glossy
• Black, red, white
• Extreme comfort, headphone cable built in with a microphone, micro
minijack, folding design, scratch resistant gloss finish
Care of the product
Maintenance/ Cleaning
Comes with a Monster Clean Cloth with advanced Aegis Microbe Shield
technology to clean your headphones along with an Anti-Microbial cleaning
cloth
Price
Price range of similar
products
Items related or required for
product use
Competitors (brands or
companies)
$349.99
• Skullcandy – $50 - $149.99
• Bose - $139.95
• Sony - $82
iPod, MP3 player, computer, radio, etc.
Skullcandy, Bose, Sony
Feature/Benefit Chart
Feature (fact about the product)
Benefit to the customer of the feature (use a selling
statement)
1. Extreme Comfort
Big ear cups give you more room for a higher level of listening comfort. Also
with the plush ear cushions covered with ultra-soft breathable materials you
stay cool and comfortable, unlike any other brand.
2. Powered Noise Cancellation System
For a full music experience, hearing all parts and sounds of a song including
the artist without any outside interruptions of the noises going on around you,
these headphones lock the noise out and keep the music in.
3. Monster Headphone Cable
An advanced Quadripole 4 twisted pair construction reduces signal loss for
perfectly balanced sound and extreme clarity.
4. Monster iSoniTalk
This headphone cable has a built in call answer button and a microphone so
you can listen to music one second and easily stop to answer a phone call
the next.
5. Scratch-Resistant Gloss Finish
w/ Monster Clean Cloth
With this shiny finish and glossy look, your headphones can now stay that way
after heavy use because of the advanced materials used to design this
product. Also with the Monster Clean Cloth you polish your headphones,
keeping that brand new, fresh look.
6. Folding Design and Touring Case
w/ One Year Limited Warranty
With its folding design and hard and durable Touring Case, your headphones
can stay protected and in mint condition for longer than ever. And if your set
of headphones are damaged or have a malfunction, return them within the
first year and receive a new pair on us within 24 hours.
Sales Approach
Type of
Approach
Greeting
Approach
Service Approach
Merchandise
Approach
Two examples of the approach for your product/service and
selling situation
1. Hello how are you doing today?
2. Good afternoon…
1. Hello my name is Drew, how may I help you?
2. Hi I'm Drew, what can I assist you with today?
1. I noticed your interested in the Beats by Dre Studio's. These headphones
are top of the line. There are no other headphones like it on the market.
What color would you prefer?
2. These headphones are built with extra large speaker drivers and high
powered digital amplifiers. With these two things combined you can listen
to your music in a crystal clear, out of this world experience
Determining Needs
How will you…
Give an example of a question you could ask
for each of the areas listed
Determine the
customers needs
Do you have an iPod, laptop or Mp3 player?
What kind of headphones have you had in the past?
Confirm a selling
point that you
have made
Do you have trouble listening to your music because
everything around you is too loud? Such as
conversations, cars, air planes, lawn mowers, etc.
Ask an openended question
to encourage
the customer to
communicate
What specific features are you looking for in a set of
headphones?
Clarify the
customers point
of view
Am I correct in assuming that you're looking for a
product that can cancel out all sounds around you
and play your music with high definition clarity like no
other pair of headphones?
Handling Objections
Anticipated Objection
Method
What you will say to answer the objection
I don't understand why I should pay $350 for a set of
headphones when I can get some just like them for
half the price or cheaper.
Third Party
Joe Jackson, one of my customers thought the same thing a
year ago. He just called me the other day and said he still uses
these same headphones every day and they're so durable
that they look and work just as good as they did the first time he
bought them.
Your prices are twice as much as your competitors
Superior Point
That's true. Our prices are way beyond our competitors prices
and that is because our product is twice as durable and clear
as our competitors. With unprecedented technology our
headphones will work better and longer than any other brand.
Will I be able to hear my music on my way to work
when I ride the crowded and extremely noisy city bus
everyday?
Denial
Yes, you"ll enjoy only your music and never even notice there
are loud people and noisy things going on around you
because of the unequaled Powered Noise Cancellation system
that blocks all distractions out and keeps all of the lovely music
in.
These headphones are so big I wouldn't be able to
wear them anywhere, they'd just get in the way..
Boomerang
The headphones are big because they have ear cups with soft
plush cushions that comfortably fit around your ears leaving
extra space. And because the cushioned ear cups fit so well
you'll forget you even had your headphones on at all.
Closing The Sale
Method To Use
To Close The
Sale
Statement I Will Use To Close
Which Close
The Studio headphones cancel out all noise around you
for a clearer more pure listen. But the Solo headphones
are more lightweight and easier to use in an active
lifestyle. Which one do you prefer?
Standing Room Only
Close
I'm sorry but I can't promise you that these headphones
will stay at this price with a limited one year warranty
forever. With this economy I see the price rising soon
and without a safe warranty.
Direct Close
Based on what I've shown you, how do you feel about
these headphones?
Service Close
If you have any problems remember that there is a one
year limited warranty and if you come back unsatisfied
we'll give you your money back 100% guaranteed.