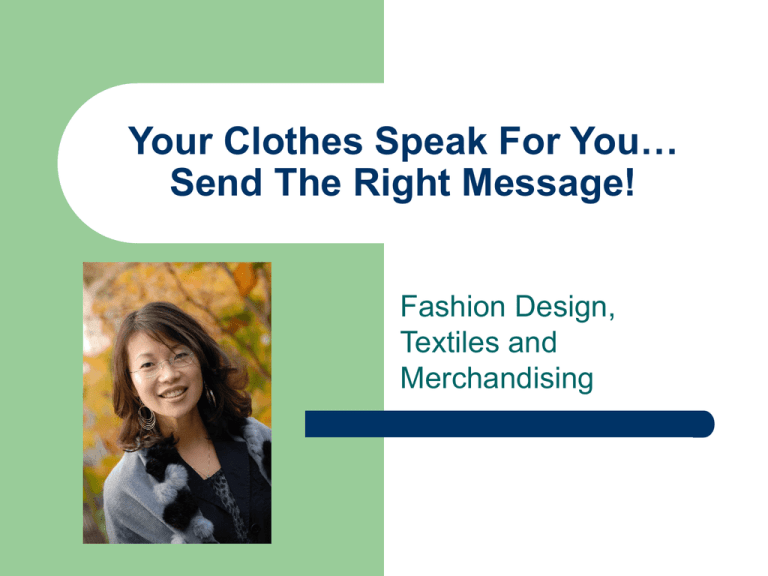 Your Clothes Speak For You…
Send The Right Message!
Fashion Design,
Textiles and
Merchandising
First impressions are made within the
first few seconds!

First Impression =
–
Words

Verbal communication
+
–
Behavior

Non-verbal communication (behavior & manners)
+
–
Personal Appearance

Non-verbal communication (clothing & grooming)
Types of Communication
Verbal Communication

Tone, choice of words, sounds
–

Non-Verbal Communication
a.
b.
c.
d.
Behavior and Manners
Body Language
Clothing
Grooming
Non-Verbal Communication
a.
Behavior and Manners
Polite, appropriate, people want to be around you
b.
Body Language
Eye contact, facial expressions, posture
a.
Clothing
Most obvious, consider color, neatness, style for self and occasion
b.
Grooming
General appearance, neat & clean, hair, teeth, nails, breath, makeup
Two Types of Messages

Intended Message:
–

What you want others to receive
Actual Message:
–
What others actually receive
Examples of Messages Given Through
Clothing

Personality
–

Emotions
–

–



Happy, sad
Self-concept
–

Outgoing/shy, talkative/quiet, confident/unsure
Positive = take pride in appearance
Negative = appearance not important
Values
Beliefs
Occupation
Status
Why is non-verbal communication not always
accurate in determining what type of person
someone is?

Messages can be misinterpreted

Stereotypes
–
Unconsciously group people according to their
appearance
Appearance and clothing
send a message –
make sure it is the message
you want other to receive!