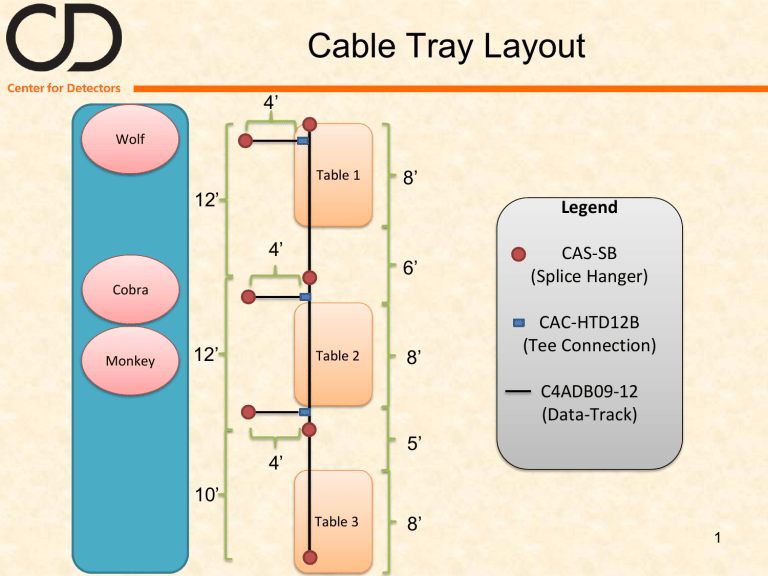 Wolf
Cobra
Monkey
12'
12'
10'
4'
Cable Tray Layout
Table 1 8'
4'
6'
Table 2 8'
Legend
CAS-SB
(Splice Hanger)
CAC-HTD12B
(Tee Connection)
C4ADB09-12
(Data-Track)
5'
4'
Table 3 8'
1
Components
2
Components
3
Components
4
Price Estimates
• Graybar Distributor Quote:
• 7 Data-Track Standard Clevis Hangers CZNH-CD
• 3 Data-Track Tee Connectors CAC-HTD12B
• 3 Data-Track 12' Straight Section C4ADB09-12-144
• 1 Data-Track 10' Straight Section C4ADB09-12-120
• 6 Data-Track Cable Drop-Out CAM-D0-5
• 5 Data-Track Center Rail End Cap CPLM-EC10-
Gray
There might be a few additional components needed to support the system such as ½" threaded rods and supports, but they should not cost much.
5
Price Estimates
• Research Computing Laboratory FMS Quote:
– $2800
• 30 feet of MonoSystems Mono-Tray Center Spine Cable Tray
• Support was two threaded rods connected with a support beam which the tray sat on.
• They went completely through FMS and told them what they wanted and O'Connell Electric priced everything.
6