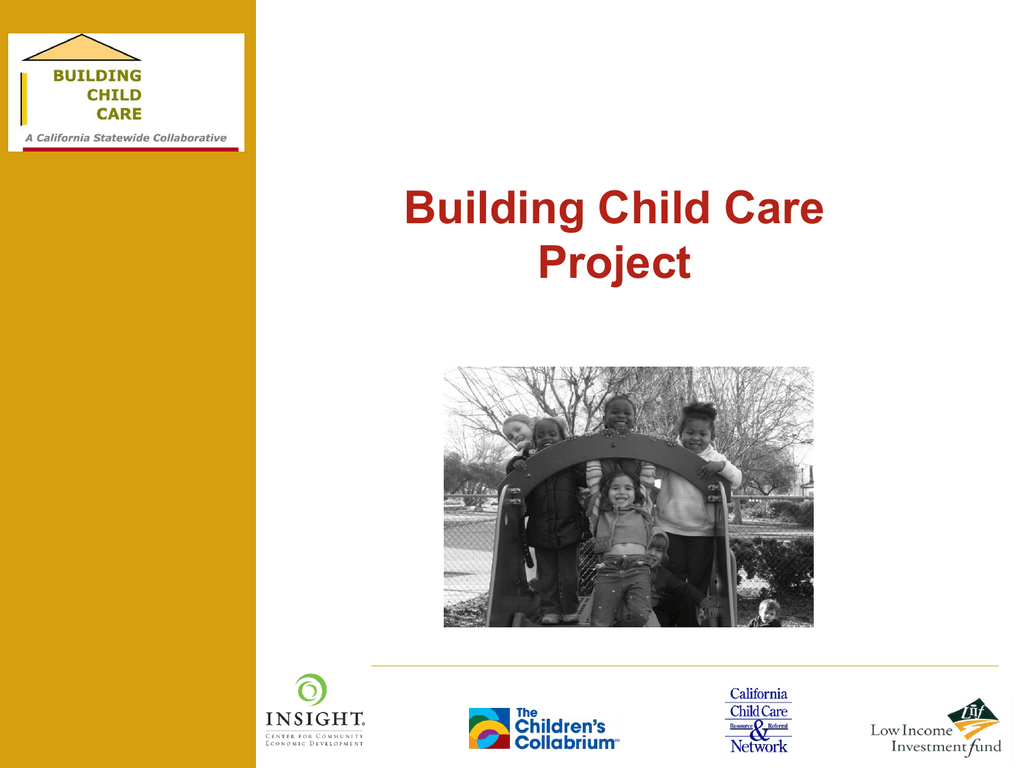 Building Child Care
Project
Financing Child Care Facilities:
Learn What Lenders Look For
Jon Dempsey
Senior Program Officer
Low Income Investment Fund
Page No 2.
Objective:
To help providers understand the financial documentation and
information necessary to access capital for facilities maintenance and
development.
Topics Covered:
• Business Plan
• Market Feasibility
• Operational History and Strengths
• Financial Analysis and appropriate documents
• Criteria for Lenders
• Loan Request Packages
Page No 3.
Business Plan
Be Prepared to Tell Your Story
The operator should be able to answer the following items:
• Organization mission/vision, purpose and services
• Organization history
• Is the organization successful?
• What will sustain its success?
• Know how the organization compares to others that are similar
Page No 4.
Market Feasibility
•
•
•
•
•
•
Demographics of community and target market
Demographic trends of community, target and industry
Going rates of early education/family support services in the area
How do services provided by others compare to yours?
What is your competitive advantage?
What is your marketing strategy?
- Promotional and advertising strategies
• In a fiduciary capacity, can the staff meet the compliance
requirements?
Page No 5.
Operations
All responses should reflect new or existing project needs:
• What is the center is licensed for & number of children?
• Where does the organization currently operate?
• What the impact if the loan is awarded?
• What are the staff ratios according to age mix?
• Does your staff meet the educational requirements?
• Does the center meet licensing requirements?
• Are the center licenses in good standings?
The lender/investor will check!
Page No 6.
Financial Analysis
Get The Financial House in Order
•
•
•
•
•
•
•
Clear Credit Bureaus
Know your Internal Accounting Systems
Know your financial statements
Accounts Receivable/Contract Receivable
Accounts Payable/Contracts Payable
How long does it take to pay vendors and/or accounts?
Revenue sources and their status
Page No 7.
Financial Analysis
Understand Your Internal / External Historical Cash Flow
Understand the organization's financial historical trends:
• Revenues
• Expenses
• Cash
• Growth Patterns/Trends
• Balance Sheet Growth
Has the company prepared revenue and expense projections?
Do projection assumptions make sense?
Do projected trends tie in with historical trends?
Page No 8.
Financial Analysis
Know How Much You Need
What is truly driving the need to borrow?
What is the source of repayment and what collateral is available, if
needed?
Know the limitations of the organization's capacity to borrow:
• Debt Service Coverage Ratio
• Leverage
• Collateral
Page No 9.
Financial Analysis
Operator should prepare projections using 'most likely' and 'worst case'
scenarios and understand how the growth patterns in the projections
affect the following:
• Revenues
• Expenses
• Cash
• Working Capital
• Effect on Balance Sheet
Know the Balance Sheet:
• Retained Earnings/Unrestricted Net Assets
• How do Assets compare to Liabilities
Page No 10.
Financial Analysis
Prepare a Capital Expenditure Budget
Prepare a capital expenditure budget to cover at least twelve months:
• Identify the ongoing equipment needs
• Anticipated timing of each expenditure activity
• How the organization will pay for expenses
• Indicate if it's a routine or planned expansion
Note: This should cover "big ticket items" such as, roof and air
conditioner replacement, kitchen appliances, furniture, playground
equipment
Page No 11.
Financial Analysis
Alternative Sources Available
Operator should have additional funds (reserves) available to cover the
following:
• Additional equity infusion
• Construction overages
• Cash shortfalls during operation
• Working capital
• Lagging receivables
• Growth periods
Page No 12.
Assess an Operator's Credit Worthiness
The Five C's of Credit
• Cash flow/Capacity to repay
• Character/Capacity to be a responsible borrower
• Credit history
• Capital investment
• Collateral
Page No 13.
Loan Request Package
•
•
•
•
•
•
Cover letter
Completed business plan with market feasibility study
Completed loan application
3 years business financials/tax returns
Recent Interim Financial Statement (dated within 90 days or less)
Projected Income and expenses covering at least three years
(preferable ten)
Page No 14.
Resources
LIIF/ABCD: www.liifund.org
Building Child Care: www.buildingchildcare.org
Page No 15.
Questions
Jon Dempsey
Low Income Investment Fund
(213) 627-9611 x122
[email protected]
Page No 16.